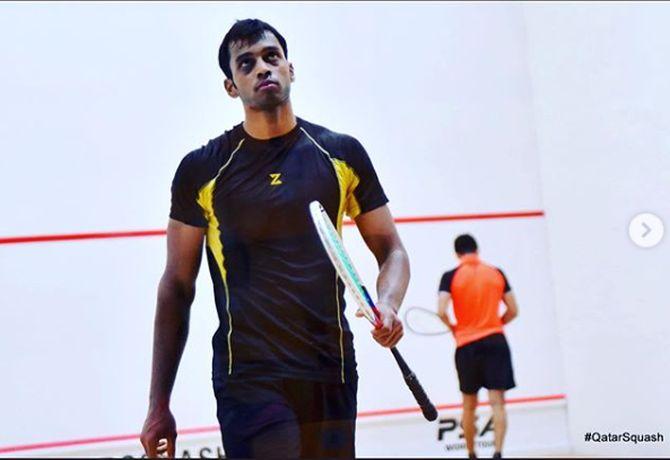 With the professional squash tour suspended until at least August 15, India player Mahesh Mangaonkar has shifted base to Helsinki, where he is working with the Finland national team.
World number 49 Mangaonkar was in Netherlands when he got the offer from the Finland Squash Federation to be a sparring partner to its national team.
The 26-year-old resumed training in Helsinki recently after coronavirus-related restrictions were eased in Finland. During the lockdown, the Mumbai-born worked hard on his fitness and discovered love for the science behind squash.
"During the lockdown I stayed busy by finding what I can do as a job after my squash career and I discovered my love for fitness and the science behind training for the sport," he told PTI.
"I've been studying since February for an exam called Mixed Modal movement program which covers all aspects of training for specific sporting events like tennis, swimming, squash, badminton, hockey.
"Currently I am a certified fitness trainer and I am still updating my CV to work as a sport performance coach," said Mangaonkar.
Though he is already a certified squash coach, Mangaonkar feels an additional fitness certification will help him.
"I am already well qualified as a squash coach and trained many juniors in India and a few in Finland but having a fitness certification will really make me a unique sports performance coach," he said.
Athletics: Kenyan runner Kamworor hit by motorcycle, suffers fractured leg
Kenyan half marathon world record holder Geoffrey Kamworor suffered a fractured tibia after being hit from behind by a motorcycle during a training run on Thursday, local media have reported.
The 27-year-old, who won the New York marathon last year, told the Daily Nation newspaper that his leg and head were injured in the accident.
"I was one kilometre away from my home during my morning run when a speeding motorcycle hit me from behind and I fell down injuring my leg," Kamworor said.
"I also got injuries in my head and he helped me up and took me to the hospital."
The doctor who treated Kamworor told the newspaper the runner had fractured his right tibia shaft and had bruises on his head but was doing well after surgery.
World marathon record holder Eliud Kipchoge, who trains with Kamworor, wished his compatriot a quick recovery.
"The world is full of uncertainties, one of them is what happened to my team mate and friend," Kipchoge said.
Mickelson grabs one-shot lead; another player tests positive for COVID-19
Phil Mickelson used a solid finish to seize a one-shot lead following the second round of the Travelers Championship in Cromwell, Connecticut, on Friday where a third PGA Tour player tested positive for COVID-19.
Mickelson closed with a birdie at the last hole of the TPC River Highlands course for a seven-under-par 63 that brought him to 13 under on the week and one shot clear of first-round leader Mackenzie Hughes (68) and sponsor invite Will Gordon (62).
World No. 1 Rory McIlroy (68) and Xander Schauffele (68) were among a pack of five golfers a further three shots back.
Mickelson, in his first tournament since turning 50 last week, will have a short turnaround as third round action will feature threesomes off split tees starting at 7 a.m. EDT (1100 GMT) due to expectations for inclement weather later in the day.
"It's probably a little bit difficult as you get older, but when you're playing well, you have that extra momentum, and it should be okay," said Mickelson.
Gordon, in only his eighth PGA Tour start and playing on a sponsor exemption, made the most of his opportunity as he mixed six birdies and one bogey over his opening eight holes before adding another three birdies after the turn.
"I knew that (the course) was going to be gettable this morning," said Gordon. "Just tried to come into today with a really positive mindset and aggressive mindset and I was able to do that."
Collin Morikawa came into this week riding a streak of 22 consecutive cuts made to begin his professional career but finally ran out of gas, falling three short of matching the record held by Tiger Woods.
Denny McCarthy withdrew ahead of his second round after he became the third PGA Tour player to test positive for COVID-19.
"Last night, I woke up in the middle of the night with additional aches and soreness and sensed something was off," said McCarthy.
"I felt like the only thing to do was get tested at that point before I went to the course."
Bud Cauley, who played the first round with McCarthy, tested negative twice but withdrew as a precautionary measure, bringing the number of coronavirus-related withdrawals this week to seven.
Blindsided WADA demands corrections to US anti-doping report
The World Anti-Doping Agency (WADA) said on Friday it was blindsided by a US report that was riddled with misleading information and inaccuracies and which threatened to cut its funding.
In a strong rebuke to the White House Office of National Drug Control Policy (ONDCP) report to the US Congress made public on Wednesday, WADA president Witold Banka accused ONDCP director James Carroll of knowingly ignoring errors in the document.
"You chose not to incorporate our clarifications. As the saying goes, 'why let the truth get in the way of a good story'? " Banka said in the letter to Carroll seen by Reuters.
"I should think that you would want the US Congress, and/or the appropriations committee, to deliberate and decide on WADA funding based on accurate information," added Banka.
WADA produced a 46-page rebuttal to the ONDCP's 19-page report, Witold urging Carroll to make the necessary corrections and deliver the updated version to Congress and to let him know when done.
As the largest single contributor to WADA's $37.4 million budget at just over $2.7 million this year, the ONDCP expressed concern over how US taxpayer dollars were being spent and urged WADA to immediately act on badly needed reforms.
WADA insists the reforms are well underway and US approved. They include term limits for all members of the Foundation Board, executive committee and standing committees, formation of an Independent Ethics Board and the addition of two independent seats to the ExCo.
The US also complained that as WADA's major benefactor, outside of the International Olympic Committee which contributes half the agency's budget, it is under-represented and wanted a proportionate voice in the decision-making.
Banka said he was taken completely off guard by ONDCP criticism given that the US in 2018 had approved WADA's proposed governance reforms and more recently voted in favour of a new strategic plan for 2020-2024.
"The US's behavior around the Board table over the past years is simply irreconcilable with the allegations outlined within the report," said Banka.
WADA reminded Carroll that the US has a spot on the Foundation Board and that it was outrageous to think rich nations could buy seats on various committees.
Banka noted that the US government chose not to submit any nominations for the chairs to any WADA standing committees for 2020 yet still has greater representation (11) on governance bodies than any other nation.
Banka also warned the US that before casting stones it should first get its own doping house in order, hinting the country has much work to do at home to ensure clean sport.
"One obvious way for the US government to contribute more to the fight against doping in sport may well lie in increased efforts to protect young Americans that practise sport in an environment where the rules fall short of those established by WADA," Banka said.