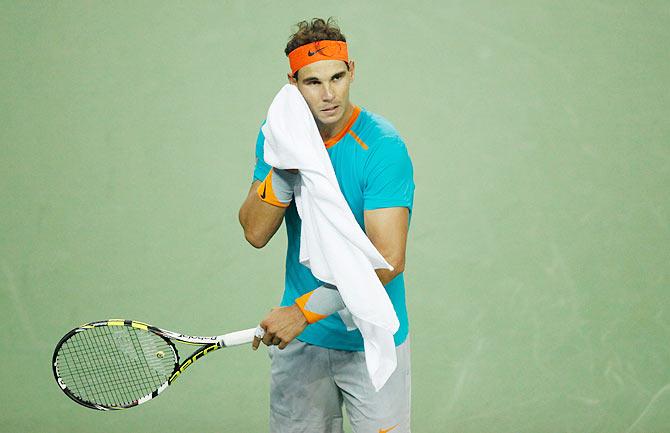 Rafael Nadal of Spain. Photograph: Kevin Lee/Getty Images
Rafael Nadal has withdrawn from the Paris Masters ahead of the tournament's start on Monday for "personal reasons", the French Tennis Federation announced on Friday.
The 14-times Grand Slam champion warned last week that he could miss the end of the season because of appendicitis, and he will be replaced in the Paris draw by fellow Spaniard Pablo Andujar.
World No 8 Marin Cilic and Latvia's Ernests Gulbis have also withdrawn from the tournament because of injuries.
The draw takes place later on Friday.
Hockey India name 21-member squad for Australia tour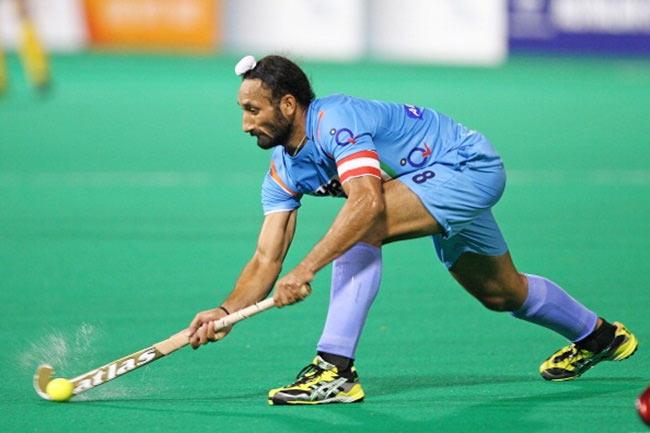 India hockey captain Sardar Singh. Photograph: Getty Images
Sardar Singh will lead a 21-member Indian men's hockey squad for the four-match Test tour of Australia to be held in Perth from November 4 to 9.
After bagging the gold medal at the 17th Asian Games in Incheon, the tour of Australia is being organised as part of preparation for the upcoming FIH Champions Trophy 2014, to be held in Bhubaneswar from December 6-14.
The Indian squad is set to depart for Perth on October 29.
Besides the four Tests, India will also play a practice match against Australia A on November 1 at the Perth Hockey Stadium.
The 21-member squad was selected by Hockey India selectors B P Govinda, Harbinder Singh and Arjun Halappa alongwith chief coach Terry Walsh, coach Jude Felix and physiotherapist Jince Thomas Mathew on the basis of their performance in the recently-concluded selection trials at the Major Dhyan Chand National Stadium in New Delhi.
Goalkeeper P R Sreejesh has been named Sardar's deputy for the tour. Harjot Singh has been named as the second custodian in the squad.
The first Test between India and Australia will be played on November 4, followed by matches on November 5, 8 and 9.
Squad:
Goalkeepers: P R Sreejesh, Harjot Singh
Defenders: Gurbaj Singh, Rupinder Pal Singh, V R Raghunath, Briendra Lakra, Kothajit Singh Khadangbam, Gurjinder Singh, Harbir Singh Sandhu
Midfielders: Manpreet Singh, S K Uthappa, Sardar Singh, Dharamvir Singh, Danish Mujtaba, Satbir Singh
Forwards: Nikkin Thimmaiah, S V Sunil, Mandeep Singh, Akashdeep Singh, Ramandeep Singh, Lalit Upadhyay.
IOA to discuss Sarita ban with Ministry officials on Oct 28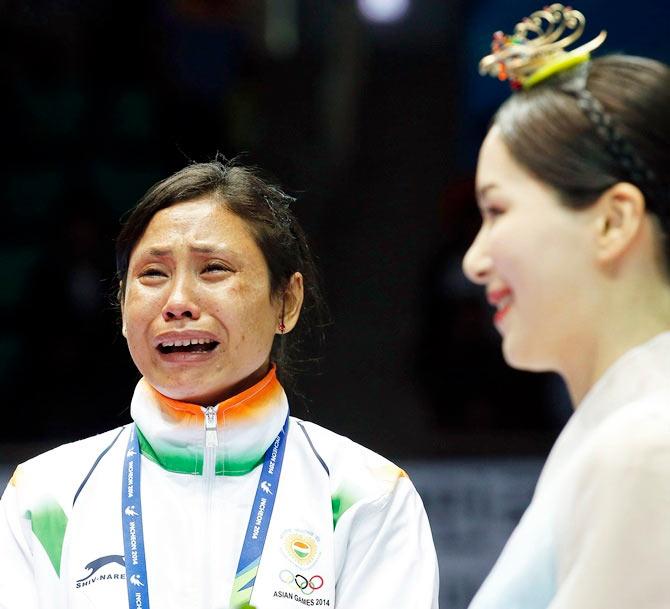 India's bronze medallist Laishram Sarita Devi. Photograph: Kim Kyung-Hoon/Reuters
Rattled by the International Boxing Association's decision to provisionally suspend boxer L Sarita Devi for her protest at the Asian Games, the IOA will hold a meeting with Sports Ministry officials on October 28 to discuss the way forward.
- India hope to get Sarita Devi's suspension reversed before World C'ships
AIBA, in a sweeping move, decided to suspend Sarita, her coaches -- Gurbaksh Singh Sandhu, Blas Iglesias Fernandes and Sagar Mal Dhayal -- and the Indian chef-de-mission to the Asian Games Adille Sumariwala.
The suspension bars them from participating at all levels of AIBA competitions and meetings until further notice.
As a result, Sarita will not be able to compete in the World Championships scheduled to be held next month in South Korea.
Sarita is facing disciplinary action for refusing to accept her bronze medal at the Asian Games after losing a controversial semi-final bout.
IOA vice-President Tarlochan Singh said all efforts would be made to help Sarita.
"This is an emotional case and we should all plead for her. The international body (AIBA) has its own rules but we will try to help her. Although Boxing India is not yet affiliated to us but we don't go by ego. We are very keen to help," he said.
Advani enters World Billiards points format final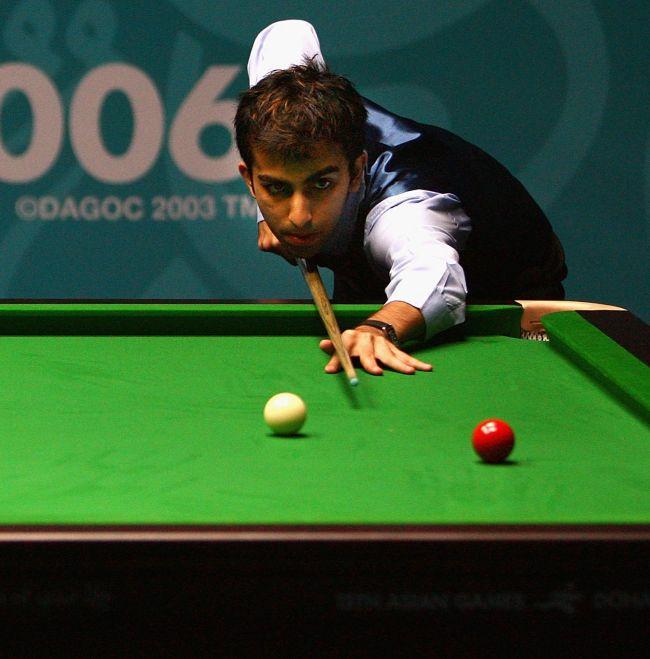 Pankaj Advani. Photograph:

Ryan Pierse/Getty Images
Ace Indian cueist Pankaj Advani performed on expected lines, making a clinical entry into the World Billiards Championship final of the 150 up points format section in Leeds.
Eyeing his 11th world title, Advani outplayed countrymate Sourav Kothari 5-2 to set up a title clash with former champion Peter Gilchrist.
Advani, 29, and Kolkata star Kothari were locked 2-2 when the 10-time world champion shifted gears to come out with three century breaks.
Sourav, son of former world champion and national coach Manoj Kothari, also had two runs of over 100 but failed to keep pace with India's poster boy of cue sports.
Singapore cueist Gilchrist edged out England's Robert Hall 5-3 in the other semi-final.
Moratti ends Inter link after 19 years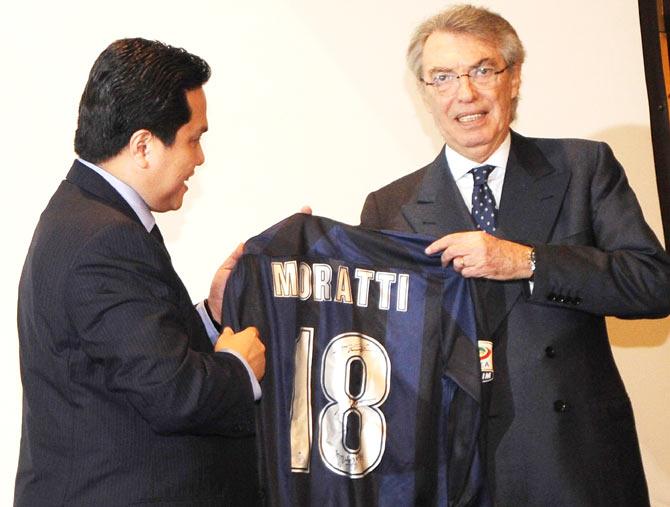 Inter Milan's new president Milano Erick Thohir and honorary president Massimo Moratti (right) attend a press conference. Photograph: Pier Marco Tacca/Getty Images
Former Inter Milan owner Massimo Moratti has resigned as honorary president, ending his 19-year association with the club.
The 69-year-old quit almost exactly one year after selling a 70 percent stake in the club to a consortium led by Indonesian business tycoon Erick Thohir, who replaced Moratti as club president.
"Massimo Moratti has today resigned as honorary president of FC Internazionale Milano Spa, a position kindly offered to him by Mr Erick Thohir in November last year," said a statement issued by Internazionale Holding Srl, a holding company owned by Moratti and his two sons.
No reason was given for the decision.
Inter won five Serie A titles in successive years during Moratti's 18-year reign, between 2006 and 2010, and also clinched the Champions League and UEFA Cup once each and the Coppa Italia four times.
The highlight was the Champions League, Serie A and Coppa Italia treble under Jose Mourinho in 2010.
Moratti, whose father Angelo owned the club from 1955 to 1968, brought a host of big signings to Inter, including Brazilian Ronaldo, Hernan Crespo, Adriano, Roberto Baggio, Zlatan Ibrahimovic, Luis Figo, Patrick Vieira and Samuel Eto'o.
However, he had little patience with coaches, employing 18 during his presidency including the hapless Gian Pieri Gasparini, who was fired after only five matches in 2011.
Inter finished fifth last season and have made an inconsistent start to the new campaign, currently in ninth place.
Gulati backs Klinsmann after MLS dispute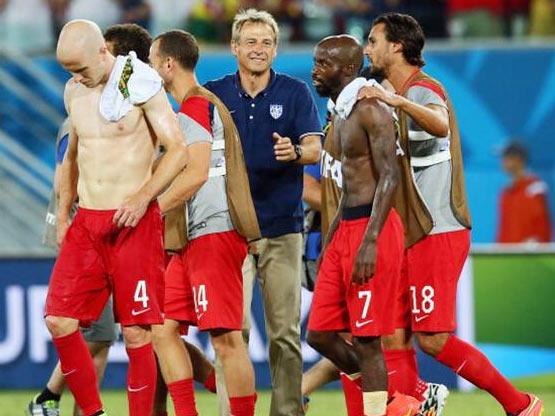 United States coach Jurgen Klinsmann with his players. Photograph: Kevin C. Cox/Getty Images
Sunil Gulati, the president of the United States Soccer Federation, has given his backing to head coach Juergen Klinsmann after the row over American players returning to MLS.
Klinsmann's comments expressing concern over the form of players, such as Michael Bradley and Clint Dempsey, who have left European clubs to come back to MLS, brought a sharp rebuke from MLS commissioner Don Garber last week.
On Wednesday, Garber said in an interview with Reuters that there was no rift between the two and nothing personal in the disagreement and Gulati says he agrees that both the league and the federation will continue to work closely together.
"Juergen is our coach and technical director, and I fully expect that to be the case through to the 2018 World Cup.
"We made that decision before this year's World Cup and have full confidence in him in those roles," he told the Washington Post.
"None of this is personal," Gulati said.
"Some things could have been phrased differently because the actual opinions of the two guys -- and me and the leadership at MLS and U.S. Soccer -- is actually closely aligned with where we see the game going."
Gulati said the close working relationship between the league and the federation in the U.S. is actually better than in many countries.
"There are very few situations where the national team programme or a federation is as aligned as closely with their first division as we have got in the United States," he added.
Klinsmann had described the debate around his comments as "pretty cool" noting that such arguments were common in football worldwide but Garber has indicated it is time for the discussion to move out of the public domain.
Gulati agreed.
"I don't think there is anything wrong with discussion, dialogue and disagreement. Most of that is better handled in a private way. Having these sorts of discussions are fine, but we need to have the tone of all of this brought down a little bit."
NBA: Lakers' Nash out for season with back injury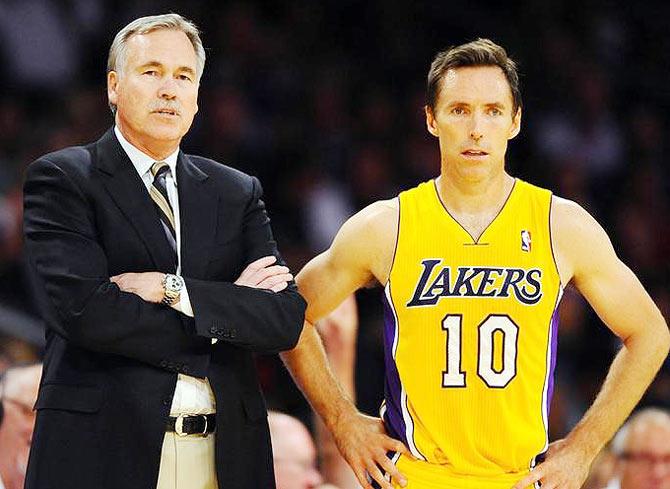 Los Angeles Lakers head coach Mike D'Antoni (left) stands with guard Steve Nash (10). Photograph: Christopher Hanewinckel-USA TODAY Sports/Reuters
Los Angeles Lakers' point guard Steve Nash will miss the entire 2014-15 season, the National Basketball Association team said on Thursday.
Nash, 40, has battled a bad back and other injuries for years and the latest setback suggests the two-time NBA Most Valuable Player may have played his final game, though he has not announced his retirement.
"Being on the court this season has been my top priority and it is disappointing to not be able to do that right now," the Canadian said in a statement.
"I work very hard to stay healthy and unfortunately my recent setback makes performing at full capacity difficult.
"I will continue to support my team during this period of rest, and will focus on my long-term health."
Nash recently re-injured his back carrying his bags.
He has been severely hampered by injuries since joining the Lakers and played just 15 games last season and averaged 6.8 points and 5.7 assists.
He has averaged 11.4 points and 6.4 assists in his 65 games for the Lakers since joining them in 2012.