A summary of sports events and sports persons, who made news on Saturday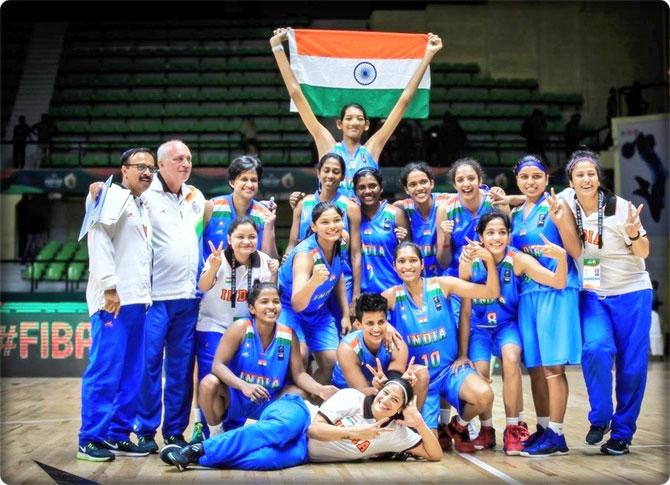 IMAGE: The Indian women's basketball team celebrate after winning the FIBA Women's Asia Cup in Bengaluru on Saturday. Photograph: AIR/Twitter
The Indian women's basketball team defeated Kazakhstan 75-73 in a thrilling contest to climb to Division A of the FIBA Asia Cup 2017, in Bengaluru on Saturday.
In the Division B final between two undefeated teams, India and Kazakhstan, it was the home team that came out victorious.
India are now promoted to Division A for the next edition of the FIBA Women's Asia Cup.
Kazakhstan held the size advantage over the Indian team and this was punctuated by the play of Kazakh centre Nadezhda Kondrakova. She scored from inside and outside to begin the game.
For India, the scoring came from a balanced team effort. Shireen was aggressive on her drives to the basket, while guards Paul Durai and Raspreet created space to knock down their jumpers.
"All the hard work over the past 5 months paid off," said India star Limaye after the thrilling victory.
Basketball Federation of India president K Govindaraj has announced a cash prize of Rs 10,00,000 for the Indian squad.
Harikrishna shares spoils with Leko in fifth round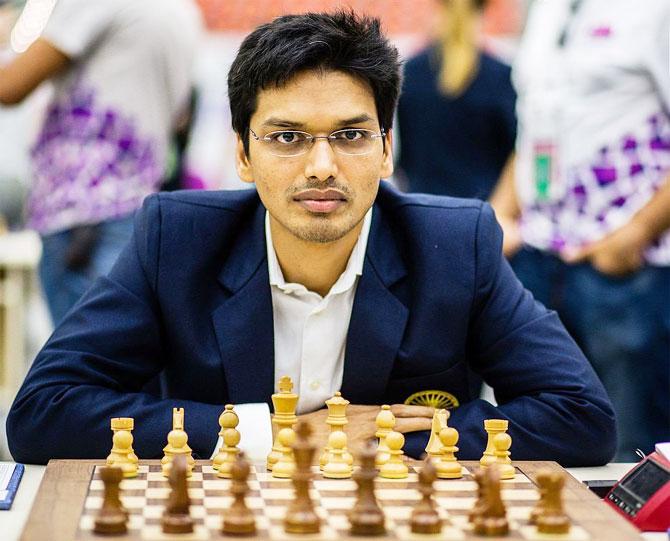 Indian Grandmaster Pentala Harikrishna played out a hard-fought draw against Peter Leko of Hungary in the fifth round of the 50th Biel Chess Festival, in Biel, Switzerland.
The World No. 20 Indian, playing with black pieces, had to be at his defensive best as the Hungarian piled on the pressure from the initial moments of the game.
However, Harikrishna's staunch defence paid rich dividends and helped him in salvaging half a point from the game, which lasted 57 moves, last night.
"It was a really tough game but at the end of it I accurately moved my pieces to reach a draw," the 31-year-old from Guntur said after the game.
Harikrishna has three points so far courtesy a win and four draws, and is placed joint third in the standings.
He will take on the three-time Women's World Champion of China, Hou Yifan, in his sixth-round encounter of the single round-robin tournament.
24-member India team for Junior World wrestling c'ship
A 24-member India team departed on Saturday, for Tampere, Finland, to take part in the Junior World wrestling championship, to be held from August 1 to 4.
The team comprises eight members each in men's freestyle, women's wrestling and Greco-Roman categories.
The Wrestling Federation of India (WFI) had conducted the selection trials for the junior wrestlers to represent India at the prestigious championship, earlier this month.
Deepak Punia, Karan, Sajan, Sunil Kumar, Pooja Gahlot, Reshma Mane, Manju Kumari and Pooja have done well in recent Junior Asian Championship.
Team:
Men's Freestyle: Suraj Aswala (50kg), Bharat Patil (55kg), Ravinder (60kg), Karan (66kg), Veer Dev Gulia (74kg), Deepak Punia (84kg), Monu (96kg), Mohit (120kg).
Greco Roman: Arjun Halakurki (50kg), Vijay (55kg), Manish (60kg), Dinesh (66kg), Sajan (74kg), Sunil Kumar (84kg), Sagar (96kg), Satish (120kg).
Women Wrestling: Divya Tomar (44kg), Ankush (48kg), Nandini Saloke (51kg), Pooja Gahlot (55kg), Manju Kumari (59kg), Reshma Mane (63kg), Pooja Devi (67kg), Pooja (72kg).
Sjostrom breaks women's 50 metres freestyle world record
Sweden's Sarah Sjostrom set a world record of 23.67 seconds in the women's 50 metres freestyle at the world swimming championships on Saturday.
Sjostrom's time in the semi-finals broke the previous mark of 23.73 seconds set by Germany's Britta Steffen in 2009.