A summary of sports events and sports persons, who made news on Saturday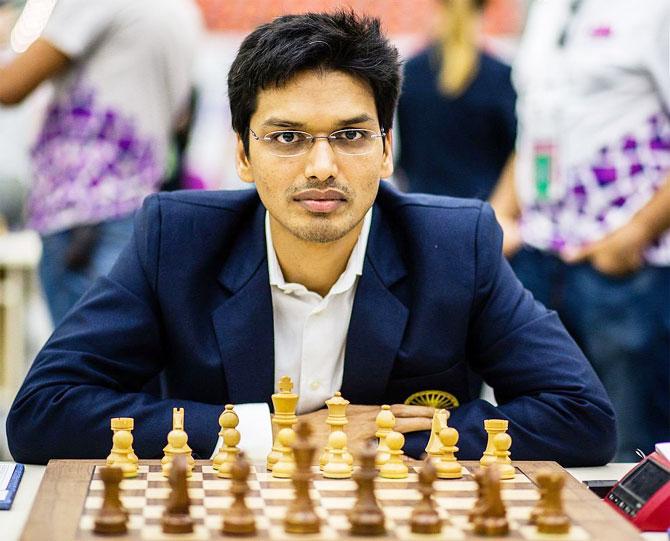 IMAGE: Pentala Harikrishna. Photograph: Saimedia/Twitter
Putting behind the disappointment of a loss in the last game, Indian Grandmaster Pentala Harikrishna bounced back with a draw against Russian GM Evgeny Tomashevsky in the seventh round of the FIDE Moscow Grand Prix in Moscow.
The World No. 16 Indian, playing with white pieces, got off to a good opening and was evenly poised for much of the initial phases. However, he miscalculated his 24th move and that allowed the Russian to take advantage mid-way into the game.
But the Indian hung on and with time running out both the players decided to share the point.
"Kc2 was a bad move allowing Black's manoeuvre Bb7-Bc6. After the time control the position was more in favour of Black, but eventually it finished in a draw," Harikrishna said after the match.
Harikrishna now has three points and is placed 15th on the points table.
He will take on Russia GM Ian Nepomniachtchi in the next round later on Sunday.
With two more rounds remaining, Harikrishna is still in contention to finish in the top half of the table and amass maximum ratings points from the campaign and stay afloat in his hunt for a spot at the Candidates Tournament.
India's golden sweep in South Asian Junior TT
In the Junior Boys, the Indians first beat Pakistan 3-0 and followed it up with another identical win over hosts Sri Lanka to complete their group engagement and claim the gold.
The Manav Thakkar-led combination with Manush Shah and Parth Virmani made it a formality against the Pakistan's Fahad Khawaja, Obaid Shah and Basit Khan and then repeated it against Sri Lanka's KDVMadhushan, PD Umesh Thennakoon and Nimesh Ranchagoda for the sweep.
Manush Shah won 11-7, 11-6, 11-9 against Madhushan but Manav dropped a game against Umesh before overpowering him 11 -9, 11-6, 8-11, 11-4. Later, Parth completed the task with a 9-11, 11-4, 14-12, 11-8 win over Nimesh in a tough third rubber.
India, finishing with eight points, were followed by Sri Lanka and logged six points from their three wins over Pakistan, Bangladesh and Maldives to be the second team to qualify for the Asian event.
In Junior Girls, India and Sri Lanka had completed the four-team group events in that order yesterday itself, winning gold and silver, respectively, and qualify for the event in Korea. Archana Kamath, Moumita Datta and Priyanka Pareek did the star turn in the junior section.
Similarly, in Cadet Girls, India topped the league chart with 3-0 win records over Sri Lanka, Pakistan and Maldives, thanks to Anusha Kutumbale, Swastika Ghosh and Vanshika Bhargava, for the second gold on Friday.
Today, the Cadet Boys repeated with Pakistan and then Sri Lanka with the same margin of 3-0 victories, to claim the fourth gold. The boys who did the trick for India were H Jeho, Chinmaya Somaiya and Payas Jain.
Gujrathi, Vaishali bag bronze medals in Asian Chess tourney
GM Gujrathi, with an ELO rating of 2687, drew with Yangi Yu of China in his final game to finish with 6.5 points.
China's GM Wang Hao took the top spot with seven points and was followed by Bu Xiangzhi.
Gujrathi had moved to the spot after the eighth round yesterday, but a draw in the final round put paid to his title aspirations and he had to settle for the bronze medal.
B Adhiban ended the tournament in eighth place, logging six points and was followed by fellow Indian Surya Shekhar Ganguly, also on the same number of points. They were followed by S P Sethuraman in 11th place with 5.5 points and Deep Sengupta in 13th spot.
They were followed by Aravind Chithamabram (17th), Karthikeyan Murali (21st) and Sandipan Chanda (28th). They all got five points each.
In the women's event, Vaishali, with a tally of 6.5 points, secured the third spot behind Vietnam's Vo Thi Kim Phung (7.5 points) and Uzbekistan's Nakhbayeva Guliskhan (7 points).
The Chennai player (ELO rating 2272) posted an impressive win with black pieces over Ngueyen Thi Thanh An of Vietnam in the ninth round to take her tally to 6.5 points and earned the third place.
Vaishali's compatriot Mary Ann Gomes finished fourth, with a score of six points.
Among the other Indians, Padmini Rout and WGM Swati Ghate finished seventh and eighth respectively.
On 5.5 were four more Indians -- Nisha Mohota, Soumya Swaminathan, Kiran Monisha Mohanty and P V Nandhidhaa – who took 11th to 14th places.
Mexican boxer David 'Tornado' Sanchez killed in car crash
Former boxing champion David "Tornado" Sanchez and his brother died in a car crash in northern Mexico on Friday.
Sanchez was 25.
Mexican newspaper El Universal reported that Sanchez's brother Jonathan was also killed in the morning crash in Hermosillo, Sonora state.
According to the World Boxing Association, Sanchez was an interim champion at the 115-lb. weight class. He had a record of 31 wins -- 23 by knockout four losses and two draws.