A summary of sports events and sports persons, who made news on Sunday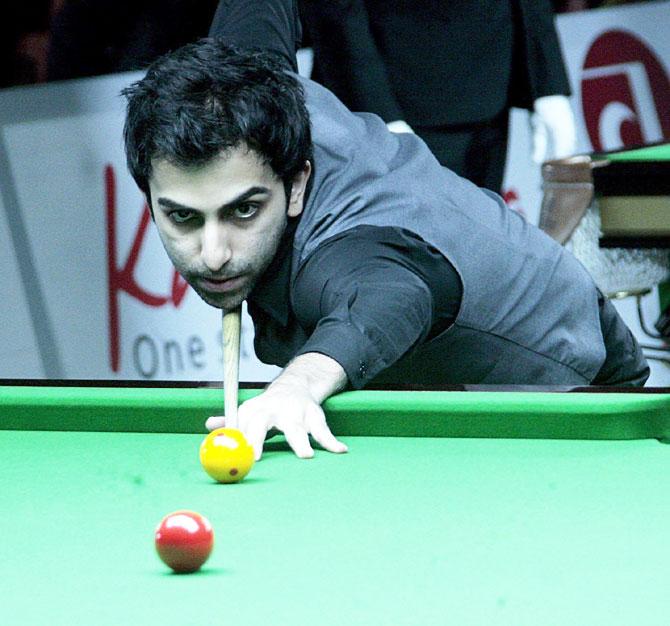 IMAGE: Pankaj Advani. Photograph: PTI
Ace Indian cueist Pankaj Advani clinched his 17th world title on Sunday after he thrashed his arch-rival Mike Russell of England in the IBSF World Billiards Championship in Doha.
Advani beat Russell 6-2 (0-155, 150-128, 92-151, 151-0, 151-6, 151-0, 150-58, 150-21) to defend the 150-up format title he had won in Bengaluru last year.
The Indian did not have an ideal start to the best-of-11 summit clash as Russell drew first blood with a well-crafted break of 155.
Advani drew parity in the next frame but still seemed to be looking for his best to arrive. The Englishman bounced back with breaks of 84 and 67 to win what was going to be the last frame to his name in the final. From the fourth frame, the Indian was a transformed player.
Advani, winner of maximum number of world titles in any sport by an Indian, increased his total by one more as he dominated the remainder of the final. He clinically constructed lethal breaks of 151, 151, 151, 145 and 110 to completely dismantle his longstanding rival.
Earlier in the tournament, Advani had overcome fellow Indian Rupesh Shah in the semi-finals 5-2, while Russell got the better of Singapore's Peter Gilchrist 5-1.
Advani will be eyeing a 'Grand Double' as the lengthier format (long-up) of the IBSF World Billiards Championship 2017 commences on Monday.
Bekele, Kiplagat star attractions for Kolkata 25K run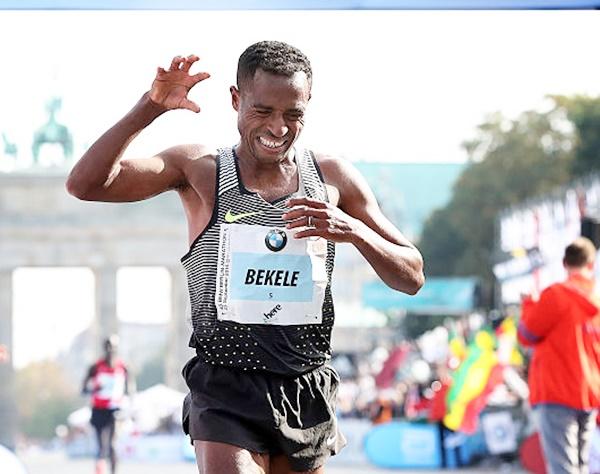 IMAGE: Kenenisa Bekele of Ethiopia. Photograph: Ronny Hartmann/Getty Images For BMW
Three-time Olympic gold medallist Kenenisa Bekele and former world champion Florence Jebet Kiplagat will be seen in action in the Kolkata 25K run on December 17.
The long-distance running legend will for the first time compete in a 25K race. Bekele's best 25K effort is 1:12:47, an intermediate time en route to winning the Berlin Marathon 2016.
The existing 25K world record is held by Kenya's Denis Kimetto (1:11:18 in 2012).
"After my first visit to India a few years ago, as an ambassador for the Delhi Half Marathon, I have always been wanting to run here. I look forward to running in Kolkata and hope my presence motivates people to come and run," a statement from Bekele read.
A world champion on multiple surfaces, having won at the 2009 IAAF World cross country championships and the 2010 IAAF World half-marathon championship, Kenyan Kiplagat will head the women's field.
Liverpool boss Klopp believes he is 'crazy enough' to enter dancing show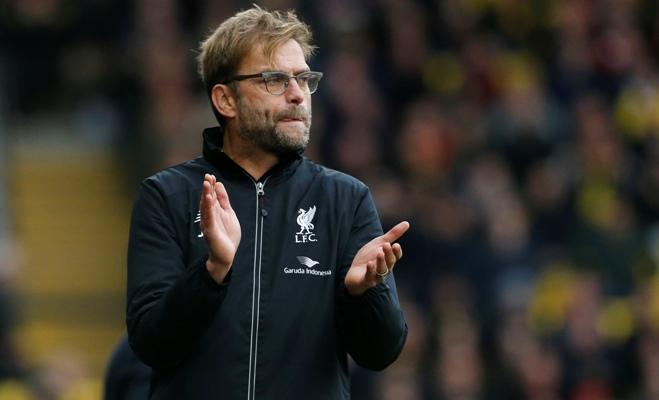 IMAGE: Liverpool manager Juergen Klopp. Photograph: Cathal McNaughton Livepic/Action Images via Reuters
Liverpool manager Jurgen Klopp is too desperate to make an appearance on the British television show, 'Strictly Come Dancing'.
According to Daily Star, Klopp feels that he is 'bold and crazy enough' to enter the famous dance show.
"Jurgen is always dancing around the training ground and bouncing along the touchline during games. He feels he's got what it takes to have a go at Strictly," said a source to the publication.
Klopp's wife also believes that he will not be bothered with confidence issues on the show due to his outgoing personality.
If the former defender is serious of participating in the show, he'll have to ask for time off from club chiefs, which seems quite unlikely as he is 'the manager' of Liverpool.
Sushil makes comeback, Yogeshwar not to take part in Nationals
Two-time Olympic medallist Sushil Kumar is all set to make a comeback to the mat after three long years, but Yogeshwar Dutt will continue his absence from competitive fold when the National Wrestling Championship starts in Indore from November 15.
Sushil, who was training in Tbilisi, Georgia, rushed back to the country to take part in the selection trial against Dinesh in the 74kg category. Another wrestler in 74kg, Praveen Rana, did not turn up for the trials.
Sushil had it easy as Dinesh, the national junior champion, gave him a walk over.
"I am currently in my best shape mentally and physically and have started enjoying wrestling on competitive level," Sushil, who will be representing Railways in the upcoming championship, said.
Meanwhile, London Olympics bronze medallist Yogeshwar confirmed that he would not be competing in the nationals.
The Wrestling Federation of India (WFI) confirmed that other big names like Rio Olympics bronze winner Sakshi Malik, the Phogat sisters -- Geeta and Vinesh -- are expected to vie for top honours. But injured Babita Kumari would not be a part of the tournament.
The 34-year-old Sushil was last seen action at the 2014 Glasgow Commonwealth Games where he finished with a gold.
Sushil was stopped from taking part at the Rio Olympics in 2016 after the WFI reneged on its promise of holding a trial to decide who among him and and Narsingh would represent India at the Rio Games.
Subsequently, Sushil took legal recourse but even the Delhi High Court rejected his plea for a trial in 74kg category and he could not get a showdown with Narsingh as had been promised to him by the WFI after an injury prevented him from competing in the Olympic qualifiers earlier.
Shooting fraternity calls GST exemption fair and progressive
The Indian shooting fraternity welcomed the government's decision to exempt imported sports equipment from the ambit of GST, with the National Rifle Association of India calling the move "fair" and progressive".
Yesterday, Sports Minister Rajyavardhan Singh Rathore said the government's decision to exempt imported sports goods of specific nature from the Integrated Goods and Services Tax (IGST) ambit will be a big boost for the country's sportspersons of "outstanding eminence".
NRAI president Raninder Singh thanked all those who backed the move, including Rathore, the Finance Ministry and NRAI vice-president Kalikesh Narayan Singh Deo, who ran a prolonged campaign to remove GST on sporting equipment.
Thanks to the move, the shooters are now exempted from the payment of GST on their imports.
The NRAI chief expressed his "sincere thanks to the Honourable Minister of Sports Col. RVS Rathore and Sh. Kalikesh Narayan Singh Deo (MP) Senior Vice President of the NRAI, for having ensured that this goal was achieved".
The NRAI said it was a positive development that shall help and further nurture the shooting sport in India.
"Finally, NRAI also takes this opportunity to thank the Ministry of Finance & the GST Council of India in arriving at this fair, just, & progressive decision," the shooting federation said in a statement on Sunday.
Olympic bronze medallist Gagan Narang tweeted, "The move to cut down GST on import of equipment will immensely help sports people like us in procuring our guns and ammunition. Thank you @narendramodi @arunjaitley @Ra_THORe @Media_SAI."