A summary of sports events and persons who made news on Wednesday.'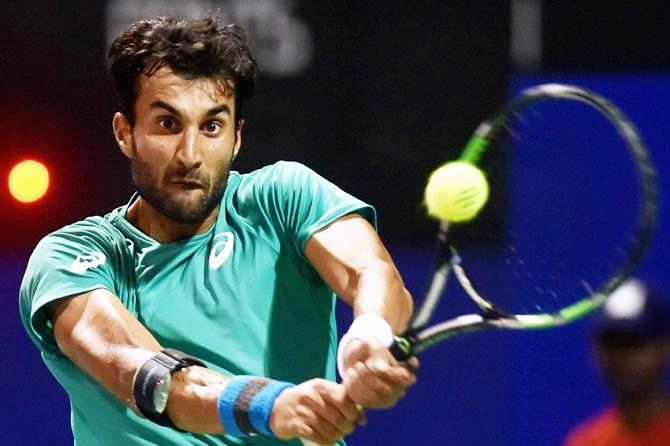 IMAGE: Two breaks of serve in each set were enough for Yuki Bhmbri to get the better of compatriot Sidharth Rawat at the Chennai Open ATP Challenger. Photograph: PTI
Yuki Bhambri was the only Indian to reach the last eight of the Chennai Open ATP Challenger tennis tournament. He made the grade with a 6-2, 6-3 victory over compatriot Sidharth Rawat.
Joining the Indian No. 2 seed in the quarter-finals were top-seed Jordan Thompson of Australia and No.3 and 4 seeds Duckhee Lee (Korea) and Mohammed Safwat (Egypt).
The two other Indian players in the fray - Arjun Khade and Abhinav Sanjeev Shanmugam, both qualifiers, fell by the wayside, losing in straight sets to Safwat and Lee respectively.
In the Bhambri-Rawat match, the former was in control and broke his opponent twice in each set.
Bhambri played fluently from the baseline, hitting strongly off both flanks and kept Rawat on the run right through.
In the quarter-finals, he will meet Japan's Yasutaka Uchiyama, who beat Cem Ilkel of Turkey 6-4, 7-5.
The top-seed Thompson played a classical all-round game to beat qualifier Wishaya Trongcharoencharikul of Thailand 6-3, 6-2. He will meet Serbia's Danilo Petrovic for a place in the semi-finals.
The Serbian advanced when seventh seed Enrique Lopez Perez of Spain conceded after losing the first set.
In doubles, top-seeded Ratiwatana twins Sanchai and Sonchat needed only 35 minutes to send the wild card Indian pair of Anvit Bendre and Kunal Anand packing for the loss of only two games. They will meet Ilkel and Petrovic of Serbia in Thursday's semi-finals.
Results:
Men's singles (2nd round) (Indians unless otherwise stated): Jordan Thompson (Aus-X1) bt Wishaya Trongcharoenchaikul (Thailand) 6-3, 6-2; Danilo Petrovic (SRB) bt Enrique Lopez Perez (ESP-X7) 6-4 (retired); Mohamed Safwat (EGY) bt [Q] Arjun Kadhe (IND) 6-4, 6-2; Pedro Martinez (ESP) bt Lucas Catarina (MON) 7-6(2), 6-0; Antoine Escoffier (Fra) bt Gerard Granollers (ESP) 7-6(2), 6-2; Duckhee Lee (KOR-X3) bt Abhinav Sanjeev Shanmugam 6-2, 6-4; Yasutaka Uchiyama (Japan-X6) bt Cem Ilkel (Turkey) 6-4, 7-5; Yuki Bhambri (X2) bt Sidharth Rawat 6-2, 6-3.
Men's doubles (quarter-finals): Sanchai Ratiwatana/Sonchat Ratiwatana (Thailand-X1) bt Kunal Anand/Anvit Bendre 6-0, 6-2; Cem Ilkel (Turkey)/Danilo Petrovic (SRB) bt Prajnesh Gunneswaran/N Vijay Sundar Prashanth 6-4, 2-6, [10-4]; Luca Margaroli (SUI)/Saketh Myneni (X4) bt Tuna Altuna (Turkey)/Mohamed Safwat (EGY) 6-7(4), 6-3, [13-11]; N Srirm Balaji/Vishnu Vardhan (X2) bt Alessandro Bega (ITA)/Kimmer Coppejans (BEL) 7-5, 6-3.
Asian Games tennis winners to get direct entry at Tokyo Olympics
There's a lot to play for at the upcoming Asian Games in Jakarta, as the winners of the men's and women's singles in tennis will earn direct entry to the 2020 Tokyo Olympics.
The ITF announced on Wednesday the introduction of six continental qualification places, approved by the IOC Executive Board, as part of the Tokyo 2020 Qualification System for tennis.
The 2020 Olympic tennis event will feature five disciplines – men's singles and doubles, women's singles and doubles, and mixed doubles.
Each singles draw will comprise 64 players, with a maximum of four per nation. There will be 56 direct acceptances as at previous Games, and eight ITF places, including the six Continental Qualification places.
However, the players' ranking should be within the top 300 on the singles rankings of June 8, 2020, and the quota for that particular nation should not be filled by four direct acceptances.
ITF president David Haggerty said: "The introduction of Continental Qualification places is a significant and positive change that we believe will help strengthen participation in these important regional games, and will provide opportunities for additional nations to contest the Olympic Tennis Event.
"This initiative forms part of our commitment under the ITF2024 strategy to secure mutually beneficial partnerships, and we look forward to working with our Regional Associations to ensure successful implementation."
For the North and South American continent, the qualification route will be the 2019 Pan American Games in Lima, Peru. At these games both the finalists will qualify.
For the African continent, the qualification event will be the 2019 African Games in Luksaka, Zambia.
One place will be awarded to the highest ranked man and woman in both Europe and Oceania from a country not yet represented in singles.
Jinson Johnson wins gold in 800m, India finish with 13 gold
Jinson Johnson easily won the men's 800 metres as India bagged a rich haul of 22 medals, including 13 gold, at the Asian Games invitational meet, which concluded in Jakarta on Wednesday.
Johnson's gold was one of three medals won by Indian athletes on the final day at the Gelora Bung Karno main stadium.
India also won gold in the men's and women's 4x400 metres, a silver medal through Sarita Singh in the women's hammer throw and bronze through Kamalraj Kanaraj in the men's triple jump.
The results of the final day meant that India finished with 13 gold medals, five silver and four bronze.
Johnson, a former silver and bronze medallist at the Asian Championships, was by far the superior runner in the competition. He clocked 1:47:96 seconds to finish way ahead of Raed Aljadni, who was over six seconds behind with a time of 1:54:17 seconds.
Competing in the men's 400 metres, Jithu Baby, Kunhu Mohammad combined with Sumit Kumar and Jeevan Suresh to claim gold with a time of 3:07:06 seconds, 0.63 seconds ahead of the Chinese Taipei quartet.
In the 400 metres relay, the women's quartet of Hima Das, Sonia Baishya, Saritaben Gayakwad and Nithya Shree Ananda was guaranteed another gold as it ran unopposed. The Indians recorded a modest time of 3:37:76 seconds.
Sarita Singh, a National record holder in hammer throw, was never really in the contest against defending Asian Champion Luo Na of China, who recorded a personal best of 72.11 metres. Singh had to be content with silver after a best throw of 61.75m, which was well short of her personal best of 65.25m.
Also performing well below his potential was Kamalraj Kanagraj, who recorded a best of 15.73m to finish with bronze in the men's triple jump behind China's Zhu Yaming and Malaysia's Ismail Hakimi, who cleared 16.79m and 16.24m respectively.
Kanagraj's effort was disappointing. Only last month he had cleared 16.23m to claim silver at the Asian Indoor championships.
Late goal gives Dynamos win over NorthEast United
Bottom-placed Delhi Dynamos were left to rely on a late strike from substitute Kalu Uche to get the better of NorthEast United FC 1-0 in the Indian Super League, in Guwahati, on Wednesday.
After a rather timid first-half, Delhi finally broke the deadlock with Uche's thunderous header in the 87th minute, at the Indira Gandhi Athletic stadium.
David Ngaihte floated in a cross from the right and the ball just held up for Uche, who jumped to produce a header, which did not give the NorthEast United goalkeeper any chance.
Incidentally, the goal was the only shot on target by the Dynamos in the 90 plus four minutes of added time.
The Dynamos didn't start the second-half too well, with NorthEast United FC looking like the better team, much like in the first 45 minutes.
However, some clever changes by the visitors saw them gain momentum and put pressure on the hosts.
Eventually, the winner came and Dynamos bagged three points.
6 Indians in final of Asian Games boxing test event
Six Indian boxers, including youth World champion Shashi Chopra (57kg), advanced to the finals, while four others settled for bronze medals to round off a reasonably good day at the Asian Games Test event in Jakarta.
Among the men, India Open gold-medallist Manish Kaushik (60kg), three-time King's Cup gold-medallist K Shyam Kumar (49kg), Shaikh Salman Anwar (52kg) and Ashish (64kg) entered the finals.
Shashi and Pavitra (60kg) advanced to the summit stage in the women's draw.
The former defeated Filipino Riza Pasuit in a split 4-1 decision in the semi-finals.
Awaiting her in Thursday's final is Thailand's Ratchadaporn Saoto.
Pavitra, on the other hand, defeated South Korea's Hwang Hyejung 5-0. She will also face a Thai, Nilawan Techasuep.
In the men's event, Manish, the reigning National champion, sailed past Chinese Taipei's Lai Chu-Yen in a 5-0 triumph. He will square off against Japan's Rentaro Kimura in the gold medal bout.
Shyam Kumar (49kg) advanced to the final after getting a walkover from his Malaysian opponent Mohammad Fuad Redzuan. He will square off against Indonesian Mario Blasius.
Anwar had to toil for a 3-2 win over Japan's Baba Ryusei and he will take on local favourite Rogen Ladon in the summit clash.
Ashish, in contrast, got the better of Indonesia's Libertus Gha with a unanimous verdict. Up next for him is Filipino Sugar Rey Ocana.
Signing off with bronze medals were Muhammed Etash Khan (56kg), Ritu Grewal (51kg), Pawan Kumar (69kg) and Ashish Kumar (75kg).
Etash went down 0-5 to Ryan Moreno of Thailand, while Ritu lost 2-3 to Thanthip Wannaphrom of Thailand.
Later, Pawan was beaten in a 2-3 verdict by Thailand's Saylom Ardee, while Ashish bowed out with a 0-5 loss to Chinese Taipei's Kan Chia-Wei.