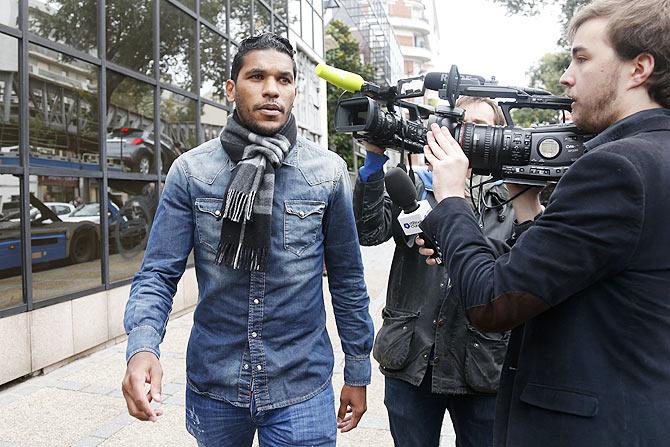 French football club Bastia's player Brandao leaves after a hearing at the French Football Federation (FFF) headquarters in Paris on November 4, 2014. Photograph: Charles Platiau/Reuters
Bastia forward Brandao has been sentenced to one month in prison for headbutting Paris St Germain midfielder Thiago Motta, a French tribunal said on Thursday.
The sentence, however, is expected to be turned into community service.
Brazilian Brandao, already suspended by the football authorities for six months, was also handed a fine of 20,000 euros ($24,966).
"It is extremely harsh. We used to say that footballers are not above the law but they should not be below the law either," his lawyer Olivier Martin told BFMTV.
Last week the French football federation rejected Brandao's appeal against his six-month ban.
Security camera footage broadcast on television after the game in August showed Brandao standing in a corridor outside the changing rooms at the Parc des Princes in Paris after the Corsicans' 2-0 defeat at the hands of the Ligue 1 champions.
Facing the camera as Thiago Motta comes into view, Brandao takes two steps forward before making contact with the Italian international's face.
The Brazilian, who was substituted in the game after picking up a yellow card, then turns and runs away with Thiago Motta in pursuit.
It is the second time in two seasons the former Olympique de Marseille player has been suspended.
He also received a three-match ban last season for elbowing another PSG midfielder, Yohan Cabaye.
Galatasaray sack former Italy coach Prandelli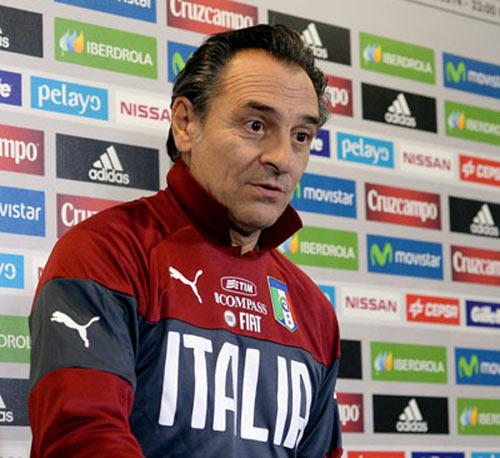 Cesare Prandelli: Photograph: Claudio Villa/Getty Images
Galatasaray have dimsissed former Italy World Cup coach Cesare Prandelli after a string of poor results culminating in their exit from European competition, the Dogan news agency reported on Thursday.
Anderlecht beat Galatasaray 2-0 in their penultimate Champions League Group D game on Wednesday, guaranteeing that the Turkish club would finish fourth and miss out on a place in the Europa League.
Prandelli's dismissal, widely reported by Turkish media, could not immediately be confirmed.
He resigned as Italy manager after they failed to get past the group stage at this year's World Cup in Brazil.
Galatasaray announced in July that Prandelli was replacing fellow Italian Roberto Mancini, who left the club after less than a season in charge.