A summary of sports events and sports persons, who made news on Monday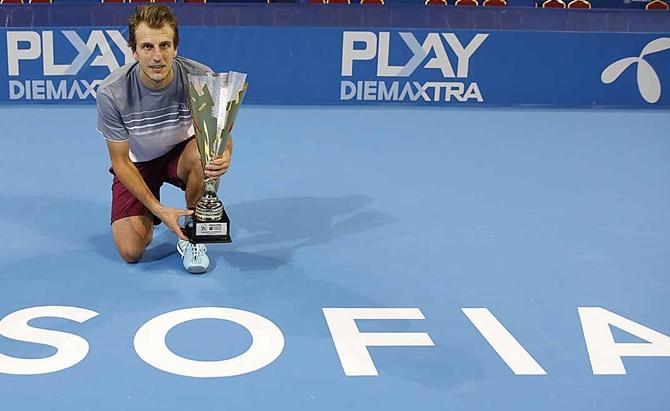 IMAGE: Mirza Basic poses with his trophy. Photograph: ATP/Twitter
Bosnian qualifier Mirza Basic needed all his skill and determination to beat big-serving Romanian Marius Copil 7-6(6) 6-7(4) 6-4 in a nerve-wracking final of the Sofia Open and win his first tour title on Sunday.
Basic showed no signs of fatigue, playing his seventh match in Armeets Arena, and became only the second Bosnian to win a title after Damir Dzumhur's triumph in St Petersburg in September.
The 26-year-old, who outclassed top seed Stanislas Wawrinka and fourth seed Philipp Kohlschreiber on the way to the biggest victory of his career, wore down his opponent with a punishing ground-stroking game and strong service returns.
World number 93 Copil, who fired 19 aces during his first final, also enjoyed an amazing run in Sofia, recording four straight sets wins. The Romanian will match his career-high ranking, climbing up to number 74 on Monday.
Undaunted by his first final, Basic, ranked 129th in the world, was stronger on the key points and moved brilliantly around the court.
He wrapped up the thrilling encounter in two hours and 21 minutes before collapsing to his knees in front of the roaring fans.
More familiar at the Challenger level of play, Basic - whose victory earned him nearly $110,000 and 250 points for the world ranking, topped his career-best effort of a semi-final finish in St Petersburg last year.
"It's a special day for me," Basic, who will climb up more than 50 places in the ranking to reach number 76 on Monday. "I won a tournament and I moved up into the top 100.
"I've always dreamed of a place in the top 100 and I managed to fulfil my dream today."
Gokulam Kerala sink Mohun Bagan 2-1
Debutants Gokulam Kerala FC secured their biggest win of the season as Henry Kisekka's 90th minute blinder stunned former champions Mohun Bagan 2-1 in an I-League football fixture at the Saltlake Stadium.
The Ugandan earlier set up Mahmood Al-Ajmi's peach of a goal in the 77th minute before Mohun Bagan took less than a minute to restore parity through season's leading scorer Dipanda Dicka who brought up his ninth goal with a calm and composed header.
Just when it was meandering towards a draw, a world-class volley by Henry gave Mohun Bagan the heartbreak as the 2015 champions signed off their campaign at home with a shock defeat that will continue to haunt forever.
This was Mohun Bagan's second defeat at home against two bottom-placed teams -- 1-2 defeat against Chennai City on January 2 -- as the Mariners (21 points) are virtually out of title race with four matches left in the league.
The win lifted Gokulam from the bottom, going past Chennai City on better head-to-head count as the Kerala outfit secured their fourth win from 13 matches, of which three have come in away matches.
Mohun Bagan needed more accuracy in their passes and finishing as their sloppy display was a big let down for the Shankarlal Chakraborty coached side.
The Kerala outfit made the best use of their chances.
Indians add four gold, one silver at Asian Games athletics test event
Indians continued their strong performance in the Asian Games athletics test event in Jakarta, adding four gold and a silver to their medal haul on the second day of competition.
Saritaben Gayakwad won a gold in women's 400m hurdles with a personal best timing of 59.02 seconds.
Asian Champion Ajay Kumar Saroj fetched the second gold by winning the men's 1500m race, clocking 3:43:85 to finish ahead of Mohammad Shaween of Saudi Arabia.
P U Chitra made it an Indian sweep in the 1500m by winning the gold in the women's event with a time of 4:18:74 seconds. Chitra finished ahead of her nearest competitor K Rathnayaka of Sri Lanka who clocked 4:19:25 seconds.
M P Jabir and Santosh Kumar Tamilarasan made it an Indian 1-2 in the men's 400m hurdles event. Jabir, the bronze medalist at last year's Asian Championships, won gold in 50.23 seconds while compatriot Tamilarasan finished with a time of 50.38 seconds.
Apart from the medal winners, 19-year-old long jumper Shreeshankar came up with a creditable effort of 7.74m in what was his first outdoor competition of the year. Despite his effort, Shreeshankar finished just outside the medal bracket with the bronze going at 7.82m.
Indian athletes had won two gold, three silver and as many bronze medals on the opening day of the competition on Sunday.