A summary of sports events and sports persons, who made news on Saturday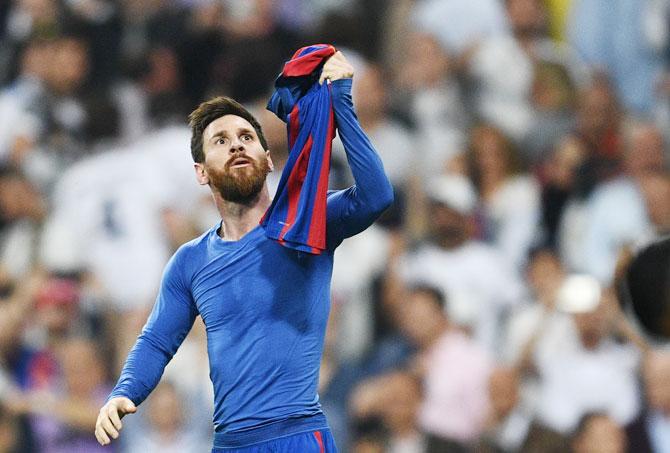 IMAGE: Lionel Messi made his Barcelona debut in 2004. Photograph: David Ramos/Getty Images
FC Barcelona will offer Lionel Messi a lifetime contract at the club, CEO Oscar Grau said on Saturday.
Messi, 30, agreed a four-year deal with Barcelona in July, although has not officially signed it yet.
Grau, speaking at the club's annual general meeting, said the Argentine forward would be offered a similar deal to the one Barca's Spanish midfielder Andres Iniesta signed this month.
"Messi signed a four-year deal in June, but the club will offer him a lifetime contract," Grau told club members.
"The idea is for Leo, who has been here since he was little, to stay here for life, as he is an icon. After he finishes playing we want him to remain linked to the club."
Barca want to stay in La Liga amid Catalan crisis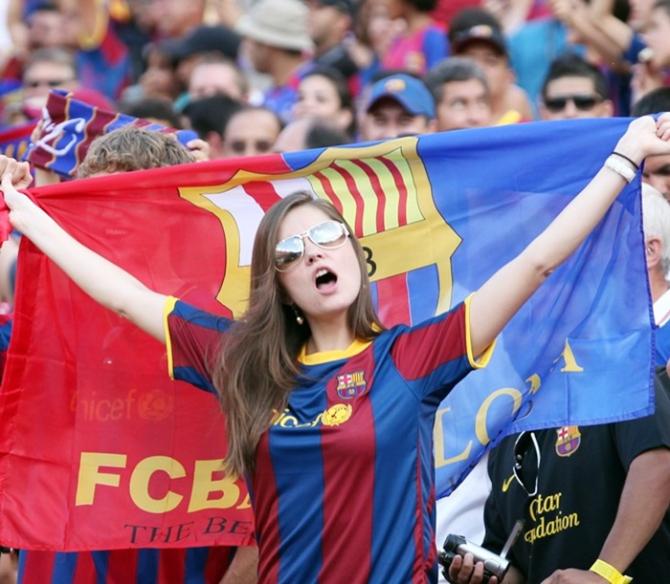 IMAGE: 'We will never put the club nor its presence in any competition at risk. That's why, to all the socios (members), I say that we want to continue playing in La Liga and, as of today, our participation [in La Liga] is guaranteed'. Photograph: Rob Carr/Getty Images
Barcelona president Josep Maria Bartomeu confirmed on Saturday the club wishes to continue playing in La Liga even if Catalonia is granted independence from Spain.
The Spanish government is holding a special cabinet meeting to deal with the crisis after Catalonia's president Carles Puigdemont wrote Prime Minister Mariano Rajoy a letter threatening a formal declaration of independence.
Bartomeu previously said the club members would be able to help decide Barcelona's future but speaking at the annual general meeting, the president was clear about his preferred option.
"You can be sure that this board will always act in the club's defence," said Bartomeu.
"We will never put the club nor its presence in any competition at risk. That's why, to all the socios (members), I say that we want to continue playing in La Liga and, as of today, our participation [in La Liga] is guaranteed.
"It's mutually beneficial for La Liga and Barcelona for that link to continue."
Bartomeu reiterated the club's call for "dialogue, respect and sport", a phrase which they displayed on a giant banner before their Champions League victory over Olympiakos on Wednesday.
The president expressed his disapproval at the arrest of two leaders of the Catalan independence movement, Catalan National Assembly (ANC) head Jordi Sanchez and independence group Omnium's leader Jordi Cuixart.
"We know that Barca is 'more than a club' and must be a space for harmony and respect," added Bartomeu.
"There must be respect for everyone, minorities and majorities, to think what they things, all institutions and people.
"For that reasons, it's unacceptable that in this century there are people in prison for their political ideas."
The club also confirmed their predicted forecast of a record revenue of 897 million euros ($1 billion) for the 2017-18 season and said they were making good progress in negotiations to find a sponsor for CampNou, which they are planning to rebuild.
"The renovation of CampNou is essential to achieve new income for the club," explained Bartomeu.
"In that regard, negotiations to find a company to sponsor the stadium are going well."
Suarez left out of Uruguay squad to recover from knee injury
Uruguay have left Luis Suarez out of their squad for November friendlies against Poland and Austria to help him overcome a knee problem.
The Barcelona striker sustained the injury in August against Real Madrid in the Spanish Super Cup but has been playing since for both club and country, helping Uruguay seal qualification for next year's World Cup.
"The AUF reports that Barcelona's medical department proposes, in order to continue with the good evolution and rehabilitation of Luis Suarez's right knee, that he undertakes medical and physiological treatment for a week from November 11," the Uruguayan FA said in a statement on Saturday.
India's Amjyot Singh enters 2017 NBA G League Draft
Indian basketball player Amjyot Singh has entered the player draft for NBA's G League to be held in New York.
Amjyot is an alumnus of the LudhianaBasketballAcademy that has trained top players, such as Satnam Singh Bhamara, Amritpal Singh and Jagdeep Singh.
One hundred and forty-six players are eligible to be selected in the 2017 NBA G League Draft, which will take place later on Saturday.
No trades will be permitted during the four-round draft and only players signed to an NBA G League Standard Player Contract are eligible to be selected.
Teams are required to make at least three selections during the draft. Once a team declines to make a pick, it may not make another selection for the remainder of the event.
The 25-year-old Amjypt hails from Chandigarh and has been part of India's national basketball team since 2015.
He has represented Delhi Capitals of the UBA Pro Basketball League and also turned up for the Tokyo Excellence in Japan. The 6 foot 8 inch Amjyot is primarily a forward.
Singer takes knee during national anthem at Nets game
Singer Justine Skye dropped to a knee toward the end of her rendition of The Star-Spangled Banner prior to the Brooklyn Nets home opener against the Orlando Magic on Friday.
Some NFL players have sat or taken a knee during renditions of the song the past two seasons to protest racial inequality in the United States but NBA players have stood in accordance with league rules.
The protests have raised the ire of US President Donald Trump, who says the players are being disrespectful to the country and the military.
In an online post, the 22-year-old Brooklyn native said she was uneasy about singing the song to begin with and said she probably would not be asked to do so again.
"I had to take a knee for the opening game in my city and let my voice be heard," Skye wrote in an Instagram post along with a video of the performance.
"We will not be silenced," she said, adding an emoji of a clenched fist and the hashtag #blacklivesmatter.
Ghosal in semis but Joshna, Pallikal exit
Saurav Ghosal reached the semi-final of the US$100,000 Channel VAS Championship in Surrey
After two rounds of tough qualifying phase, Ghosal showed his mettle by dislodging the third seed Marwan Elshorbagy of Egypt in the first round 11-7, 11-7, 11-2 to reach the milestone of 200 match wins in the PSA circuit.
The Egyptian did not pose much of a problem but in the next round, the Indian had a tough customer in another Egyptian, the eighth seeded Mohamed Abouelghar.
Ghosal came back from being 1-2 down at one stage to convert the 68-minute contest in his favour with some shrewd control over the pace of the match.
The Indian won 11-9, 5-11, 8-11,11-3, 11-8 and will another Egyptian, this time the top seed Mohamed Elshorbagy in the last four.
But there was some bad news for squash fans as Joshna Chinappa and Dipika Pallikal exited in the first round of the USD 50,000 Carol Weymuller Open in New York.
Joshna and Dipika succumbed to their Egyptian opponents.
Dipika was unlucky to be pitted against the second seed Raneem El Welily in the very first round and was knocked out after a 11-8, 11-6, 11-7 defeat.
Sixth seeded Joshna faced a tough fight against Salma Hany who won 9-11, 13-11, 14-16, 11-5, 12-10.
Schalke climb to fourth after beating Mainz
Schalke 04 scored a goal in either half to beat Mainz 05 2-0 and climb to fourth in the Bundesliga with their second consecutive win.
Germany international Leon Goretzka put them ahead after 13 minutes and Guido Burgstaller scored for the second straight game in the 74th to make sure of the three points.
Schalke, who have had a rocky start to the season under coach Domenico Tedesco, had control of the game and allowed only one shot on goal from Mainz the entire first half.
Leaders Borussia Dortmund, two points clear at the top on 19, travel to Eintracht Frankfurt on Saturday, hoping to bounce back from last week's defeat by RB Leipzig and their surprise midweek draw at Cyprus's APOEL Nicosia in the Champions League.
Champions Bayern Munich will be looking to make it two league wins in a row under coach Jupp Heynckes when they take on Hamburg SV.
Indian boxers win 8 medals in Balkan Open
Indian pugilists returned with an impressive haul of eight medals, including four golds, from
the third Youth International Championships Balkan Open 2017 at Sofia, Bulgaria.
Besides four golds, the Indian boxers won one silver and three bronze medals while Indian youth team was also adjudged as the best team in the championship.
Nitu (48kg), Sakshi (54kg), Shashi (57kg) and Neha Yadav (+81kg) won the golds, while silver went to Ankushita Boro (64kg).
The bronze medals were won by Joy Kumari (51kg), Sapna (75kg) and Anupama (+81kg).