Anand holds Carlsen to draw in Sinquefield Cup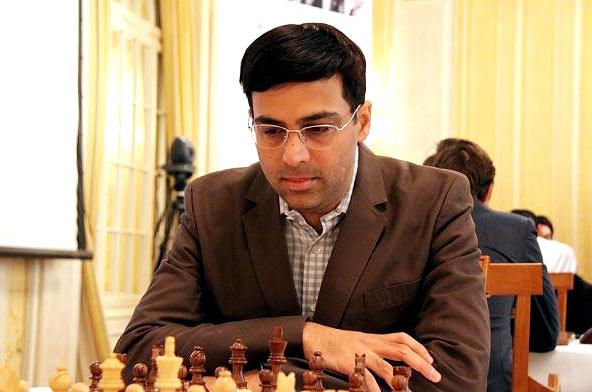 IMAGE: Viswanathan Anand in action. Photograph courtesy: Zurich Chess Classic
Five-time world champion Viswanathan Anand played out his third draw on the trot, signing peace with reigning world champion Magnus Carlsen of Norway in the third round of Sinquefield Cup, a part of the Grand Chess Tour.
Although he was never under any serious danger, Anand was pushed to defend an endgame.
With three draws from as many games, Anand would need to post some victories if he intends to finish on the podium.
The opening was a Ruy Lopez and the Graz variation was a surprise for Anand. Carlsen has seldom employed the opening set up and Anand decided not to venture in to sharp tactical tussle.
The Norwegian equalised easily and then in his typical ways exerted pressure in the rook and minor piece endgame.
Anand even lost a pawn on the 40th move but the game was always within the boundaries of a draw. The peace was signed after 66 moves.
With six rounds still to go in the 10-player round-robin tournament, the battle is only going to heat up from the next round when the spectators can hope for decisive games once again.
Results (Round 3): Viswanathan Anand (Ind, 1.5) drew with Magnus Carlsen (Nor, 2); Maxime Vachier-Lagrave (Fra, 2) drew with Peter Svidler (Rus, 1); Fabiano Caruana (Usa, 2) drew with Ian Nepomniachtchi (Rus, 0.5); Wesley So (Usa, 1.5) drew with Hikaru Nakamura (Usa, 1.5); Sergey Karjakin (Rus, 1.5) drew with Levon Aronian (Arm, 1.5).
Atwal makes cut at Nevada
Indian golfer Arjun Atwal overcame a poor start and some late hiccups before a birdie on the final saved him from an early exit at the Barracuda
Championship.
Atwal, who had six points in the first round and four more in second, made it on the cut line.
Meanwhile, Richy Werenski birdied six holes and eagled No. 18 to take a two-point lead.
Aditi misses cut at Women's British Open
Aditi Ashok missed her second straight Major cut as she failed to advance to the weekend rounds at the Ricoh Women's British Open.
Aditi, who had a first round card of 76 and had five birdies in her second round, dropped three doubles and one bogey to come back with a score of two-over 74.
With a total of six-over 150, she missed the cut by a huge margin.
Aditi had earlier made cuts at ANA Inspiration and KPMG, while missed the cut at US Women's Open.