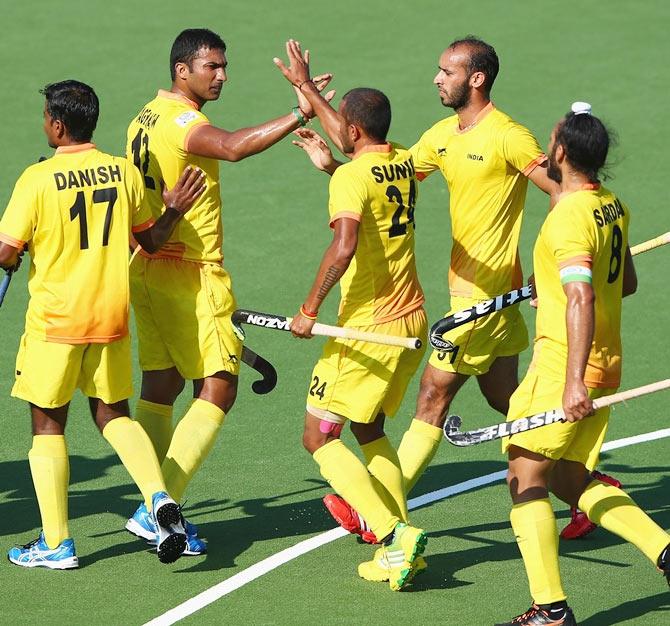 VR Raghunath of India celebrates after scoring from a penalty corner during the Mens Hockey match between India and Wales. Photograph: Ian Walton/Getty Images
The Indian hockey team has been drawn in a tough group alongside Olympic champion Germany and World Cup runner-up the Netherlands among others for the Champions Trophy to be held in Bhubaneswar from December 6-14.
Placed in pool B, India will also have 2014 World Cup bronze medallist Argentina to contend with.
Pool A consists of 2014 World Cup and defending champions Australia, Commonwealth Games bronze medallist England, Euro nations silver medallist Belgium and defending Asian Games gold medallist Pakistan.
Since its inception in 1978, Pakistan remains the only Asian team to win the competition. They earned a place at the 2014 competition through their third-place finish in the 2012 tournament in Melbourne.
The opening day of the tournament will feature all eight teams taking to the field on India's first newly built Olympic standard pink and blue hockey pitch in the Kalinga Stadium.
The 5,000-seater stadium also serves as the home ground for Hero Hockey India League franchise, Kalinga Lancers.
FIH President, Leandro Negre said: "We are excited about the tournament as we know fans in Bhubaneswar love hockey, as witnessed by the packed stands during the Hero Hockey India League earlier this year at the Kalinga Stadium.
"This is indeed a very exciting time for hockey lovers as the best teams of the world are converging in Bhubaneswar to win the coveted trophy. The fan following of the sport is on an upswing in India.
"The country is all geared up to host the international teams and witness some unforgettable hockey moments being created in Bhubaneswar in December this year," said Narinder Batra, Hockey India Secretary General.
Anand beats Ponomariov in Bilbao chess opener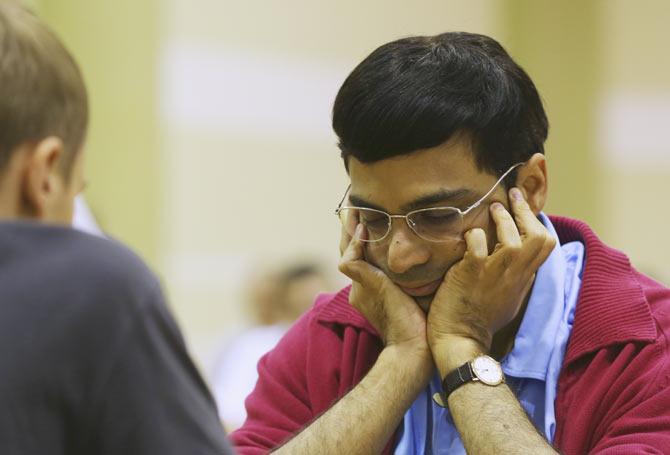 India's chess ace Viswanathan Anand. Photograph: Francois Nel/Getty Images
Five-time world champion Viswanathan Anand started his campaign at the Bilbao Final Masters with a crushing win over former FIDE world champion Ruslan Ponomariov of Ukraine in Bilbao, Spain.
Playing his last tournament ahead of the World Championship re-match against Magnus Carlsen in November, Anand showed that he was in top form and outclassed Ponomariov in all departments of the game.
The four-players double-round-robin tournament saw the other game between Levon Aronian of Armenia and Francisco Vallejo Pons of Spain ending in a draw which also made Anand the early leader in the tournament.
The Indian ace got three points for his win in the soccer-like scoring system in place that gives three points for a win and one for a draw. Pons and Aronian share the second spot on one point while Ponomariov is at the bottom now.
Anand played the white side of a King's Indian defense and his unique approach to the opening left Ponomariov at sea pretty early in the middle game. The Ukrainian struggled to find the right defence and counter-play while Anand controlled the board with some deft manoeuvres.
Anand decided to keep his king in the centre and opened the King side for his advantage. When the Indian ace eventually castled on his 19th move, Ponomariov was already staring at a huge challenge to find his way back in the game. The Ukrainian sacrificed a pawn to look for counter-play but Anand was in remorseless mood as he not only digested the extra material but also exchanged pieces at regular intervals to reach a winning queen and minor piece endgame. Ponomariov fought on till move 61, but the fate of the game was decided much earlier.
In the other game of the day, Levon Aronian created complexities but Vallejo Pons remained on his guard with his white pieces. For the record, it was Nimzo Indian wherein Aronian went for an early king side expansion with his pawns and Vallejo was left to tackle the task of equalising.
The Spaniard, however, was never in any serious troubles as the pieces changed hands at regular intervals and a rook and pawns endgame was reached in quick time.
Aronian finally signed peace after 46 moves when he found no way to continue in a theoretically drawn ending.
Results round 1: V Anand (Ind) beat Ruslan Ponomariov (Ukr); Francisco Vallejo Pons (Esp) drew with Levon Aronian (Arm).
Lisicki battles past Pliskova to win inaugural WTA Hong Kong Open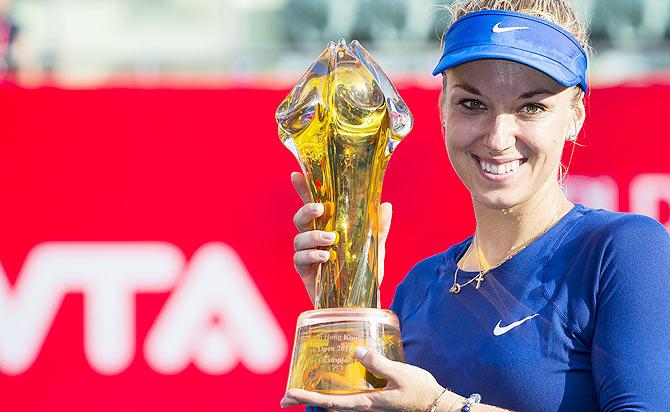 Sabine Lisicki of Germany poses with the trophy after winning the Hong Kong Tennis Open against Karolina Pliskova of Czech Republic on Sunday. Photograph: Victor Fraile/Getty Images
German tennis ace Sabine Lisicki recorded a straight set win over Czech Republic's Karolina Pliskova to justify her top seeding by winning the inaugural WTA Hong Kong Open on Sunday.
Lisicki, who had endured a lean time on tour since losing the Wimbledon final to Marion Bartoli last year to tumble out of the world's top 30, beat Pliskova 7-5, 6-3 during an error-strewn match at Victoria Park.
The Czech third seed had seemed on course to avenge her second-round defeat to the German at Wimbledon this year when she raced into a 5-1 lead in the first set, breaking Lisicki's serve twice.
But Lisicki slowly got into her stride to spark a remarkable run in which she broke back twice to level at 5-5, Sport24 reported.
Pliskova again had chances to break as Lisicki faltered to 15-40 in the 11th game. But the Czech world number 36 couldn't take advantage.
Lisicki served out for her fifth game in a row and squandered one set point on Pliskova's serve in the next game, but a searing backhand crosscourt pass in the best rally of the match sealed the set 7-5.
The first set capped an incredible run of six consecutive games for the world number 31. Lisicki made it seven on the trot by holding serve to open the second set, but Pliskova finally got back on the scoreboard with a service hold of her own.
When Lisicki broke again and strode out to a 4-2 lead the match looked all but over. Pliskova fought back from 40-30 to break while Lisicki double-faulted for the seventh time in the match.
However, Pliskova was immediately broken again and Lisicki served out to seal the match, the report added.
Muhammad Ali's secret daughter wants to see him 'one last time before he dies'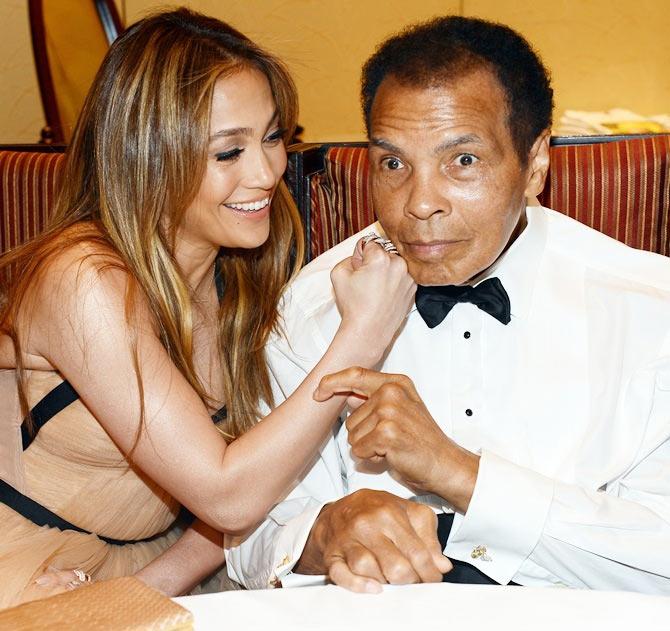 Singer Jennifer Lopez and boxer Muhammad Ali attends Muhammad Ali's Celebrity Fight Night. Photograph: Michael Buckner/Getty Images for Fight Night (This image is used for representational purposes only)
Boxing legend Muhammad Ali's secret daughter, Kiiursti Mensah Ali , has revealed that she wants to see the 72-year-old boxing star "one last time before he died".
The 33-year-old daughter, who claims to be the result of a 20-year love affair between her mother Barbara Mensah and Ali, said that the former boxer used to regularly visit her and her mum before he got married to Lonnie in 1986, the Mirror reported.
Kiiursti added that Ali, who married his fourth wife Lonnie three years after he was diagnosed with Parkinson's Disease, stopped coming to see her as Lonnie stopped him from having a relationship with his secret daughter.
Kiiursti, who doesn't want Ali's money, said that now she just wants to say goodbye to him before he dies and she pleads with Ali's fourth wife, who has control of everything, to "let her spend time with her father especially now when he is so ill."
Lucic-Baroni stuns Venus for first title in 16 years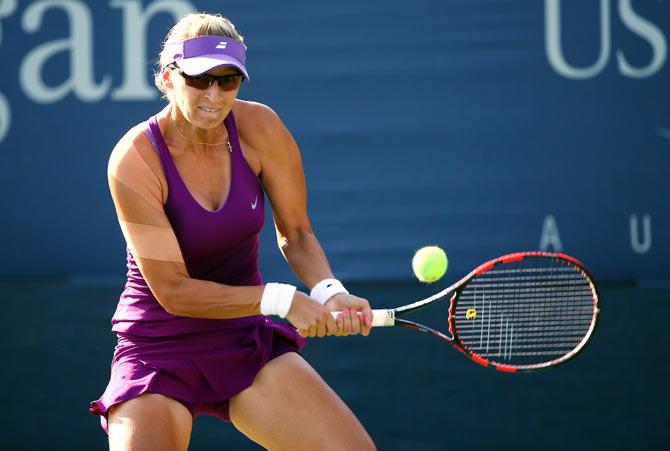 Mirjana Lucic-Baroni of Croatia. Photograph: Streeter Lecka/Getty Images
Croatia's Mirjana Lucic-Baroni stunned Venus Williams 6-4, 6-3 to win the Coupe Banque Nationale in Quebec City on Sunday, 16 years after her last WTA Title.
It is a record for the longest gap between titles, following her previous triumph in Bol, Croatia in 1998.
The 32-year-old former Wimbledon semi-finalist disappeared from the WTA Tour from 2004-06 but has rekindled her career and recently reached the US Open fourth round, beating world number two Simona Halep on the way.
"It's been so long," she said on the WTA website.
"I'm finally playing the great tennis I always knew I could play, but it had been so long that I kind of lost a little bit of the belief in myself."
Norman a 'lucky man' after chainsaw hand injury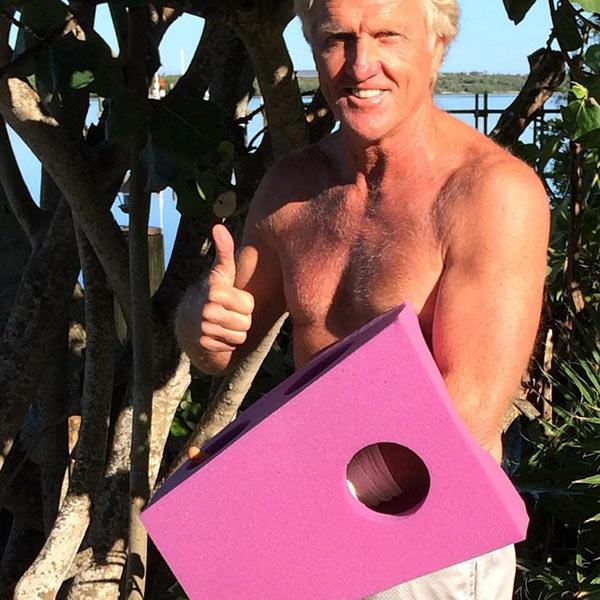 Greg Norman shows off his injured hand in a purple foam brace. Photograph: Greg Norman/Instagram
Golfing great Greg Norman said he was "one lucky man" after injuring his left hand while working with a chainsaw at his south Florida home.
The 59-year-old Australian, now recovering from the accident, needed surgery to repair nerve damage.
The former world number one, who won the British Open in 1986 and 1993, posted a picture late on Saturday on photo-sharing site Instagram of himself lying in a hospital bed with a heavily-bandaged left arm.
"Working with a chainsaw ALWAYS be respectful of the unexpected. I was one lucky man today. Damaged, but not down & out. Still have left hand," Norman, nicknamed the 'Great White Shark', said in a message on Twitter with the picture.
According to the Golf Channel on Sunday, Norman sustained no muscular damage in the accident, which occurred while he was cutting back trees on his property.
A week ago, Norman posted a picture of himself on Instagram working with a chainsaw to cut a small tree.
"Time to trim the sea grapes today. Never ask someone to do something that you can do yourself. Love to work!" he said.
On Sunday, Norman posted another Instagram, this time with him standing shirtless in front of the tree, giving a thumbs-up with his right hand while his left arm was protected by a purple foam brace.
"Thank u all for your concern & good wishes. All well the morning after the accident. Here I am at the scene of the crime w/my new fashion statement!" Norman said.
'Nude' Columbian women's cycling team slammed on social media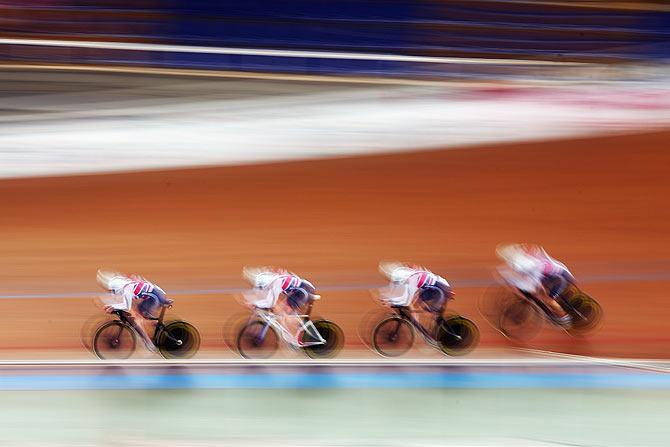 A British cycling team in action. Photograph: Bryn Lennon/Getty Images (This image is used for representational purposes only)
The new uniform of Columbian women's cycling team that includes a skin-coloured strip through the private area has provoked quite a rage on social media.
The women cyclists made a debut with their uniform at a major race in Italy over the weekend.
Italian cycling website Tutobiciweb published an article on the issue that was headlined 'how sad', reported Stuff.co.nz.
There were immediate reactions on Twitter where users criticised the uniform.
One user tweeted saying that the uniform was horrible and that the whole outfit was unfortunate.
The team was backed by Columbia's ministry of sport and the nation's capital city of Bagota had sponsored them.