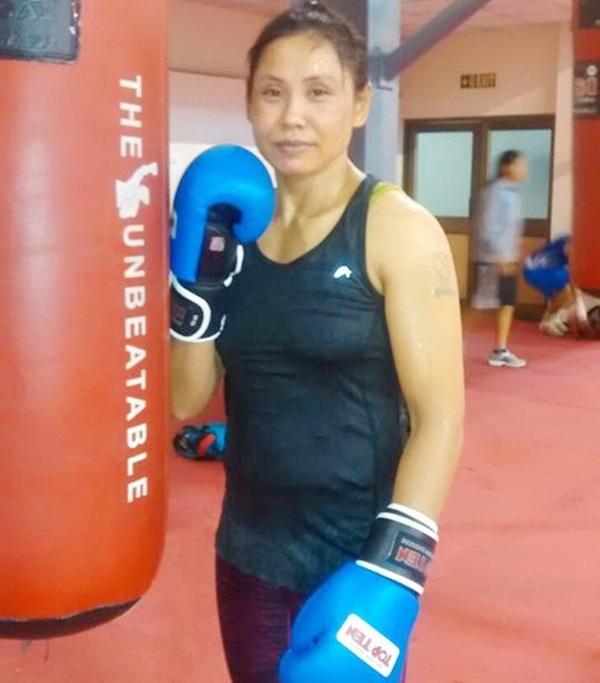 Boxer Sarita Devi. Photograph: Sarita Devi/Facebook
Throwing his weight behind veteran boxer Sarita Devi, minister of state for sports and youth affairs Sarbananda Sonowal said that he would request the International Boxing Association (AIBA) to be lenient on pugilist.
"On behalf of the Government of India we will take up the matter with AIBA. We will request them to reconsider her case.
"People of India are behind Sarita Devi and it a matter of concern for us. She has our full backing," he said.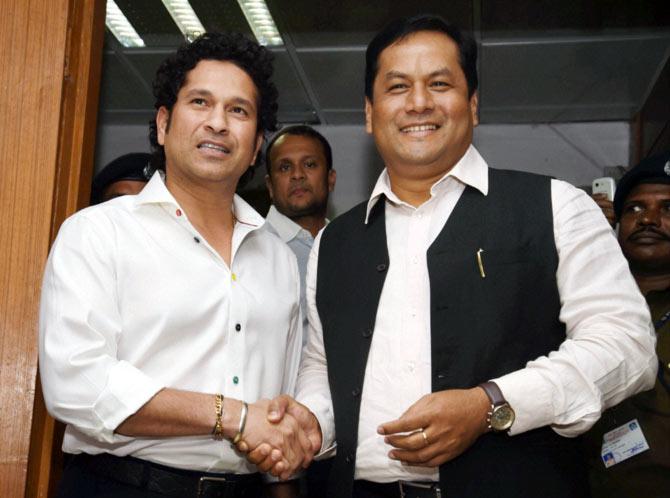 Sports minister Sarbananda Sonowal, right, with Sachin Tendulkar. Photograph: PTI
"Being a sportsperson I know what Sarita Devi must have gone through. It must have been a difficult moment for her. Everyone responds differently to situations. AIBA should consider her case. She has apologised to the world body also. Our discussion was how to move forward and what to say to AIBA," Tendulkar said.
The Rajya Sabha MP added: "We want the entire country to be behind Sarita Devi so that her career doesn't get jeopardised. Boxing India, Sports Ministry have shown a lot of support. We just want to move forward in the right direction."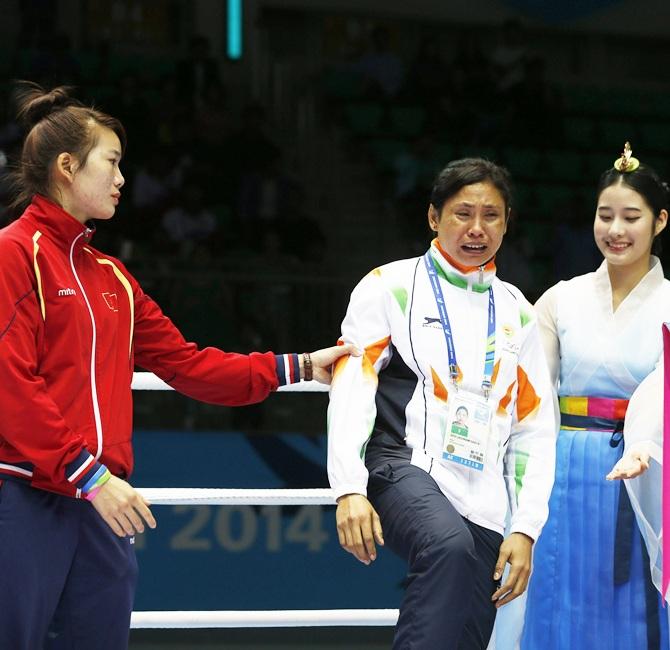 India's Sarita Devi, centre, at the podium after refusing to accept the bronze medal. Photograph: PTI
Earlier, the AIBA had suspended Sarita Devi and her coaches indefinitely because of her protest at the 2014 Asian Games.
Devi had lost in the semi-finals of the women's lightweight (60kg) competition at the Incheon Asian Games in September, and in protest gave the bronze medal to give her medal at the presentation ceremony.
Devi, upset with the controversial decision, refused to bend down to let the medal be placed over her neck. She then took the medal and slipped it onto the neck of Park Ji-Na, who had been declared the winner of their semi-final bout.
The South Korean boxer, an eventual silver medalist, tried to give the bronze medal back to Devi, then left it on the podium.