India's Mouma Das, K Shamini and Madhurika Patkar have entered the main draw of the women's singles event while Soumyajit Ghosh too made the cut in the men's competition at the World Table Tennis Championships in Paris.
In the second preliminary round, Das got the better off Rheann Chung of Trinidad and Tobago 4-1 to secure her place in the main draw.
K Shamini defeated Sovenia's Manca Fajmut 4-2 while Madhurika Patkar too registered a 4-2 win over Gulchekhra Khusseinova of Kazakhstan to seal their spots.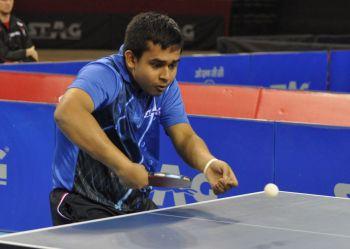 However, Neha Aggarwal (428) went down to Monika Pietkiewicz (262) of Poland in a hard-fought seven set encounter. Aggarwal lost the match 11-6, 9-11, 8-11, 6-11, 11-6, 11-8, 10-12.
In the men's singles, Ghosh (189) recorded a six game win 8-11, 11-9, 11-3, 11-5, 5-11, 11-5 over Julien Indeherberg of Belgium in the second preliminary round.
The 20-year-old Indian will now take on world number 2 Long Ma of China.
Ace Indian padddler Achantha Sharath Kamal is seeded in the main draw while Anthony Amalraj was given a direct entry among top 128 paddlers.
Sanil Shetty (329) was blanked by Egypt's Ahmed Saleh, ranked 156, in the second match of the preliminary round while Harmeet Desai (275) too failed to clear the second hurdle as he was floored 0-4 by Robert Floras (175) of Poland.
In the mixed doubles competition, the pairs of Sharath Kamal and Shamini, Amalraj-Patkar, and Ghosh-Das have cleared the first round of the main draw.
India's challenge in the men's doubles competition ended after duo of Desai and Ghosh lost their third preliminary round match to Taipei's Chia-Sheng Lee and Chih-Chi 5-11, 9-11, 10-12, while the pair of Aggarwal and Patkar is India's lone representative in the women's doubles event.
Photograph: TTFI