Robin Soderling is unlikely to be on Rafael Nadal's Christmas card list this year after once again getting under the Spaniard's skin at the ATP World Tour Finals.
Nadal's slim hopes of reclaiming the World No 1 spot from Roger Federer were hit when he lost 6-4, 6-4 to the Swede on Monday in the first of his three round-robin matches.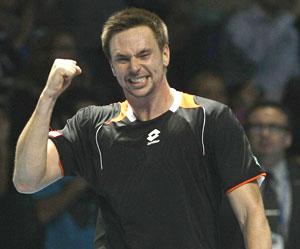 Soderling was only invited to the season-ending tournament at the last minute after Andy Roddick withdrew through injury.
"It's always fun to play against a good player. I always enjoy playing against the top guys. Nadal is for sure one of them," the Swede said.
"It feels better to beat World No 2 than world number 200. So I always enjoy beating good players than lower-ranked players.
"But me, personally, I have nothing against Rafa. As I said, we played a lot of times and we always had good matches. I always enjoy playing against him."
"Enjoy" is not the word Nadal would use to describe his encounters with Soderling.
The last time they met in London, the Swede did not win but he irritated the Spaniard with his on court antics.
TETCHY CLASH
During a tetchy third-round encounter at Wimbledon in 2007, he mimicked Nadal by yanking at the seat of his pants, failed to apologise for net cords and further aggravated the Spaniard by not shaking his hand properly after losing the match.
But that was nothing compared to the heartache Soderling heaped on Nadal at the French Open in May when he ended his four-year Paris reign in the fourth round.
While many had tipped Nadal to gain sweet revenge at the riverside O2 Arena on Monday, Soderling made sure his devastating forehand was again in full flow as he sank the second seed in one hour 38 minutes.
"I don't believe in revenge," said 23-year-old Nadal, who has not won a title since May. "I went on court, tried my best. I didn't think for one second about the Roland Garros match.
"It's completely different conditions and the moment is completely different, too. So it didn't affect anything."
Although Nadal tried to play down his latest defeat in a season where he has struggled to regain his imperious form after being struck down by tendinitis, he promised he would soon be back terrorising his opponents.
"The second half of the year was difficult for me and probably I lost a little bit of confidence," he said.
"But I am working really hard to come back at my best level. I think I'm not far away from my best level."
Bryan twins lose
American duo Bob Bryan and Mike Bryan saw their hopes of ending the year as the world's best doubles team fading away as they lost their opener 6-4, 6-4 to Max Mirnyi and Andy Ram at the ATP World Tour Finals on Monday.
They now have to win the title here and hope Daniel Nestor and Nenad Zimonjic lose their next two matches after the pair's defeat on Sunday in the first of three round-robin matches.
The 31-year-old Bryan twins, who have won all four Grand Slam titles in their career, are 930 points behind Canada's Nestor and Serbian Zimonjic in the rankings - the pair they lost to in the Wimbledon final this year.
"We could have maybe put a little pressure on them today," Bob Bryan said. "But I guess mathematically we still have a chance. If we play some good tennis down the road, who knows what's going to happen."