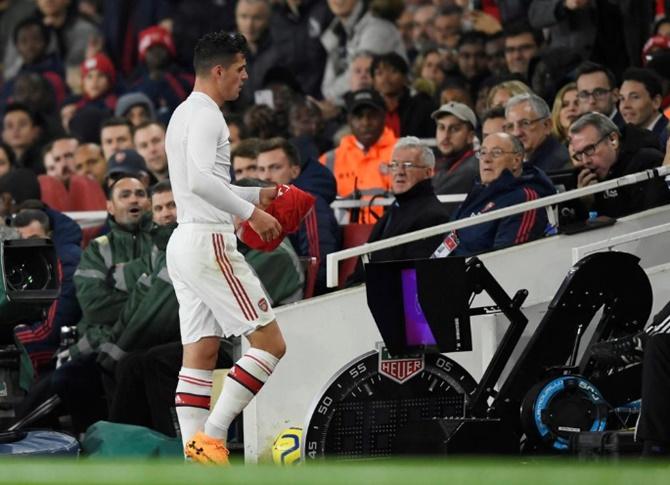 Arsenal manager Unai Emery has stripped Granit Xhaka of the captaincy and left him out of the Premier League side's squad for their Europa League game against Portugal's Vitoria.
"I had a meeting with him and told him he is no longer in the captain's group," the Mirror website quoted the Spaniard as telling reporters on Tuesday.
Pierre-Emerick Aubameyang takes over the permanent role, although he was also not in the 18-man travelling squad for the match in Guimaraes and Hector Bellerin is likely to stand in instead.
"He (Xhaka) accepted my decision. We need to carry on and focus on tomorrow's match. I needed to take a decision and now it's closed," said Emery.
Arsenal are top of Group F after three consecutive victories.
The Swiss midfielder has been in the spotlight since he reacted angrily to home fans booing him after he was substituted during Arsenal's 2-2 draw with Crystal Palace at the Emirates Stadium on Oct. 27.
Xhaka has not played for the club since then.
Furious Inter coach Conte lambasts club over poor planning
Furious Inter Milan coach Antonio Conte has lambasted the directors of his club for poor planning after seeing his team squander a two-goal halftime lead and lost 3-2 to Borussia Dortmund in the Champions League.
The fiery coach repeated his complaint that his squad is too thin and players too inexperienced to battle on two fronts and also suggested that club directors should face the television cameras as well as himself.
"Some important mistakes have been made at the planning stage, we can't play both the Champions League and Serie A with such a small squad," said Conte after Tuesday's match.
"I'm tired of saying the same things over and over again, perhaps they could come here over and say something. I hope that this will help them understand a few things."
There was no immediate reaction from the club leadership.
Conte conceded that he felt like a broken record as he kept complaining about the crowded fixture list and explaining that Inter are still in the early stage of building a new team.
"They tell me that I should smile more on television," he added. "But I always end up saying the same things, about the growth process, about taking it step by step."
"The lads are giving everything and going at full pelt and I can't ask them for more than that," he said, before complaining about their lack of experience.
"We are talking about players who, apart from Diego Godin, have never won anything. Who do we turn to? Nicolo Barella who has come from Cagliari? Or (Stefano) Sensi, who came from Sassuolo?"
Conte made similar complaints when he was coach at Juventus, where he won three successive Serie A titles but struggled in the Champions League, famously saying that "you can't eat at a 100 euro restaurant with a 10 euro note."
His comments are likely to raise eyebrows as Inter spent more than 150 million euros (£129 million) on new signings during the transfer window. However, they also let a number of key players go including Mauro Icardi, their leading scorer for each of the last five seasons, and midfielder Radja Nainggolan.
Chinese-owned Inter, who have not won any major silverware since 2011, are second in Serie A, one point behind leaders Juventus. Tuesday's defeat left them third in Champions League Group F, three points behind Borussia Dortmund.
"We need to keep a low profile," added Conte. "Our position in Serie A should not allow us to forget our problems."
It's inadmissible to speak of races in 2019: Sarri on racism
Condemning the racist incidents in football, Juventus manager Maurizio Sarri said that it is inadmissible to speak of races in 2019.
There have been many incidents of racism affecting football. The most recent one was witnessed on Sunday during a clash between Verona and Brescia when the latter's Mario Balotelli was targeted by the fans. "Unfortunately I smile when you speak about racism in football. That's because those who are racist at the stadiums are also like this in society, one cannot think that the stadium is a world apart," Goal.com quoted Sarri as saying.
"Football has the right technology to stop these people. It's inadmissible to speak of races in 2019. There is only one race: the human race," he added.
'Unique agreement' closes pay gap in Australia: FFA
Australian soccer's governing body said on Wednesday it has reached agreement with the players' union on a new collective bargaining agreement (CBA) that "closes the pay gap" between the men's and women's national teams.
Football Federation Australia (FFA) said the four-year deal would ensure the 'Matildas', who reached the 2019 women's World Cup last 16, and the Socceroos would receive a 24 per cent share of an agreed aggregate of generated revenues in 2019-20, rising by 1 per cent each year.
Players will receive an increased share of prize money for FIFA World Cup qualification, up to 40% from 30%, with the share rising to 50% if they progress to the knockout stage.
"Football is the game for everyone, and this new CBA is another huge step toward ensuring that we live the values of equality, inclusivity and opportunity," FFA Chairman Chris Nikou said in a statement here
"For the first time, player remuneration will be directly tied to the revenues generated by our National Teams – this will create a sustainable financial model that incentivises players and FFA to collaborate and grow the commercial pie together."
Under the deal, the FFA and Professional Footballers Australia (PFA) also agreed a new three-tiered centralised contract system for the Matildas that will see the country's top female players earn the same as the men's team.
FFA's parental leave policy will be also be reviewed to offer higher levels of support for Matildas during pregnancy and when returning to national team duty.
Iraq told to play this month's qualifiers at neutral venue
Global soccer's governing body FIFA said on Wednesday it has told Iraq to play two 2022 World Cup qualifiers they were due to host this month at a neutral venue due to the security situation in the country.
Iraq played their first competitive match on home territory for eight years last month when they hosted Hong Kong in a World Cup qualifier in the southern city of Basra where this month's games were also scheduled to be played.
However, they must again look for an alternative venue for their matches against neighbours Iran on Nov. 14 and Bahrain five days later.
FIFA said in an emailed statement to Reuters that it took the decision jointly with the Asian Football Confederation (AFC) "following an assessment of the current security situation in Iraq".
"The Iraqi Football Association has been requested to nominate a neutral venue for the said matches," it added.