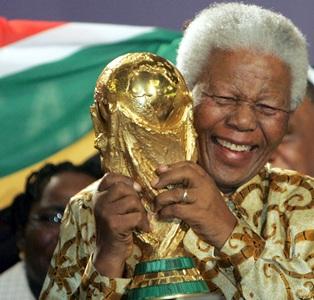 World soccer body FIFA ordered flags to be flown at half mast and a minute's silence to be held before the next round of international matches after the death of Nelson Mandela on Thursday.
-Hero of South Africa Nelson Mandela dies at 95
FIFA president Sepp Blatter, in Brazil for Friday's draw for the 2014 World Cup, paid tribute to the former South African president and Nobel Peace Prize winner in a statement.
"It is in deep mourning that I pay my respects to an extraordinary person, probably one of the greatest humanists of our time and a dear friend of mine: Nelson Rolihlahla Mandela," said the Swiss.
"When he was honoured and cheered by the crowd at Johannesburg's Soccer City stadium on 11 July 2010, it was as a man of the people, a man of their hearts, and it was one of the most moving moments I have ever experienced."
Mandela's last major appearance on the global stage came at those 2010 World Cup finals, the first to be hosted on African soil, when he attended the final in Soweto to a thunderous ovation from the 90,000 strong crowd.
The man who made reconciliation the theme of his presidency had also won over many whites when he donned the jersey of South Africa's national rugby team - once a symbol of white supremacy - at the the final of the rugby World Cup in Johannesburg's Ellis Park stadium in 1995.
"Nelson Mandela will stay in our hearts forever. The memories of his remarkable fight against oppression, his incredible charisma and his positive values will live on in us and with us," said Blatter.
"As a mark of respect and mourning, the flags of the 209 member associations at the Home of FIFA will be flown at half-mast and there will be a minute's silence before the next round of international matches."
Image: Former South African President Nelson Mandela holds the World Cup Trophy after FIFA President Joseph Blatter announced that South Africa is chosen to host the 2010 Soccer World Cup
Photograph: Andreas Meier/Reuters