Pankaj Advani added another feather to his illustrious cap as the eight-time world champion became only the second Indian cueist to qualify for the main draw of Welsh Open Pro Snooker Series.
Advani defeated former world champion Peter Ebdon 4-3 in a nail-biting encounter to enter the draw of 32 in the Welsh Open in Sheffield.
In the past, two-time Asian champion Yasin merchant had qualified for the round of 32 during his stint on the professional circuit.
If Adavni mamanges to beat his first round opponent then he will become the first Indian cueist to enter the pre-quarter finals.
In his qualifying finals, Advani had a disastrous start, with Ebdon racing to a 2-0 lead. The Indian, however, fought back with a 48 break to notch up his first frame of this final qualifier match 72-42.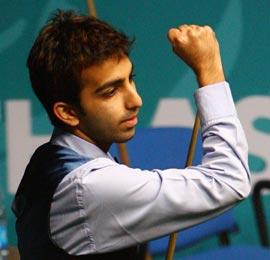 The crucial fourth saw Pankaj with a healthy lead until his English opponent fought back but the Indian clinched the frame 67-66.
At 2-2, Ebdon fired in an 83 break to secure the fifth frame 83-16 with only one frame to go for the Brit to enter the prestigious Welsh Open main draw.
However, Ebdon was stretched to the decider as his 27-year old opponent took the score to 88-49 with the help of a 52 break.
In the decider, Pankaj utilised the momentum he gathered from bouncing back to enforce the decider from virtual defeat and went on to construct a clean, match-winning 63 break.
"Peter Ebdon is a formidable force in the world of snooker. Overcoming his challenge is huge for me and to do so to enter the Welsh Open main draw makes me ecstatic," an elated Advani said.
Asked about being the only Indian in the elite top-32 stage, Pankaj said, "I'm glad to have contributed to making a representation of our country in the main event. It just reconfirms our prominence in global professional snooker and wins like these will hopefully get sponsors for its performers as well as a pro event to India soon."
Advani gave the ongoing national billiards and snooker championship a miss for the first time in his 15-year long career to focus on the professional snooker tour.
Advani may have missed the nationals this year but he will get a direct entry into the Asian and the World billiards championship as the defending champion.
Photograph: Ryan Pierse/Getty Images for DAGOC