Scotland's John Higgins became the first snooker player to compile a maximum break of 147 in successive matches when he achieved the feat during the second round of the British Open in Brighton.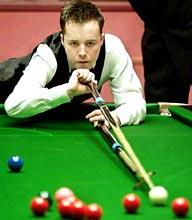 The 28-year-old 1998 world champion, who put together a 147-break against  Mark Williamsin during last month's LG Cup final in Preston, achieved the feat in the fifth frame of his 5-1 victory over Michael Judge on Wednesday.
It was the fourth 147 of the Scot's career.
His compatriot Stephen Hendry, with eight, and Englishman Ronnie O'Sullivan, with six, are the only players to have achieved more maximum
The break earned the world No 4 a £20,000 cash bonus, plus £5,000 for the highest televised break.