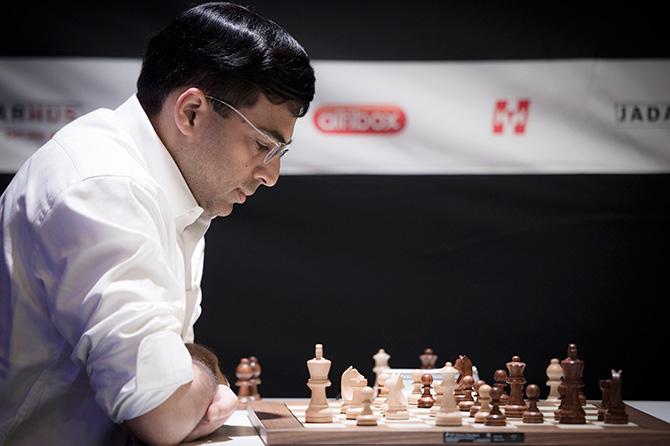 Indian grandmaster Viswanathan Anand. Photograph: Getty Images
Viswanathan Anand ended his stint with a draw against World Champion Magnus Carlsen of Norway and finished at ninth position in the Sinquefield Cup
in St Louis.
For Anand, the below-par performance with two losses and seven draws in the nine-round tournament also resulted in a slip from the second spot in the Grand Chess tour standings, which will now conclude at the London Chess Classic in December.
Levon Aronian of Armenia expectedly won the tournament after an easy draw with Veselin Topalov of Bulgaria. Tallying an impressive six points, Aronian won three and drew six games in the event.
The lone decisive game of the final round saw Hikaru Nakamura of United States toppling Alexander Grischuk of Russia after a tense affair. In the other two games, Maxime Vachier-Lagrave of France signed peace with Anish Giri of Holland, while last year's winner Fabiano Caruana also achieved the same result against Wesley So of United States.
Aronian ended a point clear of nearest rivals. It was a four-way tie for the second spot and Magnus Carlsen bagged the second place with his best tiebreak score. Hikaru Nakamura, Maxime Vachier-Lagrave and Anish Giri finished third to fifth.
Topalov and Grischuk shared the sixth spot on 4.5 points and these two ended a full point ahead of Caruana and Anand. Wesley So ended last with three points.
For the Grand Chess tour standings, Anand just got two points from here, a big slip compared to 10 that the Indian ace earned by finishing second in the Norway tournament earlier this year.
Topalov continued to top the 'tour' standings with 17 points in all but it's a very close race now with Nakamura on 16, Aronian on 15 and Carlsen on 14. Giri is fifth on 13 points, while Anand now stands sixth with 12 points in all.