'The Chinese will be gunning for revenge now after Sindhu's victory.'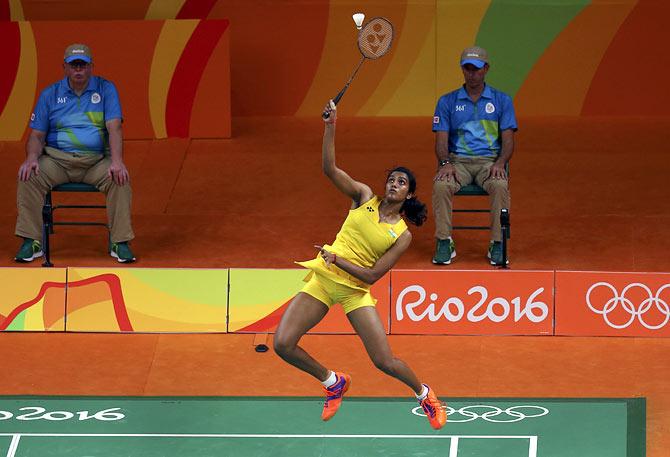 IMAGE: P V Sindhu in action during her quarter-final against Wang Yihan of China. Photograph: Marcelo del Pozo/Reuters
The shooters came close, but left empty handed. The archers fought well, but couldn't succeed.
The mixed doubles pair of Sania Mirza and Rohan Bopanna promised much after beating Andy Murray and Heather Watson, but were left without a medal after they lost to the US in the semi-final and then to the Czech Republic in the bronze medal play-off.
There is at last an Indian medal hope after shuttler P V Sindhu caused a huge upset to toppled World No 2 Wang Yihan 22-20, 21-19 to cruise into the semi-finals at the Rio Olympics.
In men's badminton, India's top shuttler Kidambi Srikanth will play the biggest match of his career on Wednesday against reigning champion Lin Dan for a place in the semi-final.
This, after Saina Nehwal, the poster girl of Indian badminton, was knocked out in the second round by by World No 61 Maria Ulitina of the Ukraine.
Rediff.com's Aruneel Sadadekar spoke to 2014 Commonwealth Games gold medalist Parupalli Kashyap about Indian badminton's chances at the Olympics.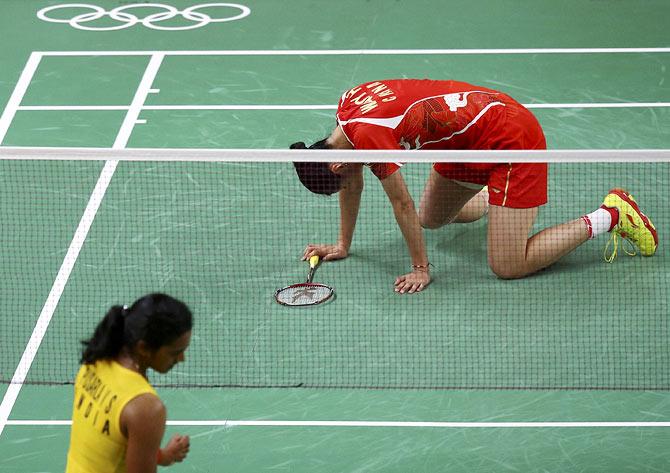 IMAGE: P V Sindhu looks on as Wang Yihan, in red, slips during the quarter-final game. Photograph: Marcelo del Pozo/Reuters
Sindhu is in the semis after defeating Wang Yihan...
That is a massive victory and the best in Sindhu's career. Sindhu is playing some fearless badminton at the moment. She has been an underdog taking on her higher ranked opponents in the last three games and has managed to spring a surprise.
It has been observed that she performs superbly in one major tournament each year. I hope it is the Olympics this year.
What is working in Sindhu's favour? Are there any changes in her game?
If you observe her performances in the other Superseries tournaments, Sindhu faltered in the third game with her energy dropping down. I can see a tremendous improvement in her stamina and fitness in Rio. All her training before the Olympics is paying well.
Except for the match against Li Michelle of Canada, she has wrapped up her matches in two games, which has been phenomenal.
Also, I feel all these top ranked shuttlers are used to playing and preparing for a known opponent in the latter stages of the tournament. Sindhu has got that surprise factor.
Very few expected her to reach the semis and she has managed to surprise many big players.
Looking at her game, Sindhu will definitely be a favourite to win her next match against World No 3 Nozomi Okuhara.
Do you think Sindhu has come out of Saina's shadow?
She has definitely emulated Saina's feat at the Olympics by reaching the semis. Being only 21, she has a long way to go and has the best chance to win an Olympic medal so early in her career.
Comparing Sindhu with Saina is like pitting Virat Kohli against Sachin Tendulkar. People forget that Sachin carried the weight of the entire nation on his lone shoulders for a very long time.
The same applies to Saina. She was the only one winning medals at world events.
Sindhu for me is an underdog, who has managed to spring surprises, but in Saina's case she was always a medal contender and it is difficult to deliver under pressure.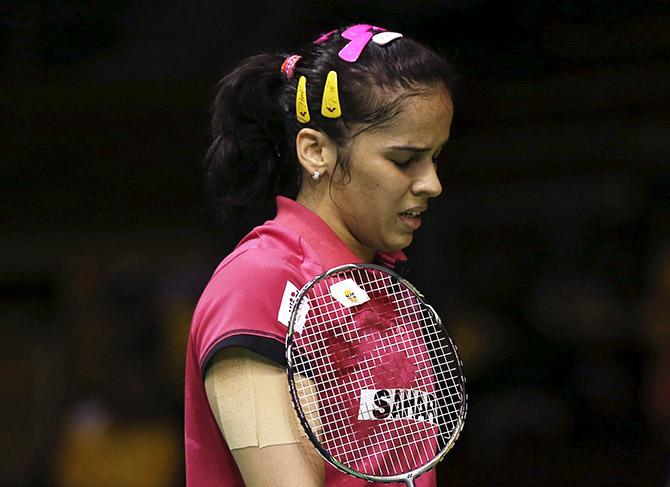 IMAGE: Saina Nehwal.
What went wrong with Saina at the Rio Olympics?
I have been very close to Saina during her training for the Rio Olympics. She was training with me and two weeks ago, Saina had a major knee injury.
This was her biggest tournament after the London Olympics and I could see how disappointed she was because of the injury.
She battled with that injury, which had restricted her movement. The pain-killer, which she took ahead of the match takes seven days to show any effect and one could see how she played in that match.
She just couldn't move because of the injury and pain.
I can see people and the media saying Saina is finished or comparing her performance with Sindhu, but let me tell you Saina has been World No1 because of her consistency.
We need to respect that. She can't be sidelined for one unfortunate injury.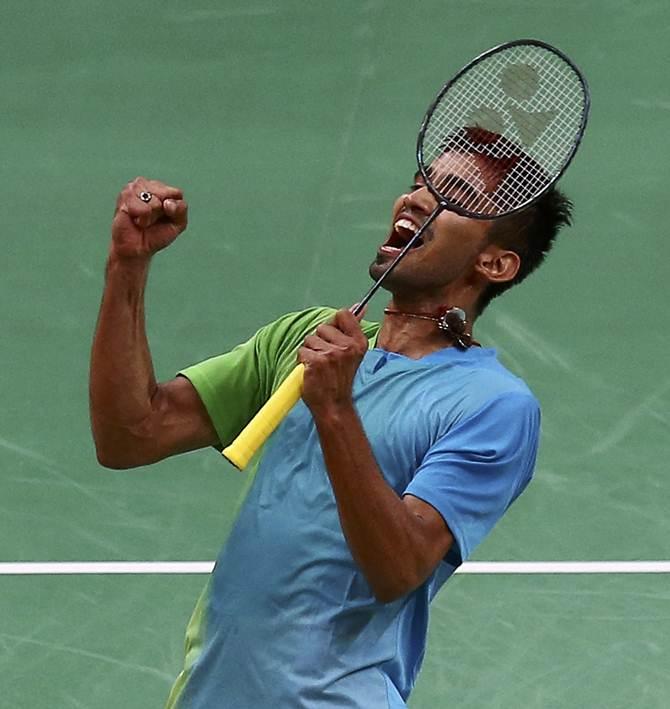 IMAGE: Kidambi Srikanth celebrates defeating World No 5 Jan Jorgensen at the Rio Olympics, August 15, 2016. Photograph: Marcelo del Pozo/Reuters
Kidambi Srikanth will play his next match against defending champion Lin Dan for a place in the semis.
Srikanth's scenario is similar to Sindhu. He will also start as an underdog and if he manages to beat Dan, he can be a top contender for gold.
Srikanth will also be confident, because he defeated Dan in their last encounter, albeit it was two years ago.
He is playing really good badminton by showing a good mix of controlled aggression and defence.
The Chinese will be gunning for revenge now after Sindhu's victory against Yihan.
How will you sum up India's overall performance at the Rio Olympics?
Looking at the attention and facilities we athletes get, I think we should be proud of what India achieved in Rio. We can definitely hope for a big medal or even two in badminton. The wrestlers were always India's best chance.
Two or three gold medals will make this India's best performance in the Olympics.
I agree there is scope for improvement, but all these people who talk of medals during the Olympics should care about the athletes during the four years of preparation and training.