With his top-10 finish at the event that featured an elite field of 64 top golfers from around the world, 21-year-old Shubhankar Sharma has moved up from 75 to 66th in the world rankings.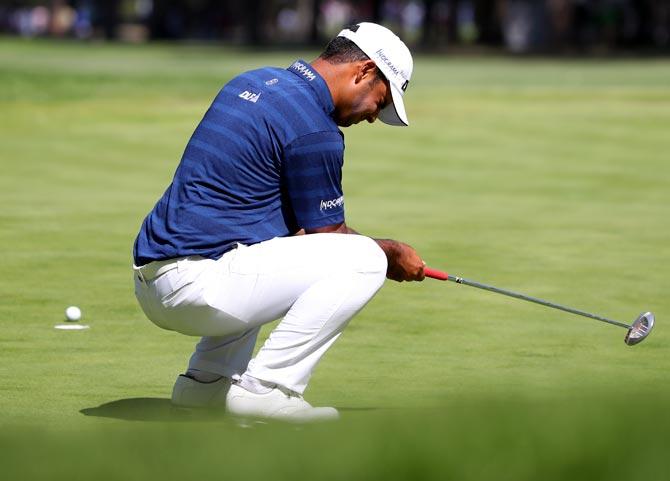 IMAGE: Shubhankar Sharma reacts after missing a putt during the final round of World Golf Championships. Photograph: Gregory Shamus/Getty Images
Overnight leader Shubhankar Sharma could not pull off a dream win following a late slump but the Indian golfer certainly rose in stature with a creditable tied ninth finish at the US$ 10 million World Golf Championships - Mexico Championship, in Mexico City, on Sunday.

The 21-year-old Sharma was tied with two-time Masters champion, Bubba Watson (67) and Canadian Adam Hadwin (66).
Phil Mickelson won on the first play-off hole against a rampant Justin Thomas (64), while Rafa Cabrera-Bello (67), shared third with Tyrrell Hatton (67), who bogeyed the last hole to miss getting into the play-off.

After a dream run through first three rounds of 65-66-69, Sharma fell with a stuttering 74 on a final day when the Golfing Gods just did not look his way. After being 14-under at one stage on third day, he finished with a total of 10-under and in Tied-9th place.

Disappointing it may seem, but it was India's second best ever, next only to the seasoned Jeev Milkha Singh's T-4 back in 2009. It was the same event but then it had a different sponsor and was on a different golf course, Doral.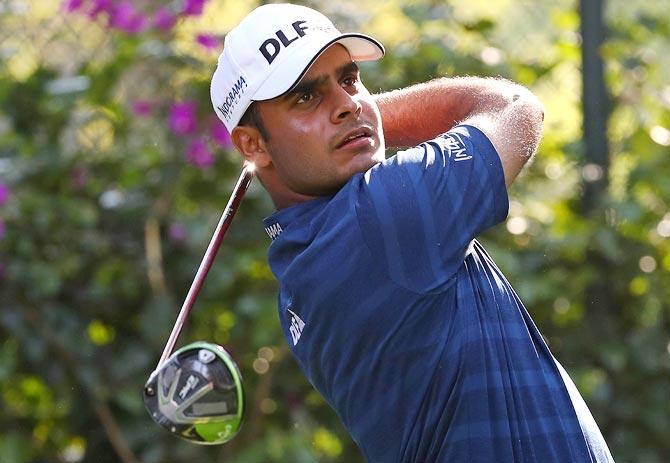 IMAGE: Shubhankar Sharma plays his shot from the 14th tee during the final round. Photograph: Gregory Shamus/Getty Images
But winner then and on this Sunday was the same -- Mickelson. Talking of curious co-incidences, in 2009, Mickelson shared the first round lead with Jeev in 2009.

On Sunday Sharma led Mickelson into the final group by two shots after enduring a few embarrassing minutes before start of the third day when Mickelson failed to recognise the newcomer and mistook him for a mediaman.

Mickelson apologised soon after and then wished the lad all the best.

Sharma had done well on the third day to keep the lead but on the fourth he was reduced to being a spectator as Mickelson conjured up shots from troubled zones as only he can and worked his magic around the greens to finish the weekend with 65-66 and get into a play-off with another modern-day magician Justin Thomas.

Thomas' 62-64 included an eagle hole out from 120 yards on Par-4 18th.
The duo enjoined at 16-under, were separated by 23 years, and required a play-off to break the tie. In the play-off Mickelson ended a five year title drought with a regulation par on Par-3 17th, while Thomas failed to match it. It was Mickelson's first win since his triumph at The Open at Muirfield in 2013.

"I am a little bit disappointed, I was leading and I think I couldn't finish it off today. But that's what the game is about. And what I learned, especially playing with Phil, I'll cherish it forever," said Sharma.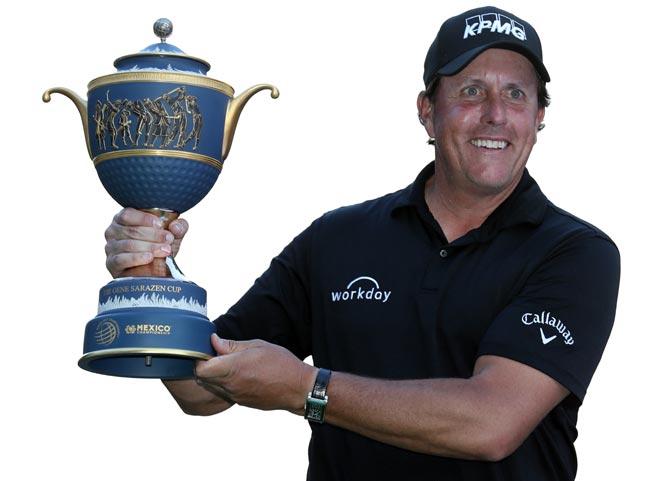 IMAGE: Phil Mickelson poses with the Gene Sarazen Cup after winning the World Golf Championships-Mexico Championship. Photograph: Rob Carr/Getty Images
Sharma confessed the tricky putting greens at Chapultepec did him in.

"I just felt like nothing went in. Maybe my speed was wrong, something was off. Even on nine, I hit it in the middle of the hole it lipped out again. I never felt like I could get the speed right or maybe the line, it just wasn't going in, it wasn't my day," he said.

Yet, he kept his composure and his smile endeared him to all as he added, "If you would have asked me four months ago that I would be playing with Phil at a WGC on the last day, I would have just laughed."

"Just playing with him has been fantastic. He's obviously a great man, showed me a few great shots. He's not afraid to go out there and get it out there and hit it at the pin, and he took some crazy clubs off the tee but that's what Phil is all about. I'll never forget it. Especially on 16 where he made birdie, it was the loudest roar I ever heard in life. It was fantastic," he added.

And what did Mickelson have to say about the man (or the lad) who challenged the world's best for more than three days?

"I saw how well he struck the golf ball. He hit a beautiful tee shot on 1, you can tell he can really play. I saw some of the putts, some of the highlights with the putter. I know he's a very talented player and I believe he's leading the Order of Merit on the European Tour, so I know what a great player Mr. Sharma is. I probably shouldn't say that, he's 26 years younger than me!," said Mickelson.

After three days of dream golf, expectations reached an unreasonable level for a debutant. The two-shot lead that he came with into Sunday was gone before he had left the range as Cabrera-Bello eagled the first from bunker.

While he went up and down, Thomas, who had seven wins and another seven top-10s in his previous 31 starts, was on fire again, and the evergreen Mickelson, found his rhythm. The lead kept switching back and forth and no less than six players had sole lead or a share of it on Sunday.

Meanwhile, Sharma was left struggling and frustrated on the greens. No less than half a dozen times the ball seemed to play games, flirting with hole but refusing to fall. He ended with his only over-par round of the week at three-over 74.

For the first 11 holes, he had one bogey and no birdies to show. His first birdie came on 12th and there was just one more on 16th, but even more painful were the four bogeys in last six holes.

Yet he kept smiling when he walked off the course.

The roars for him were only lesser than those reserved for a legend called Mickleson, who went on to win his 43rd PGA Tour title. It was only his second WGC and came nine years after his first one in 2009.

With the Masters around the corner, Mickelson would fancy his chances of adding a fourth Green Jacket to the three from 2004, 2006 and 2010.

Asia's top star was Thai Kiradech Aphibarnrat (65) in Tied-5th with left-handed American Brian Harman (68). Masters champion, Sergio Garcia (70) of Spain shared seventh place with World No. 1 and defending champion Dustin Johnson (69).