Shiv Kapur played an extremely steady and solid final round of two-under 70 without any bogeys to claim the season-ending Dubai Festival City Challenge Tour Grand Final at the Al Badia Golf Club.
Kapur celebrated his Diwali in Dubai in a winning way with a total of 16-under 272 and a whopping four-shot margin over the second place duo Jose-Felipe Lima of Portugal (69) and Andrew McLeary of Scotland, both of whom carded 69 each to total 12-under 276.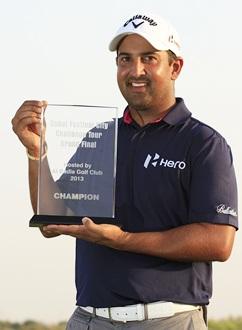 It was not only Kapur's second Challenge Tour title of the year – he won the season-opener in February at Kensville Challenge, Ahmedabad – but it also helped him find his way back to the European Tour for 2014.
Kapur is the first Indian player to win more than once on Challenge Tour. McLeary squeezed in as the 15th player for the European Tour card for 2014.
Rhys Davies (69) and Andrea Pavan (70), who finished on top of the 2013 Challenge Tour rankings, were tied for fourth at 11-under 277.
Kapur's win in Dubai was his first international win outside India since his breakthrough triumph in his rookie year at the Volvo Masters of Asia in Bangkok in 2005.
It was also Kapur's third win in a season-ending Championship of any Tour – he did so on Asian tour in 2005, then the 2012 Shubhkamna Invitational on the Indian Tour and on Sunday it was the Dubai Festival City Challenge on the European Challenge Tour.
Image: Shiv Kapur of India poses with the trophy
Photograph: Phil Inglis/Getty Images