Indian Grandmaster Pentala Harikrishna on Friday, settled for a draw against top seed Anish Giri of the Netherlands in the Shenzhen Longgang Masters chess tournament in Shenzhen, China.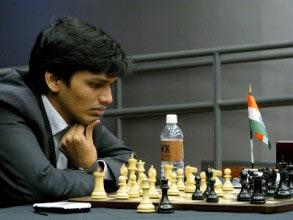 World No. 14 Harikrishna was determined to make something out of this contest as the tournament entered its final stages. But Giri was equally resolute and held Harikrishna at bay to make it one of the longest games of the day.
At the end of it, both had to settle for half a point each.
The draw left Harikrishna at the same position on the points table, the fourth, with just two more rounds to go. He will take on the tournament's current leader Liren Ding of China in the next round.
Giri, with 4.5 points, is on second position, just half a point behind Ding.
Harikrishna will be eager to pull off a couple of victories over the next two days to surge to a higher position.
Image: P Harikrishna
Photograph: PTI Files