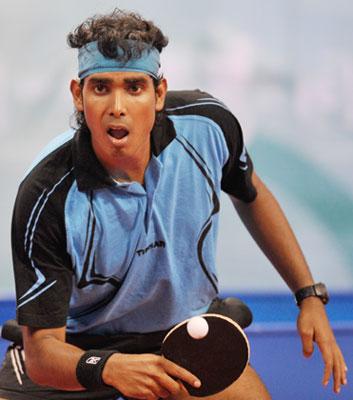 Top Indian Achanta Sharath Kamal received a mauling from Dimitrij Ovtcharov in a lopsided semi-final and the German then downed Korean Seo Hyun Deok to lift the men's singles title in the ITTF Indian Open Pro Tour Table Tennis tournament, which concluded on Sunday.
World number 15 Ovtcharov showed his ruthless streak as he dismissed Sharath Kamal 11-4, 11-6, 11-8 and 11-4 to set up a summit clash with Seo Hyun Deok of Korea who defeated Gao Ning of Singapore 4-3 (7-11, 11-8, 8-11, 11-8, 15-17, 11-9, 11-6) in the second semi-final at the Yamuna Sports Complex.
In the final, Ovtcharov decimated the 38th ranked Deok 11-4, 11-9, 11-2, 11-5 to walk away with the title.
The German was in blistering form as he wasted precious little time imposing himself over Sharath in the first semi-final and the Indian had no hesitation admitting he could not pose any challenge to his much superior opponent.
"I had no rhythm," Sharath said after his loss.
"There was no pressure on me. I wanted to give him a tough fight. I just could not get into that stage," said Sharath, adding his next event would be the US Open later this month before he competes in the Egypt Open from July 7-11.
Meanwhile, Sayako Hirano of Japan won the women's singles title, pounding Singaporean Yu Mengyu 4-0 (11-7, 11-6, 11-8, 11-7).
Korea's Lee Sang Su and Seo Hyun Deok won the men's double title beating Gao Ning and Yang Zi of Singapore 4-2 (11-13, 12-14, 9-11, 11-4, 11-6, 9-11).
In the women's doubles section, the Chinese duo of Cheng I-Ching and Huang Yi-Hua defeated Li Jiao and Li Jie of the Netherlands 4-2 (11-8, 12-14, 6-11, 12-10, 11-4, 11-6) to win the title.