Seven-times billiards World champion Geet Sethi has demanded that the Maharashtra government withdraw the tax of Rs.5,000 it has imposed on billiards tables all over the state.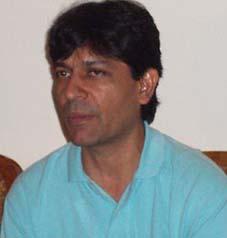 Speaking at a symposium, organised by the Sports Journalists' Federation of India, in Mumbai on Wednesday, Sethi said it is unfortunate that a sport that has produced so many world champions from the State is being taxed.
"Just because one club somewhere in Borivali or Bhayandar is illegally playing the game, allowing betting, everybody has to suffer. It is ridiculous that something like this can happen. Clubs where young and up and coming players practice are being made to pay the price."
"If that's the case," he said, in a lighter vein, "every cricket pitch in India should be taxed."
He also took a pot shot at the Federal government, saying it has let down the country's cueists despite them winning 18 world titles.
"What keeps the Indian cueists going is a strong tradition. [Twice world champion] Wilson Jones was a great champion and he inspired so many generations. He defied a one-month journey by ship to Australia to play in the World Championships, stayed in [four-times world champion] Bob Marshall's garage because he did not have money to pay for his hotel stay. He got an allowance of $1 per day and he had to manage everything with that.
"In spite of all the difficulties he won the world billiards title. That has inspired so many generations.
"Michael Ferreira was inspired because he played with Wilson. The same happened with me. I played with Ferreira when I was just 17. Imagine how a 17-year-old feels when he gets a chance to play against the world champion."
The debonair cueist said that tradition is being carried on by 19-year-old Pankaj Advani, who has already won three world titles [2003 snooker and 2005 billiards and snooker].
"But what has the government done for him?
"He is yet to receive the prize-money promised for winning the three world titles. Not only Advani, but the other players before him, who have won titles at the Asian and World championships have yet to receive their money."
Sethi said Ashok Shandilya, who won the 2002 Asian games gold medal, received the promised prize-money from the government after 20 months.
"Imagine having to wait for 20 months after being promised something for winning the title. for which you have given it all. It really hurts our fraternity," he said.
But Sethi also applauded the government's change in attitude towards sportspersons a bit of late, saying it is now funding sportspersons, particularly the cueists.
"This slight change in its attitude is welcome," he added.
Photograph: Harish Kotian