Wants his position to be filled by a black candidate; pledges $1m to US football player, Colin Kkaepernick's 'Your Rights camp'.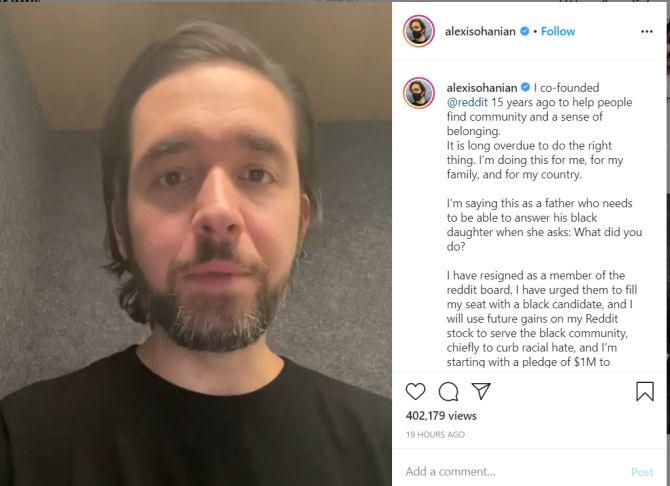 Alexis Ohanian, co-founder of Reddit and the husband of tennis star Serena Williams, resigned from the board of the company on Friday.
He said he made the decision for the sake of his two-year-old daughter, Alexis Olympia Ohanian.
In a post of Instagram, Ohanian wrote, "I co-founded @reddit 15 years ago to help people find community and a sense of belonging. It is long overdue to do the right thing. I'm doing this for me, for my family, and for my country. I'm saying this as a father who needs to be able to answer his black daughter when she asks: 'What did you do?'," his wrote alongside a video.
"I have resigned as a member of the reddit board, I have urged them to fill my seat with a black candidate, and I will use future gains on my Reddit stock to serve the black community, chiefly to curb racial hate, and I'm starting with a pledge of $1M to @kaepernick7's @yourrightscamp
 I believe resignation can actually be an act of leadership from people in power right now. To everyone fighting to fix our broken nation: do not stop," his poignant note read.
Standing by her husband's decision, Serena shared a screenshot of his message and wrote on her Instagram page: "It's never easy to walk away from something you helped create. But doing something to catalyze change is never easy."
Ohanian's resignation comes following the 'Black Lives Matter' protests, which are taking place throughout the US after a police officer, identified as Derek Chauvin, pressed his knee into George Floyd's neck, leading to the latter's death in Minneapolis.
Protesters have taken to the streets in US cities over systemic racism and police brutality.
Ohanian married tennis star Serena Williams in 2017 and are parents to daughter, Alexis Ohanian Jr.