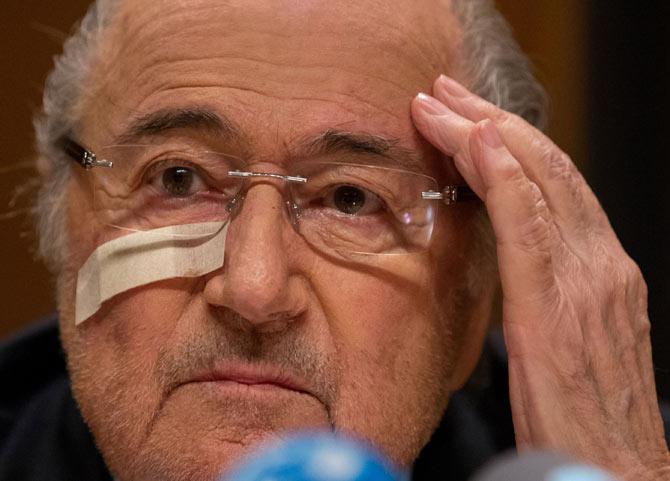 IMAGE: FIFA president Sepp Blatter reacts during a press conference in Zurich, on December 21, 2015. Photograph: Philipp Schmidli/Getty Images
Longtime FIFA president Sepp Blatter is disappointed the global soccer body's appeal committee upheld his ban from the sport, he told a Swiss newspaper in an interview published on Friday.

"I am deeply disappointed," Blatter told the Aargauer Zeitung when asked about the decision to uphold the ban.

"That of all things the independent appeal committee, on which there are many old comrades, bans me, is really hard on me. But for what? For a financial procedure that has nothing to do with ethics."

Blatter and European soccer head Michel Platini had their bans for ethics violations upheld on Wednesday, although they were reduced from eight years to six. The pair were banned over a payment of 2 million Swiss francs ($2 million) made to Platini in 2011 by FIFA with Blatter's approval for work done a decade earlier.
Check out: FIFA's Rogues' Gallery: Banned, fined or suspended!
He called the decision to reduce the ban by two years "a bad joke".

The comments from Blatter, head of soccer's scandal-plagued governing body since 1998, come the same day that Zurich-based FIFA will elect his permanent successor.

Asian Football Confederation (AFC) president Sheikh Salman bin Ebrahim Al Khalifa is the bookmaker's favourite with UEFA's Swiss general secretary Gianni Infantino a close second.

His ban means Blatter is not allowed to attend Friday's FIFA congress but he said had many associations and groups had still asked him for advice on who to vote for.

"I only answered: vote for who you want," Blatter is quoted as saying.

He also said he had contact with all of the candidates except Jordanian Prince Ali Bin Al Hussein.

"At Christmas in Visp I drank mulled wine with one of the candidates," Blatter said, then confirming this had been with Infantino.

FIFA is currently caught in the worst crisis in its 112-year history.

More than 40 individuals and entities, including many former FIFA officials, have been charged with corruption-related offences in the United States. It also faces a parallel Swiss investigation.

Blatter, who is the subject of a criminal investigation in his native Switzerland over the Platini payment, said he had not received an offer to be a whistleblower in the United States.

Blatter told the newspaper: "And I would not accept such an offer because I am not a referee."