Blatter could remain FIFA head if suitable candidate not found according to media report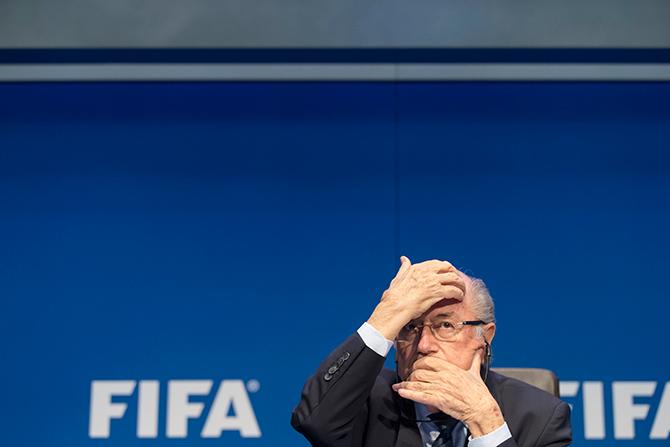 FIFA President Joseph S. Blatter talks to the press in Zurich. Photograph: Alessandro Della Bella/Getty Images
Sepp Blatter could go back on his promise to stand down as FIFA president, a former adviser said on Monday, even as US prosecutors revealed a plea deal with a past FIFA executive who told investigators about bribes and kickbacks.
Klaus Stoehlker, who advised Blatter during this year's FIFA election campaign, told Sky News that Blatter could remain head of world football's governing body if a "convincing candidate" to replace him did not emerge.
FIFA said in a statement that Stoehlker, who was in a meeting when contacted by Reuters and unable to comment, was no longer working with Blatter.
Blatter said on June 2 that he would step down as FIFA president. He is under pressure to leave sooner rather than later as US and Swiss authorities widen investigations into bribery and corruption at the organisation. European Union lawmakers are among those calling for his immediate departure.
Also on Monday, US. prosecutors revealed their plea agreement with Chuck Blazer, showing that the former FIFA executive committee member secretly provided authorities with information for nearly two years before he admitted guilt in court in November 2013.
Blazer was the former general secretary of CONCACAF, football's governing body in North and Central America and the Caribbean and a FIFA executive.
Fresh blow for FIFA as Nobel Peace center ends cooperation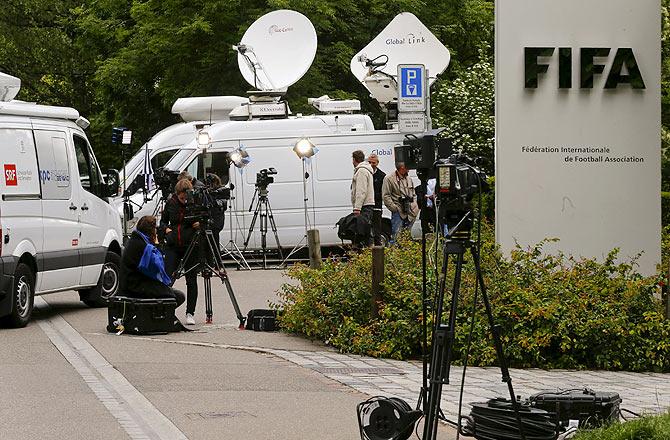 Members of the media stand in front of the entrance of the Federation Internationale de Football Association (FIFA) headquarters in Zurich. Photograph: Arnd Wiegmann/Reuters
FIFA underwent yet another blow to its prestige on Monday when the Nobel Peace Center said it was ending its cooperation with the governing body.
The centre was behind the 'Handshake for Peace' initiative, which had been enthusiastically promoted by Blatter over the past three years.
As the international probe intensified, pressure mounted at the Swiss body to stabilise its leadership. But Blatter has changed his mind in the past. In 2011, he said his fourth mandate would be his last but he stood again this year.
A Swiss newspaper on Sunday, the Schweiz am Sonntag, reported that Blatter had received messages of support from African and Asian football associations, asking him to rethink his decision to step down. Blatter was honoured by the support and had not ruled out remaining in office, the newspaper reported, citing an anonymous source close to him.
Africa's football confederation (CAF) said on Monday that it had not heard of any of its members asking Blatter to stay on.
"At CAF level we are not aware of any African countries who have written to ask Blatter to stay on," Kalusha Bwalya, a CAF executive committee member and president of the Football Association of Zambia, told Reuters.
UEFA 'perplexed' by Blatter's U-turn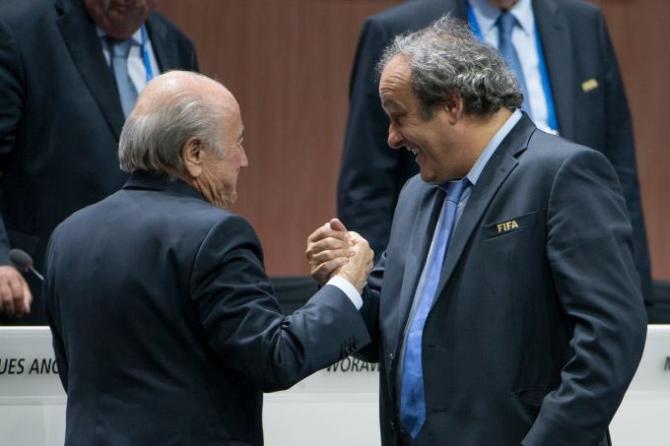 FIFA President Joseph S Blatter (L) shakes hands with UEFA president Michel Platini during the 65th FIFA Congress at Hallenstadion. Photograph: Philipp Schmidli/Getty Images
English Football Association chairman Greg Dyke does not think Blatter will have a change of heart.
"I think it (a U-turn) is extremely unlikely. I think it would be very controversial," Dyke told Reuters. "There would be a rebellion amongst a lot of people (if he did)."
Insiders at the Union of European Football Associations (UEFA) told Reuters that European football's governing body was left perplexed by the reports that Blatter would stand again and that the plot would be too outrageous even for a Hollywood script.
Officially, European football's governing body did not want to comment, but the German football association (DFB) called on Blatter, who is staying on until the election, to leave quickly.
"We only know the media reports which strengthen our clear position," spokesman Ralf Koettker told reporters.
"Blatter's announced resignation must be formally completed as soon as possible."
Domenico Scala, the official overseeing the process of choosing a new president, said that Blatter's departure was an "indispensable" part of planned reforms to football's governing body.
Asia unmoved by reports of possible Blatter U-turn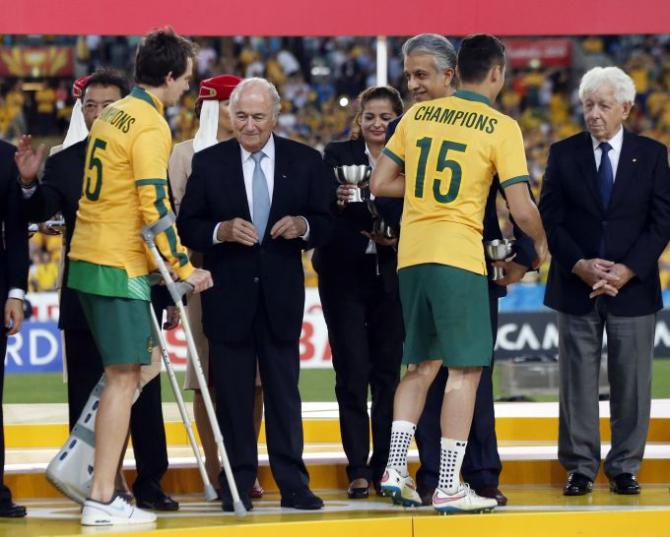 Australia's Robbie Kruse, left, walks onto the podium on crutches to receive his trophy from Sepp Blatter, centre, after they beat South Korea to win the Asian Cup. Photograph: Jason Reed/Reuters
The Asian Football Confederation remains unmoved by reports that Sepp Blatter may seek to stay on as FIFA president despite announcing his intention to resign amid a major corruption scandal.
Support for Blatter's leadership has traditionally been strong in the 46-nation Asian bloc but the AFC declined to throw its weight behind any push to keep the Swiss in power for a fifth term.
"With regard to recent media stories, the Asian Football Confederation confirms its position as previously outlined, namely that the AFC takes note of the FIFA President's intention to step down at an Extraordinary Congress scheduled to be called later this year or early 2016, which will be the subject of the upcoming FIFA Executive Committee meeting on 20 July," the AFC said in a statement.
"AFC fully respects the decision of the FIFA President to step down and is sure that it was taken after deep and careful consideration."
Africa's soccer confederation (CAF) said on Monday it had not heard of any of its members asking Blatter to stay on.
"At CAF level we are not aware of any African countries who have written to ask Blatter to stay on," Kalusha Bwalya, a CAF executive committee member and president of the Football Association of Zambia said.
"We feel it is better to get on with our own work in the mean time and see what everyone has to say in the next months. Everybody is waiting for clarity."