Beat Sergie Bubka by 115 votes to 92 in a ballot voting held in Beijing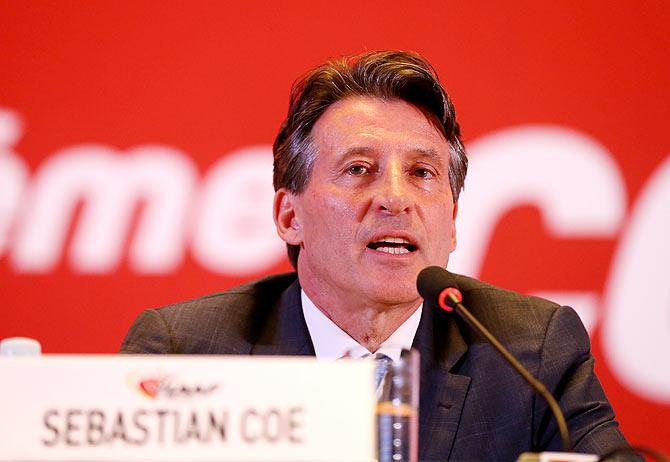 Lord Sebastian Coe addresses the delegates after being elected the new president of the IAAF during the 50th IAAF Congress at the China National Convention Centre, CNCC in Beijing on Wednesday. Photograph: Alexander Hassenstein/Getty Images for IAAF
Sebastian Coe was elected president of the International Association of Athletics Federations (IAAF) on Wednesday after beating Ukraine's Sergey Bubka by 115 votes to 92 in a ballot of the governing body's 50th Congress.
The former Olympic 1,500 metres champion will replace Senegalese Lamine Diack, who has run the body for the last 16 years, at the end of the Aug. 22-30 world championships in Beijing.
Coe's initial term will be for four years.
The 58-year-old Briton takes over as head of a sport battling a public relations crisis with the IAAF accused of failing in its duty to address doping amid allegations that blood doping was rife in the sport.
Coe has defended the IAAF's record on doping and said that under his leadership the sport would move towards setting up its own anti-doping agency.
AFI chief Sumariwalla elected IAAF Council member
Athletics Federation of India President Adille Sumariwalla was elected as one of the members of the prestigious Council of the IAAF, the global governing body of the sport, in its polls held in Beijing on Wednesday.
Sumariwalla, an Olympian 100m runner, was elected as one of the nine individual members of the all-powerful IAAF Council at the 50th Congress of the world athletics body held a day ahead of the start of the World Athletics Championships.
Sumariwalla is the first Indian to be elected in the IAAF Council. He got 61 votes in the second round to get elected.
Former AFI and Indian Olympic Association President Suresh Kalmadi was also earlier a member of the IAAF Council from 2001 to 2013 but by virtue of his being the chief of the Asian Athletics Association and not through an election.
Seats are also reserved for chiefs of continental athletics bodies at the IAAF Council.
The Commonwealth Games scam-tainted Kalmadi lost his seat as an ordinary member after he was defeated in the AAA presidential elections to Dahlan Al-Hamad of Qatar in Pune in 2013.
"Thanks to all who believed in me, encouraged me and ran my campaign," Sumariwalla said after his election.