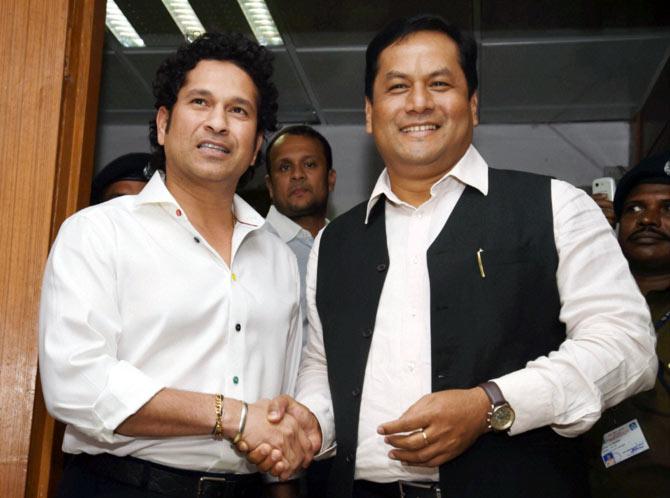 Sports minister Sarbananda Sonowal (right) with Sachin Tendulkar. Photograph: PTI
Batting legend Sachin Tendulkar discussed the way forward for L Sarita Devi with Sports Minister Sarbananda Sonowal on Wednesday and urged the entire country to support the woman boxer who is facing a possible life ban from the International Boxing Association for refusing her bronze medal at the Incheon Asian Games.
Sarita was beaten in the women's lightweight (60kg) semi-finals at the Games in September and, in protest, tried to give her bronze medal to her opponent from South Korea who went on to win the silver medal later.
"This meeting was to discuss Sarita Devi's case. Being a sportsperson I know what she must have gone through. It must have been a difficult moment for her. Everyone responds differently to situations. AIBA should consider her case. She has apologised to the world body also. Our discussion was how to move forward and what to say to AIBA," Tendulkar told reporters.
India's Sarita Devi (centre) at the podium after refusing to accept the bronze medal. Photograph: PTI
The Rajya Sabha MP added: "We want the entire country to be behind Sarita Devi so that her career doesn't get jeopardised. Boxing India, Sports Ministry have shown a lot of support. We just want to move forward in the right direction."
Sonowal said that the government will ask the AIBA to reconsider the decision on the boxer, who was suspended provisionally following her outburst at the medal ceremony.
"On behalf of the Government of India we will take up the matter with AIBA. We will request them to reconsider her case.
"People of India are behind Sarita Devi and it a matter of concern for us. She has our full backing," he said.
The meeting, which was chaired by Sonowal, was also attended by London Olympics bronze medallist M C Mary Kom and Beijing Games bronze winner Vijender Singh, Indian Olympic Association president N Ramachandran, Boxing India president Sandeep Jajodia and national boxing coach G S Sandhu among others at the Shastri Bhawan.