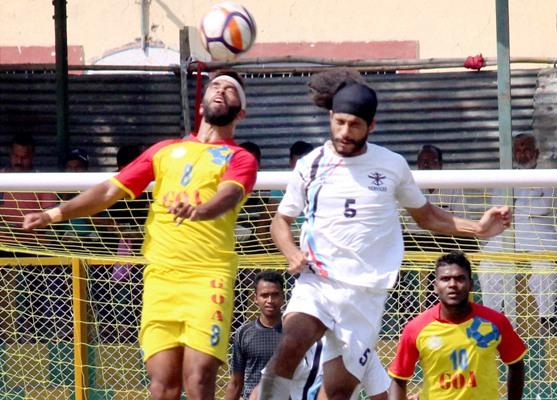 IMAGE: Players of Goa (in yellow) and Services in action during their Santosh Trophy semi-final in Nagpur. Photograph: PTI.
Services and Maharashtra will contest the final of the 70th National Football Championship, for the Santosh Trophy, after winning their respective semi-final matches in Nagpur on Friday.
Four-time champions Services stunned formidable Goa 1-0 in the first semi-final, while Maharashtra beat Tamil Nadu by a similar margin in the second at the SEC Railways stadium.
Interestingly, both the matches were decided by own goals.
The final will be on March 13.
The first semi-final went into the extra-time as Services and Goa failed to score in the 90 minutes of play.
Services dominated the match but could not enforce victory in normal time and had to wait till the 115th minute when, in a desperate attempt to clear the ball, Goa's Mohammed Ali kicked it into his own net.
Services looked more organised with someone always present to support the other. Vivek Kumar and Francis Zoununtluangn rotated in the midfield with local boy Hardik Kanojia providing able assistance.
Man of the Match Arjun Tudu, who was summoned for the national camp prior to the SAFF Cup, proved to be a constant thorn for the Goan team. He impressed with his speed, relentless pressing and never-say-die attitude.
Goa, despite boasting of four international players in their ranks, were not able to match their opponents. They relied more on counters than direct attacking.
In the second semi-final, an own goal by Tamil Nadu's Prem Kumar in the 58th minute settled the issue for Maharashtra.
Maharashtra are making an appearance in the final for the 16th time, having won four times and lost 11 previously.
After a goalless first session, Maharashtra mounted pressure after the lemon break.
Maharashtra's Vijit Shetty, Mohammad Shabaz Pathan and Aaron D'Costa struck up a good combination with short passes and often penetrated the rival territory.
Their efforts bore fruit when Shetty lobbed a ball and Tamil Nadu 'keeper Arun Pradeep did not anticipate well. The ball ricocheted off the bar and as Tamil Nadu's Prem Kumar trying clear it from the box deflected it into his own goal.