Indian tennis star Sania Mirza said it's an honour to team up with 18 time Grand Slam winner Bob Bryan in the mixed doubles of the 2013 Australian Open.
-Bhupathi-Bopanna clinch Paris Masters title
Speaking at the 'Marks for Sports' campaign launched by the NDTV-Nirmal for which the Hyderabadi is the brand ambassador, the 25-year-old Sania hoped that her tennis academy near the outskirts of the city would help in grooming young talent to reach the top.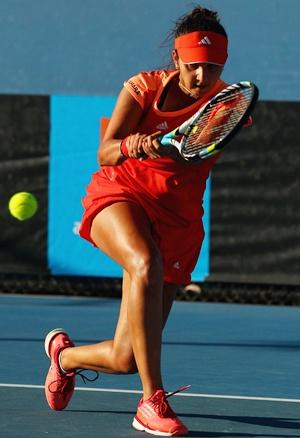 "The academy will also focus on rural areas and tap the talent available there," Sania was quoted as saying in a release from the organisers.
Talking about India's campaign at the London Olympics, she said, "We should move on and look at the positive aspects."
Referring to the fitness campaign, Sania said city people have become more health conscious. 
"Though Hyderabad was thought to be laid back, it's no more the scenario with people here taking to fitness and sports enthusiastically. People here have become health conscious. More and more kids are taking to sports inspired by great sportsmen from the city like Azharuddin, VVS Laxman and Saina Nehwal," she said.
On being seen recently at Formula 1 Indian Grand Prix, she said her husband Shoaib Malik is a great fan of racing cars and owns a couple of them.
"It was an amazing experience to zip off at 300-350 kms speed."
Speaking on the occasion, Sania said that health and fitness are important part of life in today's world and that initiatives like 'Nirmal Marks for Sports campaign' encourage and inspire people.
The tennis ace also joined the locals in 'Walk for Fitness' to spread awareness about 'The Fittest City' contest at KBR Park.
Over 1000 people participated and extended their support to the cause.
Photograph: Lucas Dawson/Getty Images