Fully aware of penalty corners' importance in modern day hockey, Canada coach Robin D'Abreo said that star drag-flicker Sandeep Singh will be a potential threat for the opponents of India in the hockey Olympic qualifiers to be held in New Delhi from February 18-26.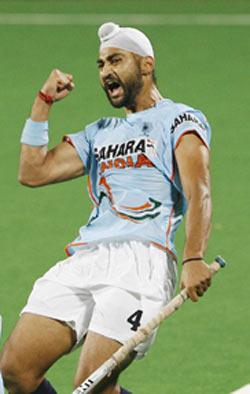 "Penalty corners play a big part in modern hockey. And India has got a great dragflicker in Sandeep. He will be a threat for all the teams," D'Abreo said.
Canada (14th) is the second-highest ranked team in the men's section of the London Olympic qualifiers after hosts India (10th), which also includes France, Italy, Poland and Singapore.
Canada also has an edge over India's other opponents having played at the Major Dhyan Chand National Stadium, the venue for the event, during the 2010 World Cup and Commonwealth Games.
"Our preparation is going on well. There will be a few challenges for us like weather but we have to be flexible enough to over come them. Ultimately, everything will depend on one game," the Canada coach said.
"We are confident (going into the qualifiers) because we started our preparation for this tournament just after the Commonwealth Games. So, we expect to be at our peak during the event," D'Abreo said.
Canada captain Ken Pereira said he has got a balanced side at his disposal to produce results in the qualifiers.
"After CWG some very good young players have come into our team. So, we have very good mix of youth and experience," he insisted.