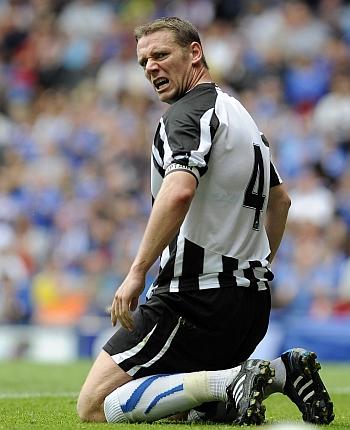 Newcastle United return to the Premier League without their customary big-name managers, high-profile signings and unlikely ambitions after a healthy dose of realism from a year spent in the second division.
"On the whole people know it is a very different Newcastle team. It is one that can stay in the Premier League and build on that to become just as big and flamboyant as teams that have gone by," Newcastle defender Mike Williamson said.
Guided by the understated former Tottenham Hotspur assistant coach Chris Hughton, Newcastle open their season at the deep end with a trip to Old Trafford to face Manchester United on Monday.
"The Toon" have been graced with soccer greats including Paul Gascoigne, Peter Beardsley, Kevin Keegan, Chris Waddle and Alan Shearer in years gone by but under Hughton they have turned to youth with a sprinkling of modest experience.
"It's a new era now and a very different outlook that the fans have got to take. The majority of them will be happy if we stay in the league and we build on it," said Williamson, a tall centre back signed from Portsmouth in January.
The club have some exciting youngsters in big striker Andrew Carroll, new signing Dan Gosling and Danny Simpson, who are chaperoned by the experience of Alan Smith, Kevin Nolan and most recently ex-Arsenal and England defender Sol Campbell.
Newcastle have six FA Cups, the last coming in 1955, and a 1969 Inter-Cities Fairs Cup to their name, although more recently they are remembered for an enthralling Premier League title race which ultimately ended with Manchester United lifting the trophy in 1996.
PANIC BUTTON
These days ensuring top flight status is more of a concern. "First and foremost, the target is to achieve the 40 points mark. I think that is probably the target for half of the teams in the league, to secure their survival and then build on it," Williamson said.
Hughton, twice caretaker manager at Newcastle before taking the reins permanently in 2009, inherited a relegated side up for sale and on the verge of crisis. A year later they topped the Championship (second division) by 11 points to earn promotion.
"To pull a club that was on the verge of a crisis, on and off the field, and to get the lads together and come back into the Premier League at the first time of asking is a brilliant achievement and he deserves a lot of credit for it," Williamson, 26, said.
"He has a lot respect from the players. He is not a big, loud, aggressive manager, who gives the hairdryer treatment.
"In general it is all about tactics, he brings an element of calmness to the team and he always has a focus in his mind, there are no panic buttons," he added.
After Manchester United, Newcastle round off August with a match at home to Aston Villa before a trip to Wolverhampton Wanderers.
Hughton has outlined his plans of how to make this season a success, telling the local Journal newspaper: "What we were able to do last season was be very strong defensively. We scored a lot of goals, but we were strong at the back. If possible, I want us to be even harder to beat this season.
"The most important thing is we've got to give ourselves every chance. We have to give ourselves a platform to build on and that is at the back," he added.