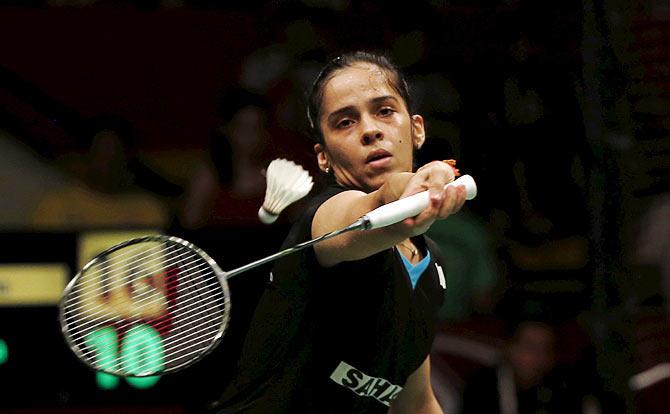 India's Saina Nehwal returns a shot to Spain's Carolina Marin. Photograph: Darren Whiteside/Reuters
Indian ace Saina Nehwal said lack of patience and playing too many erroneous shots cost her the gold medal at the prestigious Badminton World Championships.
- Saina settles for silver, loses to nemesis Marin at Badminton Worlds
World No 2 Saina settled for a silver after going down 16-21, 19-21 to World No 1 and defending Carolina Marin in Jakarta on Sunday.
"Today I didn't play to my best. I could've done better. Too many mistakes in the first game. In the second, I had a lead, but points went by very quickly and within no time she (Marin) was level," Saina said after losing the title clash on Sunday.
"I could've been more patient then, during those 4-5 points. I had no problems with fitness. Final is more mental than physical. I made one silly error in the second game during a crucial moment.
"In the second set, I was on the slower side. I was trying to make rallies happen but the points went very quickly," she added.
Saina felt the experience of playing in the final helped defending champion Marin.
"When you have experience of playing a World Cup final, it's easier. She was played more freely and was not thinking of winning or losing," she said.