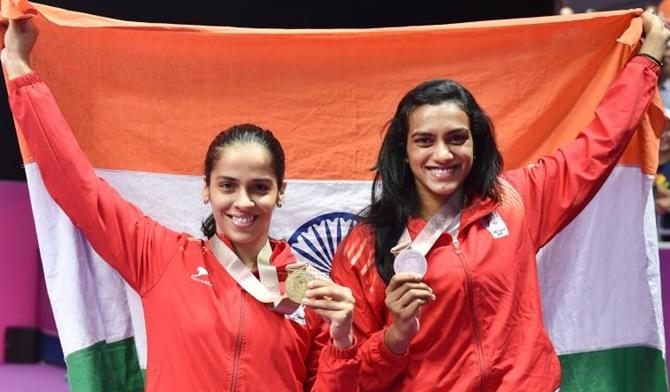 Saina Nehwal, the accomplished badminton star, is no stranger to the significance of change and adaptation in the world of sports.
Having herself experienced the benefits of switching coaches and environments during her career, she offered her support to fellow shuttler PV Sindhu's decision to seek a change in her training approach.
Saina, who trained under former India coach Vimal Kumar in 2015-16, backed fellow shuttler PV Sindhu's decision to train for a week at the Prakash Padukone academy in Bangalore to regain her form.
"Change in coaches will help if you feel something is not working under some coach or change of atmosphere also helps. You need to try it out. I tried it and I could reach world no 1, reach world championships final.
"After playing 8 quarterfinals, somewhere mind stops thinking if I can ever cross quarterfinal stage. But I could do it after some change. It is required for a player."
"And why not? It is your career. After all, it is you who will sit and think what I have achieved in my career, so changes are always good if it is helping."
Saina reckons that world championships bronze medallist HS Prannoy has a chance to return with a medal from Hangzhou, China.
"All are doing well, especially Prannoy is giving back-to-back good results. Let's see there are some tough challenges. But I feel Prannoy is good and Sindhu has always done well in big tournaments," she said.
The London Olympics bronze medallist feels the young brigade in women's singles is lacking the all-round game required to succeed at world stage.
"Badminton is one of the toughest sports in the world physically. You need to be 100 per cent fit throughout the year to play 17 to 20 tournaments in a year. Sindhu and me were gifted, we were natural retrievers on the court and we had an attacking game as well."
"But other players as far as I am watching the matches, they lack a few things. It is not easy to play at the highest level unless you have an all-round game. We are lacking somewhere here and there."