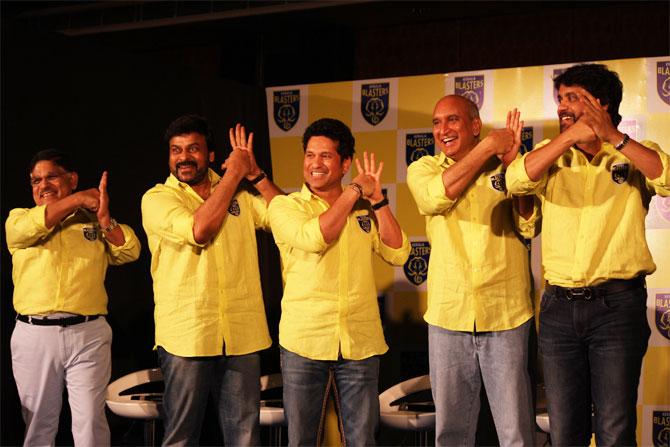 IMAGE: Film producer Allu Aravind, actor Chiranjeevi, cricket legend Sachin Tendulkar, industrialist Nimmagadda Prasad and actor Nagarjuna at the announcement of the new development in Thiruvananthapuram on Wednesday.
Legendary cricketer and co-owner of Indian Super League football club Kerala Blasters, Sachin Tendulkar, on Wednesday met Kerala Chief Minister Pinarayi Vijayan to discuss about setting up a state-of-the-art residential football academy in the state.
The state government of Kerala and the Kerala Blasters football club are in the process of drawing up a blue print for a five-year plan for football in the state.
The objective is to propel Kerala football to greater heights, whereby, over the next five years, the goal is to create 100 footballers of international standard.
The project will see creation of a year-round residential academy in which local talent from the state can be nurtured, and to whom the academy can provide coaching and guidance.
The Kerala Blasters FC will provide the technical know-how for operating the academy besides creating a scouting system for the program with the state government offering infrastructure needs for the same.
The state government will also promote Kerala Blasters' grassroots programme in schools, which will effectively work as a feeder system for the proposed academia.
The academy team will participate in various local, national, and international tournaments through the calendar year.
Earlier in the day, a consortium of investors including megastars Chiranjeevi, Nagarjuna, leading film producer, Allu Aravind and industrialist & entrepreneur Nimmagadda Prasad joined hands to purchase stake in Blasters Sports Pvt. Ltd., the owners of Kerala Blasters.
They are now co-owners with Tendulkar, who still has a major stake in the club.
The new investors in Kerala Blasters were unveiled at a ceremony in Thiruvanthapuram after which they, along with Sachin Tendulkar, met the Kerala CM and unveiled their plans for the club.