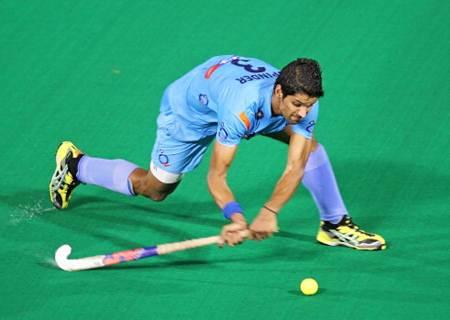 India may be enjoying a winning run in the ongoing Hockey World League semi-finals in Antwerp, but coach Paul van Ass admits that the team has penalty-corner issues in the absence of injured drag flicker Rupinder Pal Singh.
The team failed to make an impression from their penalty-corner drills in their opening matches against France and Poland, which they won 3-2 and 3-0 respectively, although stand-in Manpreet Singh scored in the first fixture against the French.
Three penalty-corners came India's way in Tuesday's match against Poland, but none of them threatened the rival goal.
In the earlier match against France too there were three penalty-corners, but they succeeded from only one, Manpreet placing the ball into the left corner of the net.
"We're a bit weak at the penalty-corners at the moment," said van Ass.
"Rupinder has not been fit and we did not play him in these two games."
Rupinder sustained an injury during the warm-up games in Antwerp, after coming in as a replacement for V R Raghunath in the originally-chosen squad.
On Tuesday he trained with the Indian team on the pitch, indicating he would be ready for the next outing against Pakistan on Friday.
"Yes, Rupinder will play the next game," the coach said.
Van Ass had initially left Rupinder out of the squad, deciding to include only frontline drag-flicker Raghunath.
The coach felt it was an opportunity to test new strategies in the set-piece execution with other players in focus.
India's coach has the luxury of doing so as the team has already qualified for the 2016 Olympic Games by virtue of winning gold at the Asian Games in Incheon last year.
India could afford not to field their best squad in the World League semi-finals, which, otherwise, is the last chance for teams to qualify for the Olympics.
In the past two years, India have been served well by the efficiency of drag-flickers Raghunath and Rupinder.
The former is the senior of the two drag-flickers and shared the space with ace shooter Sandeep Singh before Rupinder came into the spotlight with a fine show in Malaysia four years ago.
In due course, he replaced penalty-corner specialist Sandeep in the Indian line-up and his pairing with Raghunath bolstered the defence.
Van Ass is working on having options in penalty-corners. He wants the Indian team to be able to try out more set-piece options in case both key drag-flickers are missing.
Image: Rupinder Pal Singh
Photograph: Will Russell/Getty Images