MotoGP great Valentino Rossi will not be retiring from the sport in the wake of friend Marco Simoncelli dying after a crash with his fellow Italian, Rossi's mentor said Monday.
- Focus on safety in motor racing after Simoncelli's death
Honda's Simoncelli, 24, died after a horror collision early on in Sunday's Malaysian Grand Prix when he was struck by the bikes of Rossi and Colin Edwards and had his helmet knocked off.
Rossi, a winner of nine world titles across the classes, was so distraught by the accident that the only public words the Ducati rider has uttered since have been on Twitter.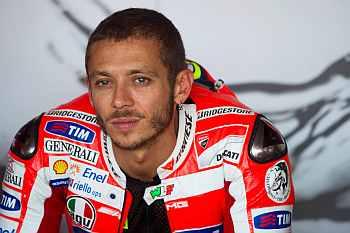 "Sic (Simoncelli) for me was like a youngest brother. So strong on the track and so sweet in normal life. I will miss him a lot," Rossi wrote.
Davide Brivio, his manager at former team Yamaha, denied widespread internet and media rumors that the 32-year-old was too upset to carry on racing.
"Many are asking about Vale stopping races. This is absolutely not true and I'm sorry even that I have to explain it," Brivio wrote on Twitter.
Tributes have continued to pour in for Simoncelli from the motorsport community with his death coming only a week after British IndyCar driver Dan Wheldon lost his life in a 15-car crash in Las Vegas.
MotoGP bosses have started an investigation into Simoncelli's accident but have said it is too soon to comment on the fact his helmet came off.