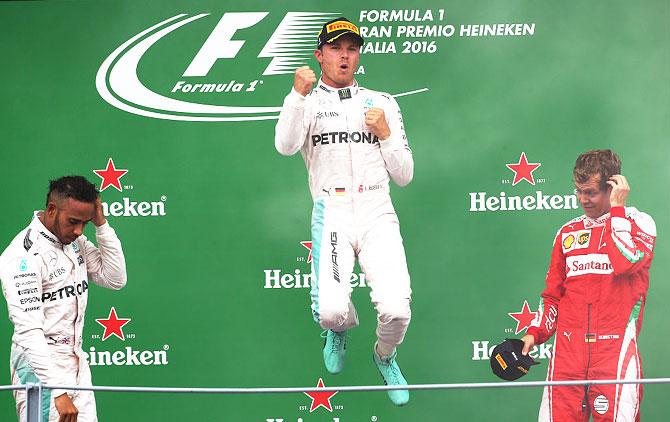 IMAGE: Mercedes GP's German driver Nico Rosberg celebrates his win at the Italian F1 GP at Autodromo di Monza on in Monza, Italy, on Sunday. Photograph: Charles Coates/Getty Images
Germany's Nico Rosberg won the Italian Grand Prix for dominant Mercedes on Sunday to cut teammate Lewis Hamilton's Formula One world championship lead to two points with seven races remaining.
Triple world champion Hamilton, who had been on pole position as favourite to take his 50th career victory and third in a row at Monza, finished second after a slow start gifted Rosberg the race.
Rosberg's first victory at the historic circuit outside Milan was his seventh of the season, one more than Hamilton, and 21st of his career as well as second in a row after Belgium last weekend.
"I'm feeling great, the race is on with Lewis. It is always going to be a great battle and I look forward to what is to come," he said from the podium as an army of Ferrari fans flooded the pit straight.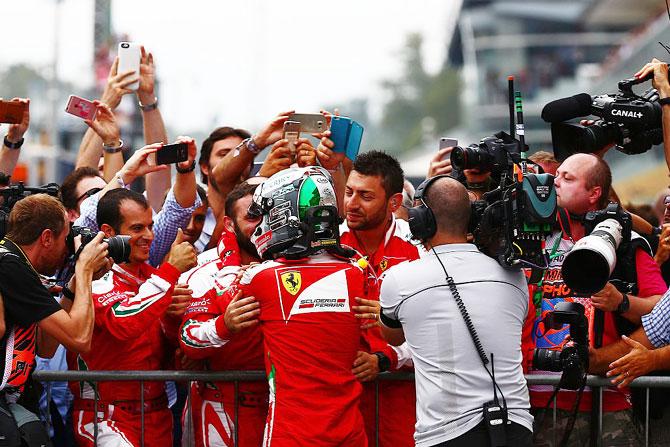 IMAGE: Ferrari's Sebastian Vettel celebrates with his team in parc ferme after a podium finish at Monza on Sunday. Photograph: Getty Images/Getty Images
The German also broke into Italian before attempting to win over the crowd with a rousing sing-along.
Ferrari's Sebastian Vettel, who mistakenly put on the winner's cap before the podium and handed it on to Rosberg, finished third to a much bigger roar from the fans yearning for a first Ferrari victory of the season at their home race.
Finnish teammate Kimi Raikkonen was fourth, with Australian Daniel Ricciardo fifth for Red Bull in a race with little drama on the track but more atmosphere than most of the others combined off it.
Hamilton now has 250 points, Rosberg 248 with Singapore's night race the next destination.
"I don't know really what happened at the start...I did everything normal," said Hamilton.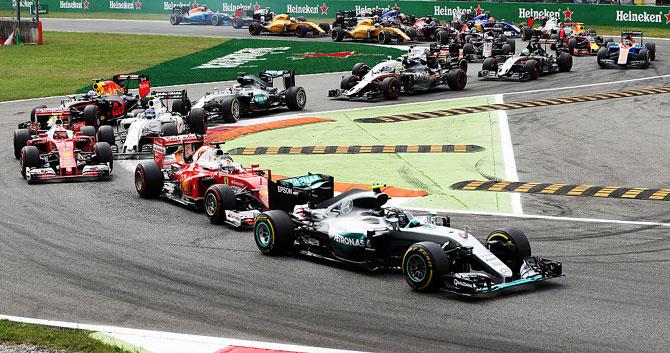 IMAGE: Nico Rosberg driving the (6) Mercedes AMG Petronas F1 Team Mercedes F1 WO7 Mercedes PU106C Hybrid turbo leads Sebastian Vettel in the (5) Scuderia Ferrari SF16-H Ferrari 059/5 turbo (Shell GP) and Kimi Raikkonen driving the (7) Scuderia Ferrari SF16-H Ferrari 059/5 turbo (Shell GP) and the rest of the field at the start on track during the Italian Formula One Grand Prix at Autodromo di Monza on Sunday. Photograph: Mark Thompson/Getty Images
With the race effectively won and lost in the opening seconds, with Hamilton dropping to sixth place at the end of the first lap and then climbing back with pitstop strategy and just two simple overtakes, Rosberg had an untroubled run to victory.
The German took the chequered flag 15 seconds clear of Hamilton, with both Mercedes drivers on the same one-stop strategy compared to the two made by Ferrari.
"Lewis had too much wheelspin at the start and this cost him the victory," said Mercedes motorsport head Toto Wolff. "From then on, it was basically over."
Ricciardo provided the best move of the race, passing the Williams of Valtteri Bottas with a sensational overtake into the first chicane.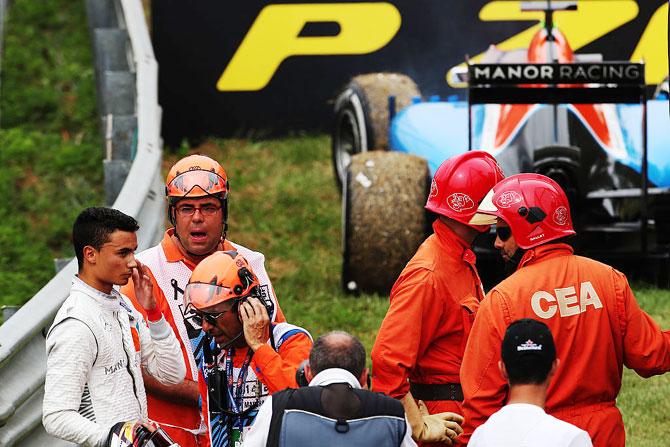 IMAGE: Manor Racing's German driver Pascal Wehrlein (left) stops his car and retires from the race. Photograph: Charles Coates/Getty Images
"It was amazing, he came from so far back...his hand gesture afterwards summed it up. He looked pretty pleased with himself," commented Red Bull principal Christian Horner.
Bottas's sixth place still allowed Williams to leapfrog Force India in the constructors' championship and retake fourth place.
Dutch teenager Max Verstappen was seventh for Red Bull, ahead of Mexican Sergio Perez for Force India and Williams' Brazilian Felipe Massa.
German driver Nico Hulkenberg took the final point for Force India in 10th place.