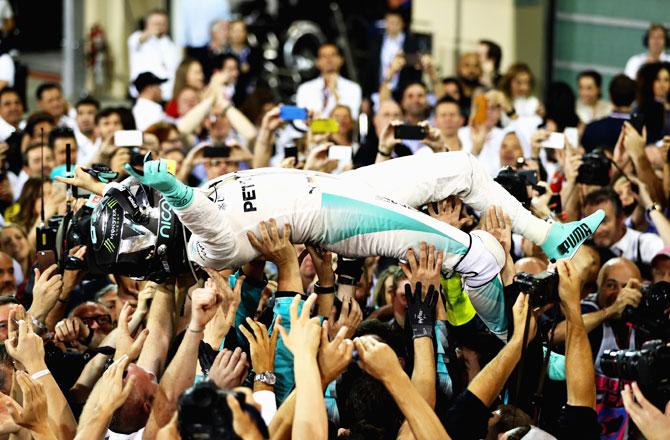 IMAGE: Nico Rosberg of Germany and Mercedes GP celebrates after finishing second and winning the F1 World Drivers Championship during the Abu Dhabi Formula One Grand Prix at Yas Marina Circuit in Abu Dhabi, United Arab Emirates, on Sunday. Photograph: Clive Mason/Getty Images
Mercedes F1 GP's Nico Rosberg won his first Formula One Championship after finishing 2nd in the tight race at the Yas Marina Circuit in Abu Dhabi on Sunday.
Rosberg's Mercedes teammate Lewis Hamilton won the race.
The German, who had a 12 point lead over Hamilton going into the title-deciding race, won the championship by virtue of a podium finish in Abu Dhabi.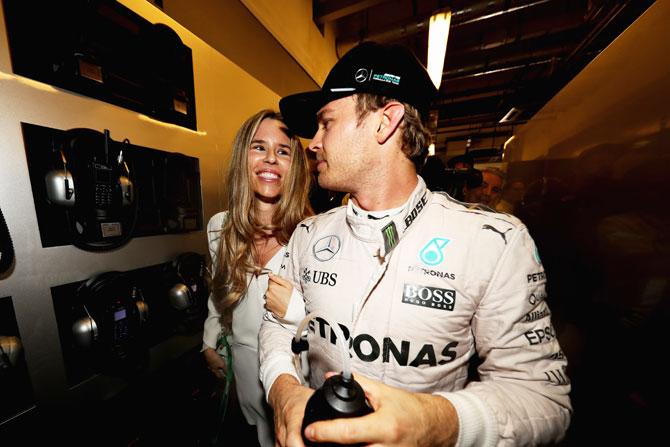 IMAGE: Nico Rosberg celebrates with wife Vivian Sibold after his F1 title triumph. Photograph: Mark Thompson/Getty Images
"That was not the most enjoyable race I've had! I'm glad it's over and am absolutely ecstatic. The win was for my wife," a teary-eyed Rosberg said after his title triumph.
"Very proud to have done the same thing my dad achieved. He's coming here in about half an hour. I'm excited to see him," the emotional German added.
Rosberg also congratulated Hamilton on a productive season.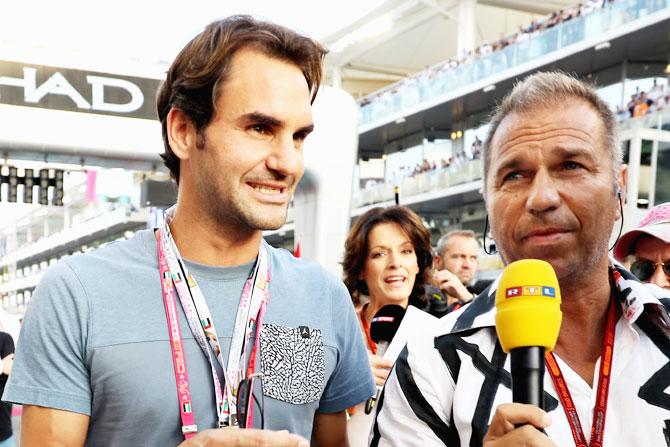 IMAGE: Tennis superstar and former World No 1 Roger Federer on the grid before the Abu Dhabi Formula One Grand Prix on Sunday. Photograph: Mark Thompson/Getty Images
"I want to say congrats to Lewis for his efforts. It's always tough to beat you and you were fast all year as always," Rosberg said in praise of his teammate.
After all the suspense and expectation, the race saw Hamilton chalking up his 10th win of the season, and fourth in a row, but powerless to do anything about the championship outcome despite making every effort.
His attempt to push Rosberg into the clutches of those behind him, by deliberately slowing the pace in the closing laps to the concern of team bosses, produced a nail-biting finish with the top four separated by just 1.6 seconds.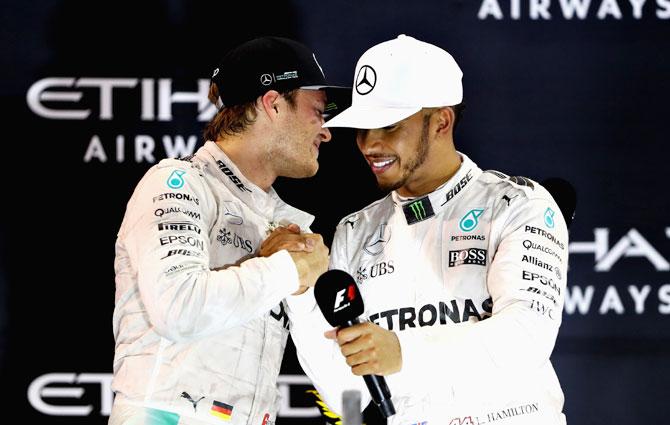 IMAGE: Race winner Lewis Hamilton congratulates second place finisher and World Champion Nico Rosberg of Germany on the podium. Photograph: Clive Mason/Getty Images
Rosberg, who had needed only to finish in the top three to be sure of the title, held position to become his country's third champion after Michael Schumacher and Sebastian Vettel.
The son of 1982 title-winner Keke Rosberg is also only the second son of a world champion, after Britain's Damon Hill, to take the crown.
Congratulating the Mercedes team and teammate Rosberg on a dramatic season finale victory, Hamilton said: "I just want to say thanks to the team and my family. And congratulations to Nico -- the new world champion"