Real Madrid's Cristiano Ronaldo opened a museum in his honour in his birthplace on Sunday, which he said had extra room for the Ballon d'Or and many other trophies to come.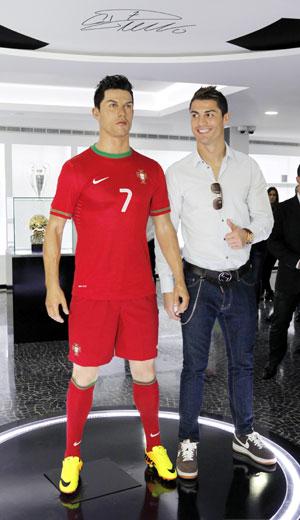 Standing next to his 2008 Ballon d'Or and 125 other individual and team awards dating back to his Madeira childhood, Ronaldo, 28, told reporters the CR7 Museum was a gift to his fans.
"Of course it's a special day," the Portugal forward, who has scored 33 goals so far this season, said. "I have room for more trophies. I don't really want to mention specific ones. All I want is to win more awards and if the Ballon d'Or comes, there is extra room here".
Soccer's world governing body named him, Barcelona's Lionel Messi of Argentina and Bayern Munich's French winger Franck Ribery as the three finalists for the 2013 Ballon d'Or award formerly known as FIFA World Player of the Year.
Ronaldo, this year's World Soccer magazine's player of the year, said he was not desperate to win the most prestigious individual award in the sport.
"The World Soccer magazine's player of the year award was another important trophy but it does not mean I will win the Ballon d'Or. I hope that happens but I am not obsessed about it."
The Ballon d'Or results will be announced on January 13.
Image: Real Madrid and Portugal's Cristiano Ronaldo, poses with his statue during the inauguration of his CR7 museum in his birthplace Funchal in Portugal on Sunday. Ronaldo opened a museum in his honour
Photograph: Duarte Sa/Reuters