'The 2nd season season is here and it will be a bigger success in the following years'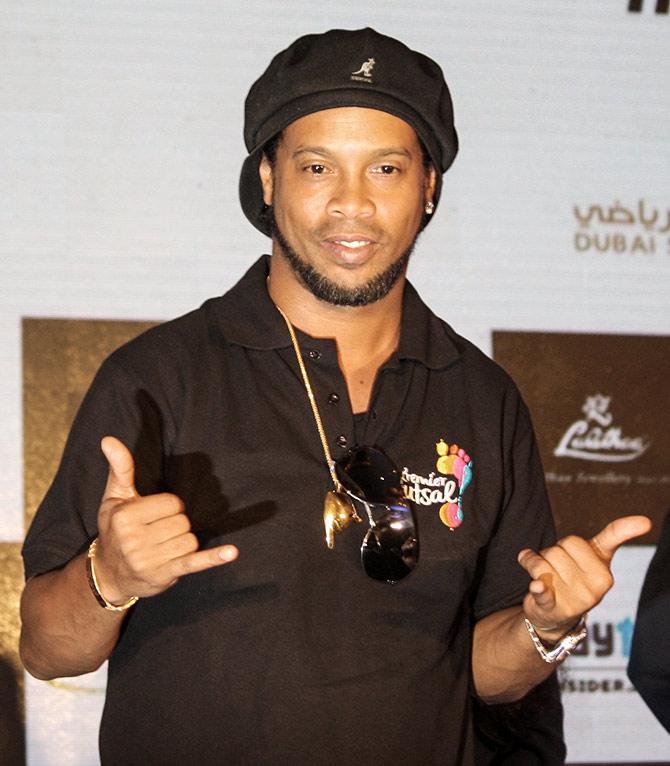 IMAGE: Brazilian football great Ronaldinho at the launch of the 2nd season of Premier Futsal on Friday. Photograph: Satish Bodas/Rediff.com
Last year, when it was announced that modern Brazilian great Ronaldinho would be playing in India, fans across the country went into a tizzy.
This year, Premier Futsal has brought the footballing magician back to India as they announced the second season of the indoor five-a-side franchise-based tournament in Mumbai on Friday.
"Happy to be here again. I thank you guys for inviting me. The success of last year has got everyone motivated. The 2nd season season is here and it will be a bigger success in the following years. It will never stop (growing). I'm very happy to be here and receive the love of fans and people of India," Ronaldinho, who represented Goa 5s last season, said at the press conference.
This year the 6-team tournament will be hosted by Mumbai, Delhi and Bengaluru, while Dubai will host the final and semi-final.
A crowd pleaser, Ronaldinho had to cut short his stay after just two matches of Premier Futsal last season and return home as he was brand ambassador of Paralympic Games in Rio.
But the organisers are keeping him for a lot longer than just one season. The former Ballon D'or winner has been signed on for a three-year term.
The season two of Premier Futsal will begin on September 15 at the NSCI in Mumbai.
Video: Afsar Dayatar/Rediff.com