Cristiano Ronaldo is likely to be Portugal's key player at the World Cup just like Luis Figo at Euro 2004 and Eusebio in 1966.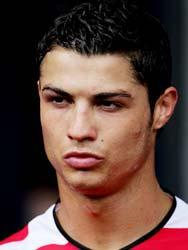 The 21-year-old Manchester United winger from Madeira, with his tinted hair, earring and gold tooth, attracts the limelight and his fast, skilful, dribbling game is packed with drama.
His two goals in Portugal's recent friendly against Saudi Arabia took him to 10 international goals faster than any other Portuguese player, beating the great Benfica striker Eusebio.
Cristiano, as he is known at home, made his first appearance in August 2003 at the age of 18 against Kazakhstan.
Although not a striker, he quickly established himself as a goal threat, especially in the air, and six of his 11 goals for Portugal have been headers.
Laszlo Boloni, the coach who launched Cristiano's career at Sporting, says the winger has a sparkling career ahead of him.
"His future could be spectacular. He has a powerful shot, he plays and scores really well with his head and he has used his intelligence to develop really well tactically," Boloni said.
Last November Cristiano extended his contract with United, whom he joined from Sporting for 12 million pounds ($20.63 million) in 2003, keeping him in England until 2010.
He has become a first-team regular and United manager Alex Ferguson has no doubt about his potential.
"Ronaldo will develop into a fantastic player," said Ferguson, who has nurtured the player since he arrived in England.
Ferguson has been concerned at the treatment his young winger receives from opponents but says the heavy tackles show how fearful they are of him.
"The one thing it's telling you is that he is giving defenders problems. If they have to foul him and bring him down all the time, then it tells you he's doing something really well," Ferguson said.
Ronaldo will be hoping the referees protect him as much as possible in Germany. Everyone will benefit if he can show his dazzling array of skills off to the best advantage -- except opposing defenders of course.