His naked torso graces newspaper front pages and magazine covers. His baby face is plastered over billboards and TV ads.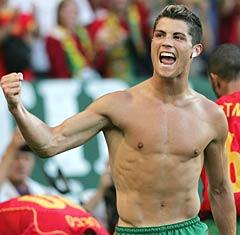 Cristiano Ronaldo is Portugal's pin-up and soccer's new teen heartthrob.
The 19-year-old's tricks on the wing have helped propel the hosts into Sunday's Euro 2004 final against Greece.
The golden boy has also caused heart flutters among his young female fans by stripping off his shirt to celebrate scoring goals, and then nonchalantly cocking his eyebrow when penalised for the offence.
Among his dark-haired Portuguese team mates, Ronaldo is easy to spot. He sports blond-highlighted hair combed up in a wave on top and diamond stud earrings.
There's no doubt he's the successor to David Beckham whose number seven shirt he now fills at Manchester United.
| | |
| --- | --- |
| | Also Read |
| | |
An informal survey published on the "Portugal Gay" Web site found Ronaldo to be the sexiest of the Portuguese players. But it's young girls who are his biggest fans.
"Oh!!!" two of them shopping at a mall in Lisbon swooned, eyes growing wide, when asked about Ronaldo.
"He's very cool. He's beautiful," said 13-year-old Catarina Correia as she and her bubble gum-chewing friend waited to see a film.
Patricia Matos, 14, proudly said she had three posters of the soccer player on her bedroom wall.
"He's cute, very cute," said 14-year-old Catarina Velez, who started a Ronaldo fan club with her friends.
The club members make up songs about Ronaldo and his good looks, and sometimes about Beckham too, she said.
Maria do Carmo, 14, said that although she thought Ronaldo was a skilful player and attractive: "I don't like his earrings. He looks like a cow."
Two boys in their group stood coolly by as the girls giggled and cooed. While Ronaldo is a great player, he doesn't deserve all the attention he gets from girls, they said.
"I'm cuter than he is," said Jose Mecedo, 13.