'When Roger plays cricket, he likes to play as me.'
Rediff.com's Harish Kotian listens in.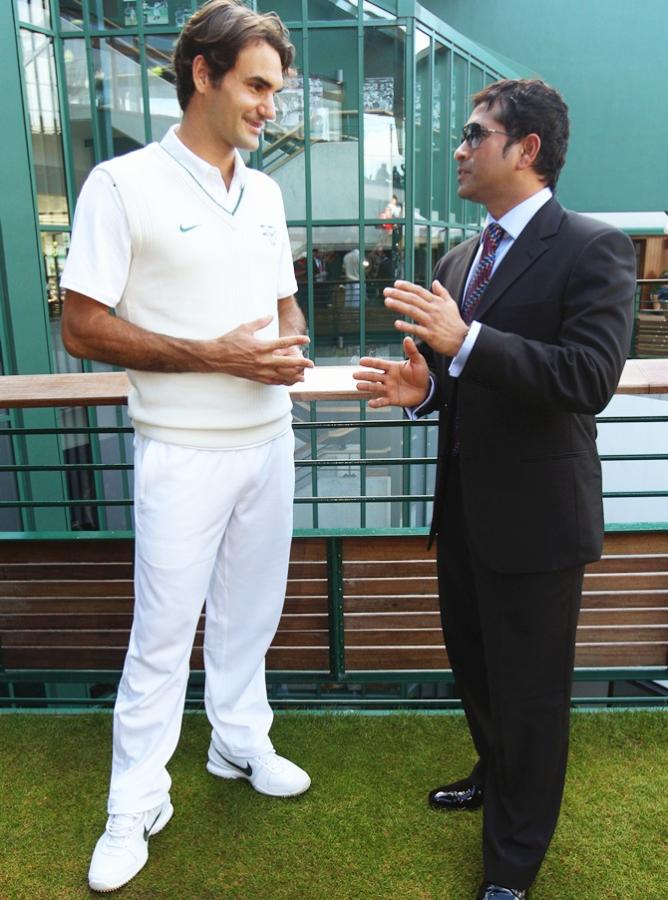 IMAGE: Sachin Tendulkar, right, with Roger Federer. Photograph: Oli Scarff/Getty Images
He has won more Wimbledon singles titles than any other man, but how many know that Roger Federer likes cricket and adores Sachin Tendulkar?
Whenever Roger plays cricket video games he always likes to play as Sachin -- a secret revealed by the batting ace in Mumbai on Tuesday, July 18.
"When Roger plays (cricket) video games, Roger prefers to be Sachin and when I am playing any racquet game, I prefer to be Roger," Tendulkar said on the sidelines of an event where he was named as the Sony Pictures Network's Ambassador for Sports.
Tendulkar, a huge Federer fan, is a regular in Wimbledon's Royal Box every year.
"It is fantastic because you rub shoulders with some of the champions not just in the current era. When I was at Wimbledon I got to meet the great Rod Laver, Bjorn Borg, they are all amazing personalities," he said.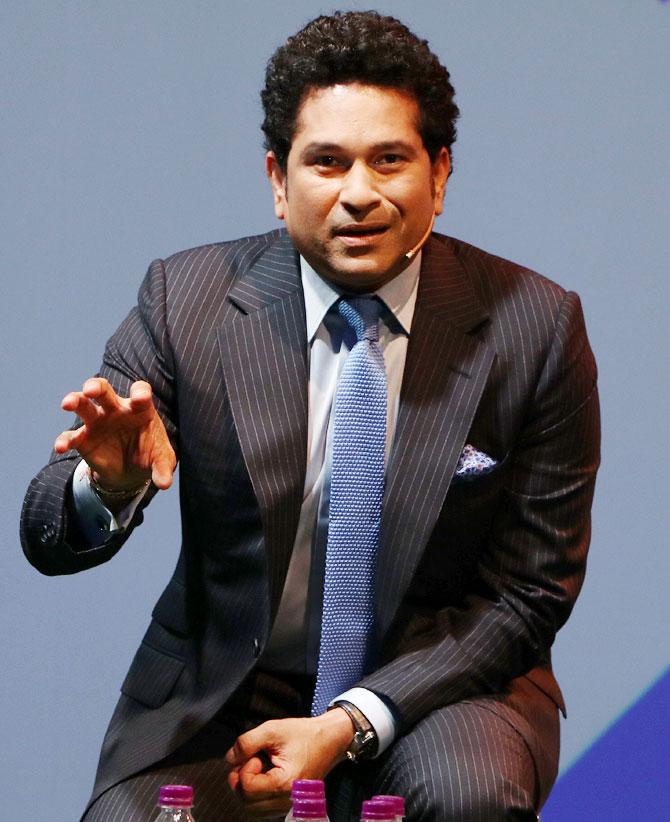 IMAGE: Sachin Tendulkar speaks at the event where he was named Sony Pictures Network's Ambassador for Sports. Photograph: Hitesh Harisinghani/Rediff.com
Sachin relived another special sporting moment when he watched a Formula One race with racing legends Sir Frank Williams and Sir Jackie Stewart.
"There was a race in Silverstone which I watched. Sir Frank Williams was there, also Sir Jackie Stewart, the great Formula One champion. Sir Jackie took a grid walk with me. He said 'I will take you around and tell you more about Formula One'."
"I sat with both of them, just the three of us, and we watched (the race). It was an experience for me because I could hear what they were communicating in private and how they were planning."
"It was obviously supposed to be confidential. I just kept quiet as a big fan. I was just absorbing everything for a couple of hours."
"It was really enlightening because you get to see what goes on beyond a Formula One race," he added. "what you see are the cars going round and round the circuit, but there is much, much beyond that".
"Sport is my life," Sachin said, "it is like oxygen to me, it is difficult to live without it."
"So many people call it a profession, I don't like to call it a profession; I call it a passion. I have always been passionate about sports."
IMAGE: Sachin speaks to Harsha Bhogle. Photograph: Hitesh Harisinghani/Rediff.com
For Tendulkar, witnessing the Rio Olympics last year was a high point in his life.
"When I started travelling post retirement, the biggest sporting event was in Rio where we saw some incredible performances."
"What really caught my eye was Dipa Karmakar, the lady from Agartala. She participated in gymnastics and to get to where she did, it is an incredible story."