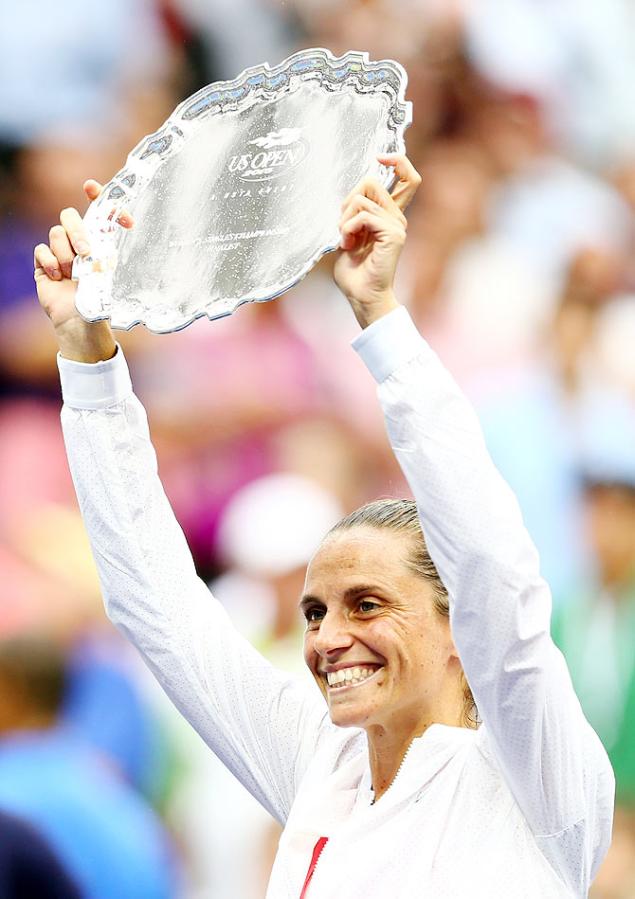 IMAGE: Italy's Roberta Vinci hoists the runners-up trophy after losing to compatriot Flavia Pennetta in the US Open singles final on Saturday. PhotoGRAPH: Clive Brunskill/Getty Images
Roberta Vinci, playing in her first grand slam singles final, lost twice at the US Open on Saturday after coming up short in an all-Italian clash against her closest friend on tour.
- Pennetta beats Vinci to win US Open title
- US Open champion Panetta says 'goodbye to tennis' moments after win
Vinci fell 7-6(4), 6-2 to Flavia Pennetta in an improbable all-Italian final but then lost something more important minutes later when her childhood friend embraced her at the net and told her she was retiring.
"I said to her, congratulation, Well done, enjoy. You played better than me today. That's it," said Vinci.
"And she said, 'This is my last match on the US Open, so now I have to speak and tell to everyone that this is my last match.
"I say, 'No. That's it?'"
So now for the first time since they were young girls, Vinci, 32, will be on tour without her 33-year-old compatriot and former doubles partner.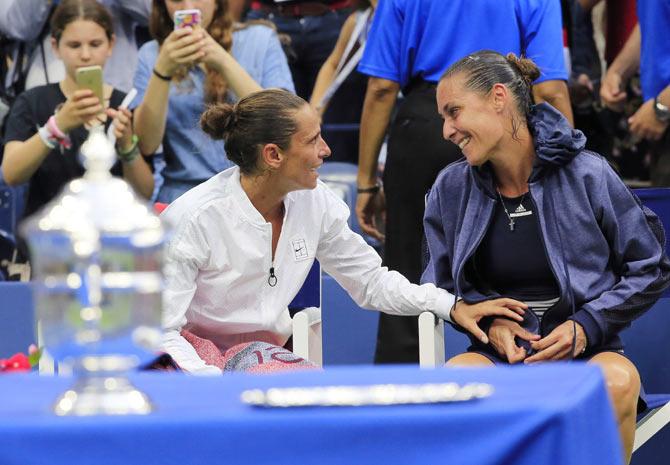 IMAGE: Runner-up Roberta Vinci (left) talks with compatriot and tournament winner Flavia Pennetta following their women's singles final on Saturday. Photograph: Eduardo Munoz/Reuters
While climbing up through the junior ranks Pennetta and Vinci first played against each other when they were nine.
When they were teenagers they shared a flat in Rome and later were Fed Cup teammates and doubles partners for 50 events.
Before the biggest match of their professional careers the two sat and chatted as they always do when they were spotted by tennis great Boris Becker who said: "You two know you are playing each other in a couple of hours?"
On the court it was all business but at the end of the day Vinci may well have been the happiest loser of a grand slam. The love and affection between the two finalists was genuine after the match, at one point Vinci even playfully grabbed the winner's trophy.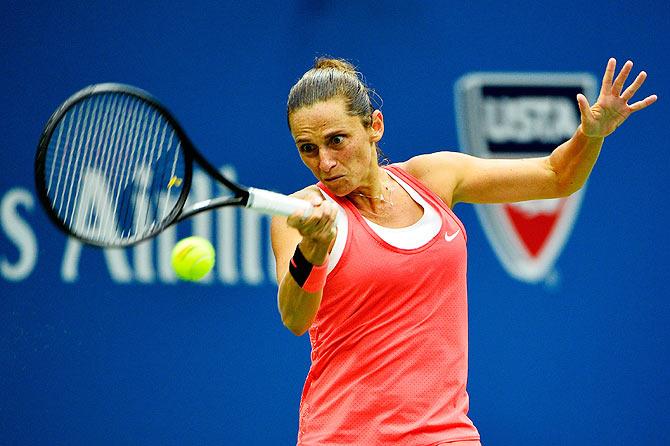 IMAGE: Roberta Vinci plays a forehand return to Flavia Pennetta. Photograph: Matthew Stockman/Getty Images
"Maybe if you tell me this question in about more days, I can tell you," said Vinci.
"But now it's strange. I didn't expect this.
"I'm so happy that I reach the final. Against Flavia is strange, but I'm really happy, yeah, even when I lost."
For one player at the end of her career and the other nearing the final curtain, their remarkable run through the Flushing Meadows will be but another bond.
The duo pulled off a series of remarkable upsets to set up the first all-Italian grand slam final, most notably unseeded Vinci's shock win over Serena Williams that denied the world number one a chance to complete a Calendar Grand Slam.
"Miracles can happen. Because I beat Serena, miracle," said Vinci.
"And then two Italians can reach the (same) grand slam final, a miracle."