Tottenham Hotspur goalkeeper Paul Robinson was an unlikely scorer in their 3-1 victory over Watford on Saturday, beating his England understudy Ben Foster with a wicked bounce from a free kick.
Robinson blasted the ball upfield from his own half, Watford's defence allowed it to bounce once and it soared over Foster's head on its way into the net for a 2-0 lead.
"It was a bit of a freak really," Robinson told Sky Sports News. "All I had on my mind was putting it up there for our strikers to get on the end of.
"People say he was a little bit too far off his line (but) his defenders didn't help him out, leaving it at the last minute. It's just one of those things.
"It's a great feeling to score a goal, one that as a goalkeeper I thought I would never have -- and to have it twice, I can't ask for any more."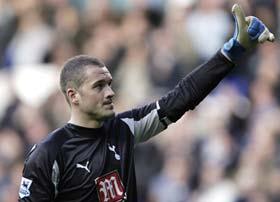 Robinson, who lost his place to Foster in England's 1-0 friendly defeat by Spain last month, is expected to start next Saturday's Euro 2008 qualifier against Israel.
There is bound to be some banter between the two keepers, who meet up next week for England's preparations for the Israel game and another Group E match against Andorra four days later.
Asked about training, Robinson said: "I'll try not to mention it."
Though startling, Saturday's strike at White Hart Lane was not Robinson's first in his career.
He also scored a vital stoppage-time equaliser for his former club Leeds United in a League Cup tie against Swindon Town in 2003.
Saturday's goal came two days after Sevilla keeper Andres Palop headed a last-gasp goal to rescue his side against Shakhtar Donetsk, helping the Spaniards to reach the quarter-finals after extra time.