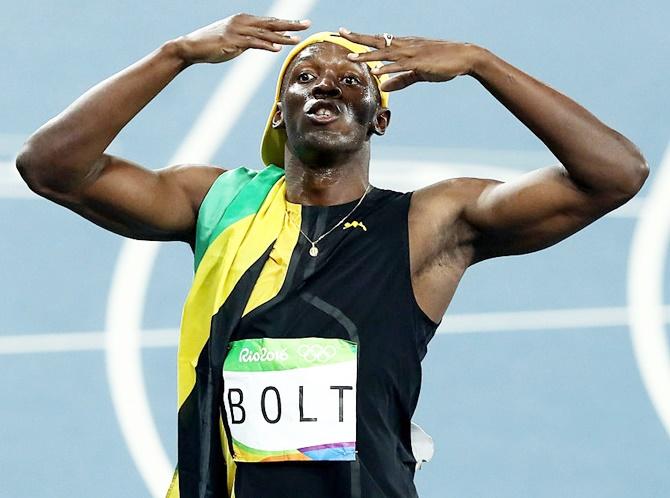 IMAGE: Usain Bolt of Jamaica celebrates winning the Men's 100 meter final. Photograph: Ezra Shaw/Getty Images
Jamaica's Usain Bolt stormed to victory in the 100 meters final to become the first man to win three successive Olympic titles on the track.
Victory took Bolt a step closer to his goal of winning a historic "triple-triple" combination of gold in the 100m, 200m and the 4x100m relay in three consecutive Olympics.
"This is what we train for. I told you guys I was going to do it," Bolt, 29, told reporters. "Stay tuned, two more to go.
"Somebody said I can become immortal. Two more medals to go and I can sign off. Immortal."
Already assured of his legend status, Bolt also added to his reputation as sport's number-one crowd pleaser as he took a leisurely circuit of the stadium, posing for pictures and shaking a thousand hands.
It was no surprise to see Gatlin, the fastest man in the semi-finals, get his usual explosive start but Bolt, who had looked much smoother out of the blocks in his semi than in Saturday's heats, was where he needed to be.
The race followed the pattern of so many before as he eventually unraveled his long legs to gain maximum pace and though he did not hit the front until later than he might have liked, when he did he shot past Gatlin like a track cyclist coming out of a slipstream in the velodrome.
The time was a long way off his 2009 world record of 9.58 but that was never the issue at stake.
Heats for the 200 start on Tuesday with the final on Thursday.