'I think we disappointed our country but still I think we players need to work really hard'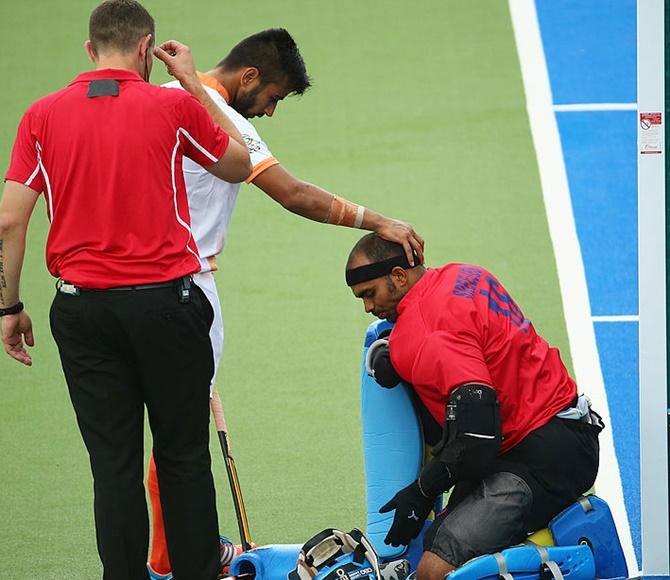 IMAGE: PR Sreejesh of India reacts. Photograph: Robert Cianflone/Getty Images
Indian hockey team's captain PR Sreejesh has apologised for letting the nation down after his team's 1-3 loss to Belgium in the quarter-finals at the Rio Olympics on Sunday.
"Unfortunately we are touching the moon, but still we couldn't reach there, we have fallen from there. It's hitting really hard because the expectation was very high on us back home," Sreejesh said after the loss.
"I think we disappointed our country but still I think we players need to work really hard and perform well in the next coming tournaments."
India were up 1-0 by Akashdeep Singh's goal inside first quarter but the Sreejesh's men conceded thrice in the second half to to hand Belgium their first Olympics semifinal since Antwerp 1920.
Stephan Dockier's double in the third quarter and Tom Boon sealed the win in the 50th minute.
The Indian goalkeeper Sreejesh was brilliant and saved a penalty corner to maintain India's lead in the first half..
"It's very difficult, especially, for me as a goalkeeper, I feel like saves never count because it's all about the scoring, the goal-line."
Asked about captaining India at the coveted Olympics, he said, "I never dreamt about this, leading the team anywhere. But still it's a great honour and a great responsibility for me.
"In hockey, captaincy isn't the most important but it's all about outside of the field, how you are coordinating with the players, how you are bringing them together, getting their potential out."
India coach Roelant Oltmans too was a disappointed man and said they should have won the match.
"Of course I'm disappointed and not only about losing the quarter-final, because you can win matches, you can lose.
"I'm disappointed about the kind of game that we played today. I have to give all the credit to Belgium who forced us to play like this. I have to look into my players, why they didn't perform in the way that we had planned," he said.
The eight-time former Olympic champions India still had a decent run at the Rio 2016 by making the quarters.
"We are getting closer and closer (to the top of world hockey) but the next step still needs to be made. That's what has been proven in today's game," the Dutchman said.